Following her highly anticipated book release, Alzheimer's Society ambassador Wendy Mitchell reflects on sharing her dementia diagnosis with her NHS colleagues.
It became apparent that my team at work would soon realise things weren't right. I couldn't hide it much longer. I had to tell them, but how?
I'd recently become a Dementia Friends Champion, and one day the ideal screensaver appeared on everyone's screen. It was all about Dementia Awareness. Obviously, this was relating to patients but gave me the ideal opportunity to deliver a Dementia Friends session to the whole team.
When it appeared in their calendar, they would simply think it was in relation to everything else going on in the hospital. The ideal opportunity.
Delivering a Dementia Friends session
I remember feeling nervous. I remember the small room filled with all eyes on me. I remember feeling hot and uncomfortable. But I started off with the Bingo session to relax everyone and laughter and the need to win overtook any concerns they had when they walked in.
Next, I remember going through the Bookcase Analogy and thoughtful eyes suddenly appearing on faces. It was at the end of the session that I told them: 'The reason I've taken you through a Dementia Friends session is because I've been diagnosed with young-onset dementia and now need all your help.'
The animated group that had walked into the session now appeared sad and thoughtful
You could hear the tumbleweed rolling and eyes appeared downcast and confused. The animated group that had walked into the session now appeared sad and thoughtful. I knew they needed time to digest the information and talk among themselves. Before I left for the day, I sent them all an email saying that my door was always open and if they had any questions to simply ask me. I left feeling exhausted but it was now all out in the open, and I just knew my team would come good.
Care and concern from colleagues
The next morning, I was overwhelmed by their concern, questions and suggestions for how they could help me. By being honest with them, I knew, from the relationship we had, that they would be there for me.
No one tells you how to break the news to work colleagues. It's one support that should be given to any staff member going through the same as I did. The Human Resources (HR) team should have supported me on how to deliver the news. Hopefully things may have changed a little for the best now.
There's no point in keeping it a secret otherwise colleagues will only make up their own stories of why you're struggling and may be less supportive. No one should be ashamed of having dementia – it's a complex brain disease so why on earth should we be ashamed? But employers need to help and support staff in this often difficult situation.
Once people understand WHY something is happening, you'll be surprised how supportive and helpful those around you can be, just like my wonderful team. And for those who aren't, well that's their problem and employers should, again, step in and speak out for the person with dementia.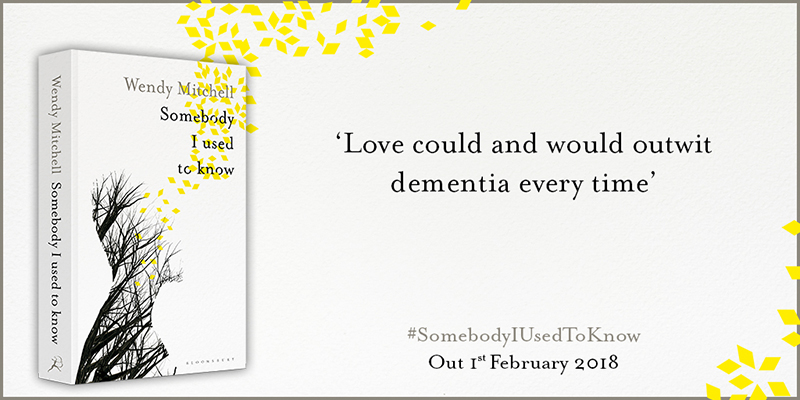 ​
Wendy's book 'Somebody I used to know' is available now from Alzheimer's Society's shop. You can also read her blog on living with dementia, 'Which Me Am I Today?'.
Buy Wendy's book
Read Wendy's blog