Society often fails to listen to the voices of people affected by dementia.  At Alzheimer's Society, we've responded by producing an ambitious and innovative piece of research, conducted by Ipsos MORI, with people with dementia genuinely at its heart.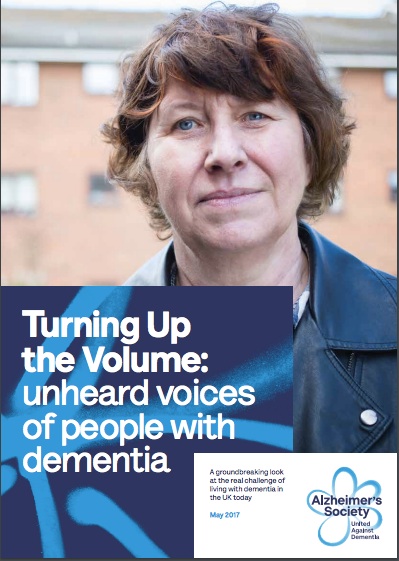 'Turning Up the Volume: unheard voices of dementia' is a look at the real picture of living with dementia today, from the people who know. The project represents our largest conversation ever with people affected by dementia and reflects Alzheimer's Society's ambition, set out in our new strategy, to connect with as many people living with a diagnosis of dementia as possible. It dials up the voice of people who have the condition - telling their stories, and presenting a picture of their day-to-day life from the care they receive to the stigma they may experience, through a groundbreaking series of in-depth interviews and surveys.
How the research was carried out
Of the four strands of research carried out, two were particularly challenging and provided fascinating insight. A large-scale survey of people living with dementia who access Alzheimer's Society services was carried out between February and April 2017. Due to the ambitious nature of this strand, a pilot survey of 148 people with dementia was conducted. This led to key learnings around consent being built into the main stage of the survey.
Fieldwork was led and carried out by Alzheimer's Society and our team of volunteers, provided with training on gaining consent from people with dementia, across England, Wales and Northern Ireland. Overall, 1071 surveys were submitted, either self-completed by people with dementia or with support. In total 966 of these passed our rigorous criteria on consent.
87% of people with dementia who were interviewed receive help from family in their day-to-day life but only 14% receive help from a paid carer*
For the second strand Ipsos MORI conducted qualitative research which set out to generate rich, authentic and detailed insights into what life is like from in-depth interviews of between 60–90 minutes, with thirty two people living with dementia. They included people from different ethnic and social groups, people under 65, those living in rural areas and people living alone. Interviews were conducted in people's own homes, residential care homes or drop-in day centres. Moderators were provided with training by Alzheimer's Society before the research. To explore in greater detail experiences of care and support, five telephone interviews were conducted with carers of people living with dementia. Each interview lasted for around half an hour.
What people affected by dementia told us
Taken together, the strands of research provided themes from the voice of people affected by dementia. That voice is, sadly, telling us that for many people there is a real gap between the things that people living with dementia have told us they need to live well, through a new set of Dementia Statements which can be found within the report, and their day-to-day reality. It highlighted, worryingly, that they or their carers often find care not only hard to come by but have to shoulder the cost too. It revealed how ingrained views and misconceptions of the condition, both from the public and people affected by the condition themselves, can make life more difficult for those who are diagnosed with the condition.
The impact of symptoms, stigma and what people feel they are no longer able to do negatively affects people's sense of worth, sense of self-identity and increases their feeling of isolation.
'I just had to stand there and watch and think 'I could have done that'. I'd done it before, but I can't now.'*** Person with dementia
'I won't answer the phone and I don't answer the door unless there is somebody coming who I know.' Person with dementia
For many carers the relentlessness of feeling that they must be on-hand 24/7 created one of the greatest challenges. A third (33%) of carers agreed that caring for someone with dementia had impacted upon their personal relationships and social life because 'it worries me to leave them'. **
However some people with dementia also told us that when well supported, in part by services from Alzheimer's Society, they can live well – continue to do the things they enjoy, to go out and remain connected to their community, to see the people they wish to.
'With a little bit of support, stimulation and encouragement most people with dementia can do it.'*** Person with dementia
Unite against dementia with us
We need to see change so more people can experience these benefits. By uniting against dementia we can all make a difference. Turning Up the Volume is clear on what is needed from Government and from Society, but we also need you. We're asking you to be united against dementia. Join the movement and help to find a cure, improve care, and offer help and understanding to everyone affected.
'Remember yesterday, look forward to tomorrow, live for today.'*** Person with dementia
Joining our campaign will help to champion the voice of people with dementia, to show decision makers that dementia is not an issue that can be ignored. It can open the door to new information and advice around dementia and further opportunities to be involved in campaigning, fundraising and research.
*Self-completion survey among 996 people with dementia (consent given) undertaken by the Alzheimer's Society across UK. Fieldwork February-April 2017.
**Online survey, 2,356 adults (16-75) across UK. Fieldwork conducted 13-17 January 2017.
***Between November 2016 and March 2017 Ipsos MORI conducted 32 in-depth interviews with people living with dementia and 5 interviews with carers of those living with dementia. Interviews with people living with dementia were conducted face to face in locations across England, Wales and Northern Ireland. Interviews with carers were conducted over the phone.
See alzheimers.org.uk/turningupthevolume for full details of the methodologies used in this research.