Hannah's Nanny, Kathy, was living independently until a series of mini strokes meant she needed extra care. Following a dementia diagnosis, Kathy is now living a happy and healthy life at her care home where her Hannah and her family can regularly stay in touch.
Nanny is the matriarch of our family. She was one of ten children and had three kids of her own - my mum, my aunt and my uncle. I would see her at least once a week growing up as we lived locally.
I have very happy memories of spending time together; watching Mum do her perm in the kitchen, going for picnic hikes in the park and playing Scrabble with her. She even let me coax her into seeing the first Pokemon film, despite her not understanding a thing and falling asleep halfway through.
Living independently
Nanny was a widow - my granddad died before I was born - and lived alone until her late eighties.
She would do all her own shopping, including walking several kilometers if necessary for some shops, and tried to be mobile around her local area and in town.
Nanny had a great network of friends and would keep in touch with those she couldn't easily visit via the phone. I had graduated university by this point and was working in Bristol, so I would call her at least once a week and check in.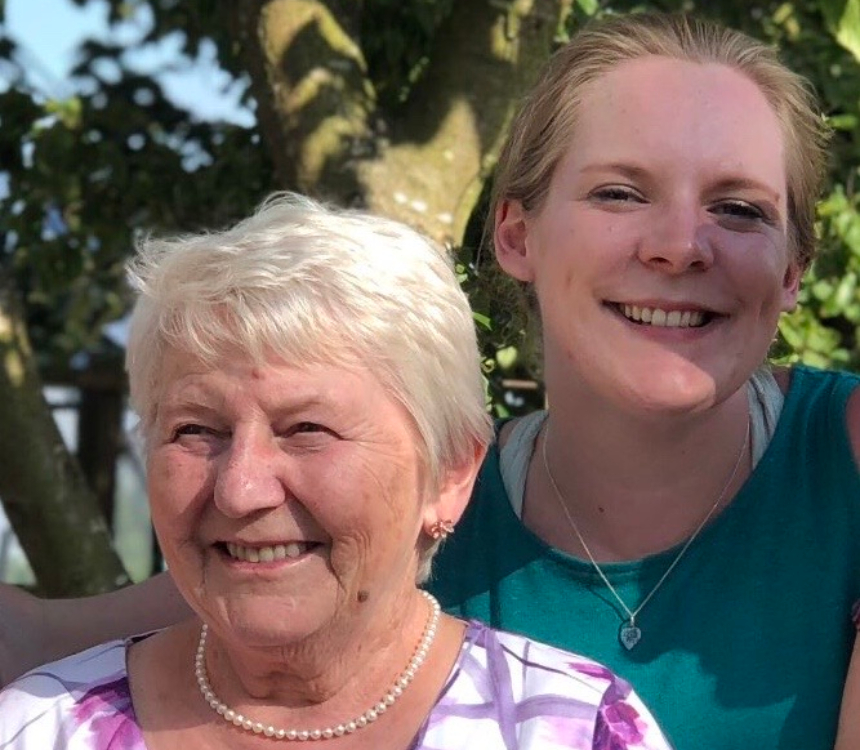 Hannah's Nanny was active in her local community and social circles.​
Then one day, about seven years ago, Nanny didn't answer the phone to my aunt or my mum. When they went round to check on her, they discovered that she had fallen on the kitchen floor and was unable to get up.
Thankfully, she hadn't broken anything and appeared to bounce back very quickly - but she didn't remember how she had got down there.
Paramedics and doctors thought she had experienced a mini stroke, otherwise known as a transient ischaemic attack (TIA), which cuts off oxygen to the brain, and told my family to keep an eye on her.
Noticing a difference in Nanny
Nanny could be a bit absent-minded, but after the incident there was a noticeable decline in memory when chatting over the phone.
In hindsight, it had slowly gotten worse over the last few years, but so gradually that we didn't attribute it to anything other than "old age".
Post the mini stroke, it was a very different story. We had a few more mini strokes over the next few months and when tests came back, it was suspected that she had vascular dementia. The decline became much more obvious, and it started to impact on her physical abilities too. 
Moving home
In 2016, Nanny sold her flat and moved in with my parents before then moving into my aunt's bungalow when she needed a more accessible household. My parents live in a lovely old cottage, which is beautiful, but not very wheelchair friendly!
She had a live-in carer, but eventually it became clear that she would need dedicated full time care in a safer environment than the family could offer - so she moved into a care home for degenerative neurological conditions. 
By sheer chance this was about six months before the pandemic began, so we were very lucky that she was settled in before everything happened and we were able to visit her in person!
The care home supports Nanny and her needs
As everyone in the care home is additionally vulnerable, they've been really proactive with keeping everyone safe and it's been really comforting to know that Nanny is in good hands.
I worry about seeing her after traveling across the country on public transport currently, but I always try and make the weekly video call with her, a carer and the family to check in and say hello.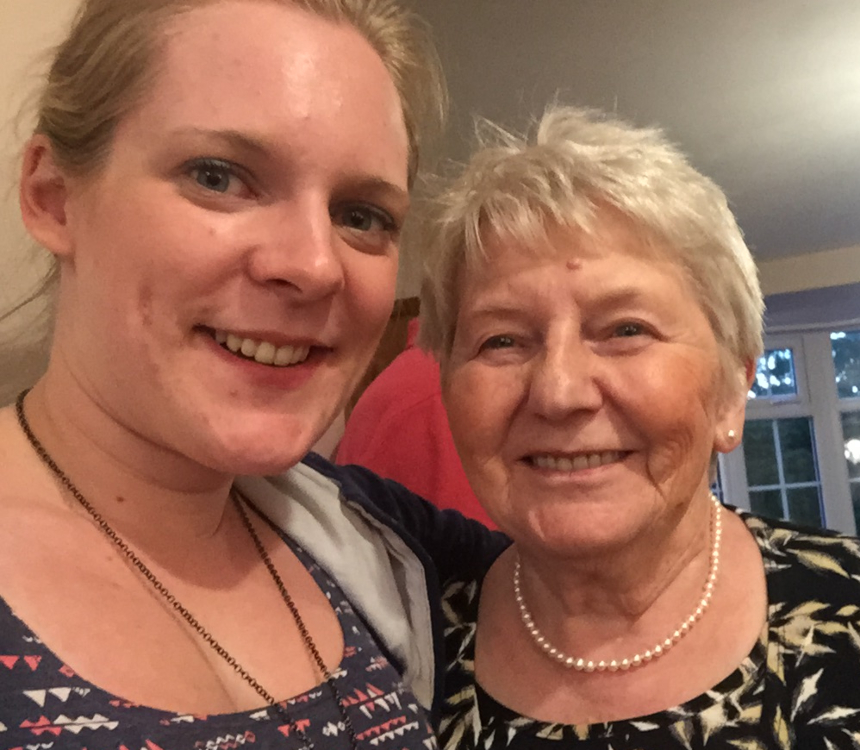 Hannah is able to stay in touch with Nanny through regular video calls.​
Nanny will be ninety five this year. On her more active days, she has a range of activities she can get involved in - listening to old music, flower arranging and some gentle physio with other residents.
Sometimes, she does need a gentle nudge from her carer if she's caught snoozing when she's on the video call, but she's as happy and healthy as we could ask for in 2022 and that's what's important!
Selecting and moving into a care home
Our booklet will help if you're caring for or supporting someone with dementia and are looking to choose the right care home. This free resource also has tips for moving into a care home.
Find out more