What to do if a person with dementia has been told they must stop driving but won't
From the June/July 2016 issue of our magazine, driving can be an important part of a person's identity, and it can be difficult to know what to do if a person with dementia won't accept a DVLA or DVA decision that they should stop.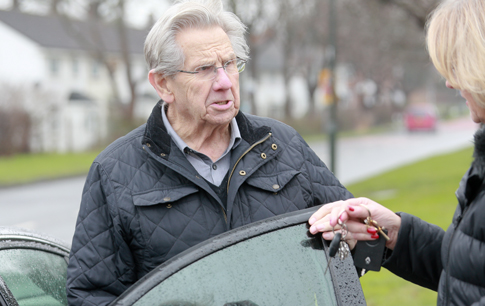 'My husband has dementia and was told to stop driving after having an assessment at a driving centre, but he refuses to do so. What can I do?'
Driving is a skill that many people hone over a lifetime, but which dementia can begin to undermine.
Apart from being useful, especially in areas where public transport is limited, for many people being a driver is also an important part of their identity. This can make discussions about it very hard.
Responsibilities
Your husband was right to tell DVLA (or DVA in Northern Ireland) about his diagnosis – not telling them would have been illegal.
If an assessment at a driving centre has led to DVLA revoking, or cancelling, his driving licence, it will be because they think he is not safe to be on the road.
If anyone tells DVLA that your husband is still driving, their enforcement team can follow it up with the police.
Occasionally someone might not accept the DVLA's decision, perhaps because they don't accept their diagnosis or underestimate the impact that dementia has on their driving.
However, continuing to drive like this is illegal. It means the person is uninsured, and puts them and others at risk of an accident.
Persuasion
It is best if you can persuade your husband to see that he needs to stop. Could his GP do this – sometimes hearing it from a professional is more effective?
Practicalities aside, this will need very careful handling because he will sense it as a loss. Has he had near misses or minor scrapes which might help him to see that he's not safe? How would he feel if he had an accident and hurt someone?
Perhaps make a list of the benefits of not driving and practical ways you could both manage.
Acting in his interests
If you can't convince your husband to stop driving, you may act without his consent if it is in his own interests and he can't decide for himself.
Can you park the car somewhere so that it is not a constant reminder? Some people decide they have to hide the car keys. It's best to use these as last resorts, as they can cause family friction.
Whatever you do, remember that driving for many people is much more than a way to get from A to B.