Improving people's understanding of posterior cortical atrophy, a rarer form of dementia
From the August/September 2015 issue of our magazine, public awareness of dementia is improving, yet people's understanding about rarer forms of dementia often remains poor. Luke Bishop talks to a man who wants this to change.
Ask anyone what they know about dementia and they will probably say something about losing your memory. Although memory loss features in most people's experiences of dementia, there are many other aspects of the condition.
Den Shepherd wants to make people more aware that dementia encompasses a wide range of diseases and symptoms. For some, memory loss is less of a challenge than problems with vision, spatial awareness and recognition.
Den, from Wokingham in Berkshire, is 64 and has posterior cortical atrophy (PCA). This is a rare form of dementia - usually caused by Alzheimer's disease - that primarily affects the back region of the brain.
Different symptoms
Although the symptoms of different kinds of dementia can be similar when the condition is more advanced, people in the earlier stages of PCA tend to experience problems with vision, literacy and numeracy rather than memory loss.
Den was diagnosed in November 2010. This was around 18 months after his initial symptoms, which affected his ability to judge distances and speeds when driving. Not knowing the cause, Den's first response was to leave work early and return late to avoid traffic.
He had run his own business for 17 years until the recession hit in 2008. After Den began working at an NHS primary care trust he noticed that writing had become a struggle, then typing became problematic because he could not see the keys. Later, Den began to find entering data into a spreadsheet difficult.
Since these problems all seemed to be related to his sight, Den was advised to see an optician. When they could find nothing wrong he saw a doctor, who also found no cause for his symptoms.
Unsupported
Den felt unsupported at work while experiencing these problems, and his confidence at work had taken a knock. He resigned and took up a post at a university library, managing the facilities team, but found he was also struggling with his symptoms there.
Den says,
'My position entailed regular one-to-one meetings with staff and this was when my problems with writing came to a head. I would try to make notes in the meetings and would bring them home to my wife, Helen, to decipher.

'I also had to lock and secure the library by putting on the alarm, but keys and locks became a problem. On several occasions the night security were alerted as I couldn't lock up in time for the alarm.

'The library staff were good and got an occupational therapist to see me. However, they didn't know what the issue was and referred me to a doctor.

'The position was a one-year contract and, although after six months they extended my probationary period, at the end of the year I was told that they were unable to renew the contract. I was diagnosed two months later.'
Den and Helen say that his experiences leading up to diagnosis were common for people with PCA. It can take a long time for the condition to be recognised as the symptoms aren't typical for dementia and may be quite subtle, and because it often affects people in their 50s and 60s.
Den questions whether there was enough understanding at work about his symptoms and their possible causes, even before his diagnosis, or whether reasonable adjustments were made by his employers.
Hard to explain
Den's PCA has progressed and he now has trouble speaking, cannot read or write, and needs help with washing, eating and getting dressed.
Because his symptoms are not commonly associated with dementia, Den has encountered quite a bit of ignorance and finds it hard to explain what the disease is like without engaging in a lengthy conversation.
'We have encountered some problems with bureaucracy. For example, towards the end of last year Helen applied for a Blue Badge for the car because, when she is parking, the spaces are sometimes so small that I have to get out the car before she goes in.

'For someone with PCA, being on their own when there are moving vehicles around is very frightening and dangerous. My sight problems mean that I can't recognise uneven paving or steps, and can get confused and disorientated by shadows.

'Despite all this, the initial application was turned down on the basis that it wasn't a disability that they recognised and so we had to reapply this May with a supporting statement from University College London.

'We also had a problem when I went to hospital last year for a gall bladder infection, which developed into septicaemia. If I had stomach pain then, because of my PCA, I couldn't point out where the pain was.'
Den was also given an electronic button to push if he needed a nurse, though his PCA means that he is unable to recognise and press buttons.
The couple believe that people don't take his dementia into account in quite the same way because he is younger and has a rarer form of the condition, with symptoms that do not involve memory loss.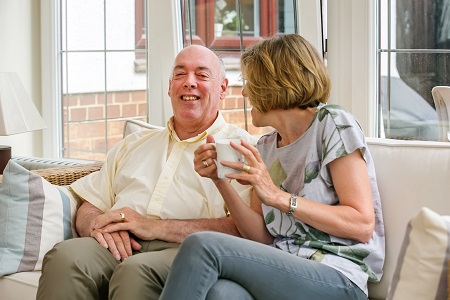 Channelled energies
Den and Helen have channelled their energies into raising awareness of PCA. They have started a PCA support group in Wokingham with the help of a local charity,Younger People with Dementia (Berkshire West). Helen has also spoken on local radio about her experiences.
Den and Helen regularly attend the Empowerment Group organised by their local Alzheimer's Society, the PCA Support Group at University College London (UCL) and a group for younger people with dementia. They also take part in a Facebook group for people with PCA and their carers, which Helen describes as a 'lifeline'.
Den has taken part in research at UCL, including a project to see what a person with PCA observes when navigating around a room or locating objects.
He says,
'We do our best on any given occasion to raise awareness of PCA. We have taken part in a group walk around Wokingham with someone from Alzheimer's Society and a town planner to point out the difficulties that someone with PCA might encounter while walking around the shops. The town centre is being refurbished so it was a useful opportunity to identify things that could be changed.

'When we went it was a late autumn afternoon and we pointed out that there were lots of small black bollards around the town which I just wasn't able to see. So we recommended that they should have bright colours on them so people with PCA and other visual impairments could see them.'
They have also raised issues encountered by people with PCA with the local dementia action alliance to help its work to make Wokingham a more dementia-friendly town.
Much to be done
Although Den and Helen believe that awareness of PCA is growing - particularly since the late author Sir Terry Pratchett spoke about having the condition - there is still much to be done.
Den says,
'When people hear "Alzheimer's" they think of an older person with memory loss. We are doing our bit to educate people about PCA and the other rare dementias because there is a lot more to dementia than meets the eye.'
See our factsheet Rarer causes of dementia or call 0300 303 5933 to order.
Find out more about the UCL PCA Support Group or call 07592 540555.
For the Facebook group, see www.facebook.com and search 'posterior cortical atrophy awareness'.