Expressing yourself and raising awareness about dementia at the same time
From the June 2015 issue of our magazine, people with dementia find very different ways to express themselves and share their experiences. Julie Penfold meets a musical man who has been auditioning for TV talent shows.
Talk to Ken Payne, 61, about why he likes writing songs, singing and playing guitar and a huge smile spreads across his face.
His enthusiasm for improving quality of life for people with dementia is just as apparent. Soon after his own diagnosisthree years ago, Ken contacted Alzheimer's Society in Sunderland to ask how he could help other people affected by the condition.
Since then he's not only helped to promote Dementia Awareness Week, he's also been raising awareness of the condition while auditioning for both Britain's Got Talent and the X Factor.
Long career
Ken started having trouble remembering the names of people, objects and food items at the age of 58. His daughters, Debbie and Vicki, urged him to go and see his GP. He was diagnosed with Alzheimer's disease after a series of tests and prescribed donepezil.
Ken had a long career as a social housing manager, supporting the needs of retired people in the Sunderland area. Yet Ken found that his diagnosis had a huge impact on finding work.
He says,
'Since my last job ended in December 2013, I've applied for several jobs but my diagnosis always seems to get in the way.'
However, he has been able to volunteer for organisations including Alzheimer's Society and Gentoo, a housing and community support charity based in Sunderland.
'I'm very happy to be continuing to support retired people as I've done throughout my 39-year career.'
Ken enjoys performing songs in a regular 30-minute slot at a Singing for the Brain group in Sunderland, as well as joining in throughout the session. He likes to perform a combination of his own songs and group favourites such as Streets of London and The house of the rising sun.
Cheese and wine
Ken put pen to paper to write his very first song, Cheese and wine, around four and a half years ago. The romantic ballad was written for his beloved wife, June, and includes the lyrics 'together forever, just like cheese and wine'.
It's a song that means a lot to June and the whole family. Ken had previously performed it at Gentoo's Seniors Got Talent competition, where he finished in second place. When someone from Alzheimer's Society suggested that Ken should audition for Britain's Got Talent, there was only one choice of song in the frame.
Ken was soon on his way to his first TV talent show audition at St James' Park, Newcastle United's football ground. He was enormously proud to fly the flag for Alzheimer's Society but it was a gruelling day.
He says,
'When I arrived to audition, everyone had been told to be there for 11am and there were around 600 people waiting in the queue.

'I went along with my daughter Vicki and we were standing outside waiting for such a long, long time. When we finally got inside to the audition area, there was another queue - this time for the registration table.'
After singing for the first time that day, Ken was called back for a second audition.
'This time I was singing in front of two men - one listened while the other filmed my performance. For both auditions I sang Cheese and wine, and it seemed to go down very well.'
Undeterred
Ken received a certificate for passing the first round of auditions, though sadly he didn't make it onto the show to sing in front of the TV judges. However he remained undeterred and went on to audition for the X Factor.
'I was delighted to be able to perform my music at the auditions while wearing my trusty Alzheimer's Society t-shirt.

'I hope my appearance will let others know there are younger people with dementia and there are things you can do to help your condition.'
Ken says that playing guitar, songwriting and singing keeps his mind active and helps to stop his condition progressing as quickly as it might do otherwise. He is also involved in running group activities at Gentoo, including tenpin bowling and fishing.
Ken hopes to introduce 'rookie golf' - an inclusive, fun version of the game that can be played while sitting or standing - to other Alzheimer's Society volunteers, so there's a good chance his Singing for the Brain friends may also be trying it out in the not too distant future.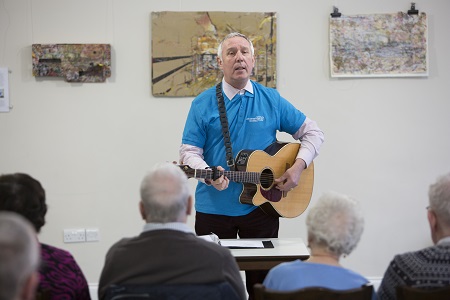 Finding inspiration
As a granddad of three, inspiration for Ken's lyrics largely comes from his family. He's writing a song for his two daughters reflecting on good times from their childhoods, such as school memories and holidays at Disneyworld. Ken also wrote a song to celebrate his granddaughter Elsie's fifth birthday.
His youngest grandchild Henry, aged two, is next on Ken's list for a song. Henry is going through a cheeky phase of opening cupboards and throwing out all the contents, and he likes to playfully tease Ken and June's dogs. Ken feels Henry's escapades will make for a funny song that will also be a wonderful reminder of his growing up in years to come.
He says,
'Writing songs helps you to be able to put everything that's important in your life into words.

'All of my favourite things about my family, friends and activities that I've done feature in my songs. I'm always thinking about what to put in my next one.'
Ken emphasises the benefits of getting a timely diagnosis, and hopes that sharing his music while speaking widely about his condition will help to get the message out to other people who may have dementia.
'Through my performing I'd like to encourage as many people as possible to go and get the early diagnosis that I did.'
Find out more about Singing for the Brain.
To find dementia services near you, see our online directory Dementia Connect.