We hear from a woman who is defying expectations following her dementia diagnosis.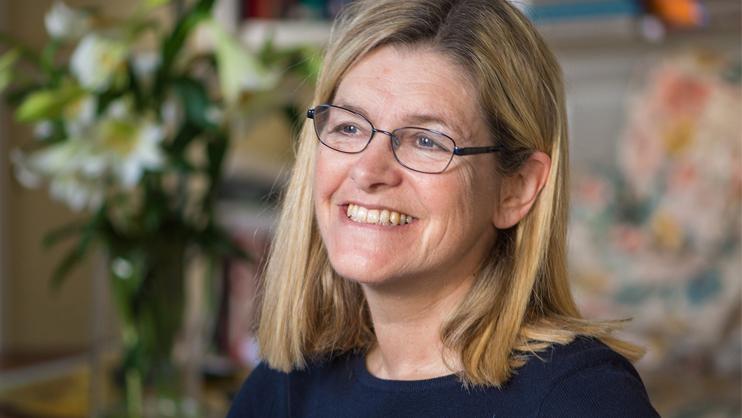 After being rocked by a dementia diagnosis that turned her life upside down, Dr Avril Staunton is now challenging how people with the condition are viewed.
Avril, 62, lives in Bridgwater, Somerset with her husband Michael, a doctor who oversees medical assessments for the army.
As a senior consultant in obstetrics and gynaecology, Avril was headhunted for a job in Germany a few years back.
She underwent a six-week trial period, after which she was told she wouldn't be kept on in the role.
Avril recalls, 'They said, "Everyone is very happy with what you've done but thinking to the future we don't think you're going to be OK. It's only a small team of doctors and we can't carry you."
'They said I should go back to the UK and get myself checked out.'
Having had no idea that anything was the matter, this all came as a great surprise to Avril.
'It was an absolute blow to the belly - I spent two days recuperating from the shock,' she says.
Guilty feelings
Avril had tests in the UK and was diagnosed with atypical early-onset Alzheimer's disease in early 2015. As if this wasn't enough, they also discovered that her husband Michael had cancer.
'I had a breakdown - I've never had anything like that in my life before,' she says.
Avril wonders if these difficult experiences might have contributed to her symptoms, which include problems with memory and finding her way around.
'I've been through a series of shocks in a relatively short space of time. So that complicates the whole picture altogether - it's very mixed up,' she says.
She has even questioned whether dementia was the correct diagnosis, though she doesn't feel she has enough to go on to feel certain.
'It just might be something slightly different. I can't run on anything else, because that's just my thoughts really.'
Avril generally lives well with her condition, but feels guilty when her memory problems have an impact upon others.
'I'm sorry for the people who I forget. If I've said I would see somebody and I forget about it, things like that,' she says.
'I don't like that, because I'm letting somebody down when I've always been rock solid.'
New territory
As well as working in the UK, Germany and United Arab Emirates, Avril was one of the first female medical officers in the British Army. She left when she was blocked from going to the Falklands during the war, which women in this role weren't able to do at the time.
'It's new territory for me, to be more unsure of myself,' says Avril.
Over the years, she has become accustomed to finishing top of the class in education and training, and excelling in her chosen career.
'It's new territory for me, to be more unsure of myself,' she says.
'I've never been unsure really, ever - even as a very small child.'
While she does receive support from her husband, both Avril and Michael strongly reject the description of him being her carer.
'He is not my carer and gets very cross if people say that,' she says. 'He says, "No, she is not in a state to be cared for."
'I ask him to help me with things that I can't do, but he waits for me to ask. He doesn't start telling me what to do or anything like that. I think having autonomy is important.'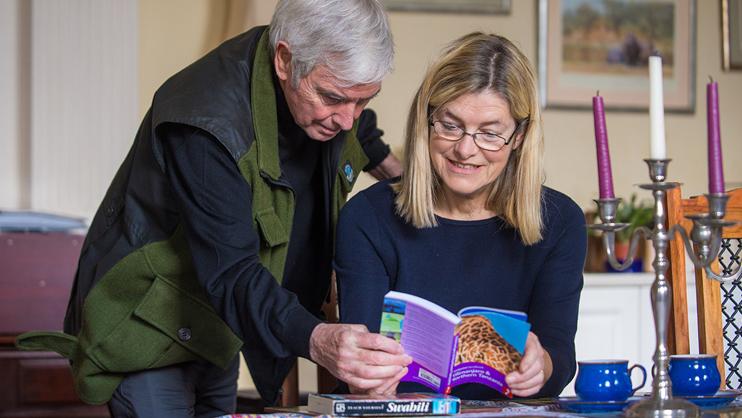 Elephant in the room
Following Avril's diagnosis, she and Michael attended a dementia training session for some of their former medical colleagues.
She says, 'I listened to all this stuff on dementia and then I stood up and said, "I think you're all missing the point - the elephant in the room,"
'They'd forgotten to say, "It's the patient." They'd been discussing everything except the patient.'
Avril also found the reaction to her comments rather telling.
'They turned round and said, "Wow, you said that when you've got Alzheimer's" - as if you're falling to pieces,' she says.
On another occasion, Avril and Michael were due to speak about dementia to a group of local people, including medical staff and carers, at a local rugby club.
Having dropped her notes on the way in, Avril didn't feel fully prepared to give her intended speech.
'I started to speak and suddenly thought I can't do this, this isn't right,' she says.
'So I said, "I'm not going to give the lecture I was going to give. I think it would be better if I just gave you a day in my life."
'The response was absolutely incredible - I must've touched a lot of people in the right places.
'Their comments were things like, "You've been so open, you've been so honest about what you've done, how difficult it is, what has been going on," all that sort of thing. It was much better than just holding a straight lecture. '
Irritating experience
Avril has also given talks to banking staff about how to better support people living with dementia.
'I'm trying to help them understand why people react like they do,' she says.
She also feels that medical professionals should offer more time and consideration to people with the condition.
Having told a nurse that she was feeling better in herself, Avril was given an impromptu test to do, after which she was told that nothing had changed.
'I was really cross because it was a nurse, not a doctor, and she'd just given me a bit of paper off the cuff,' says Avril. 'I was livid - things like that irritate me.
'I think there are quite a lot of people in medicine who give a very quick check over and that's it.'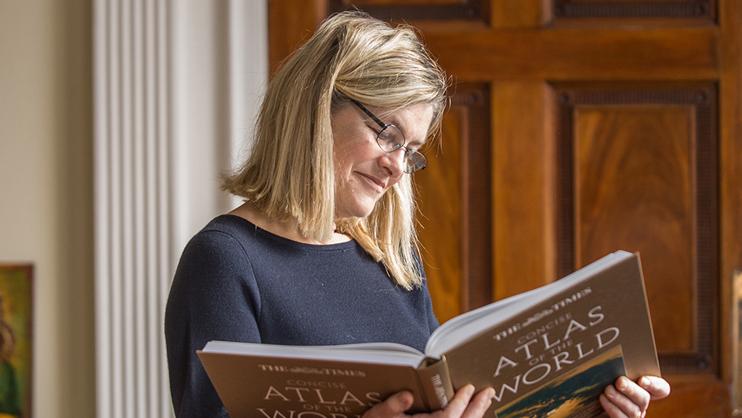 Climbing Kilimanjaro
Avril and Michael are planning a trek up Mount Kilimanjaro in Tanzania, the highest mountain in Africa, for March next year.
The couple want to recruit other people with dementia to join the trip to prove that they can still complete such challenges, while also raising money.
'There are all sorts of different people that I've met over my lifetime who have just done things that you supposedly shouldn't do - it's all doable,' says Avril.
'Once you've been labelled, you've been labelled, so you're obviously not going to go up Kilimanjaro, people think,' says Avril.
'But there are all sorts of different people that I've met over my lifetime who have just done things that you supposedly shouldn't do - it's all doable.
'It's good if you can get a whole load of people together and get them doing something that they wouldn't really have thought about before.
'Going up a mountain is a challenge that's great fun for a lot of people. That sort of thing ought to be encouraged, I believe.'
The couple hope that there would be other benefits for people completing the trek.
'Michael has always believed that if you put somebody on a mountain you can get them going, you can get them healthy,' says Avril.
'Obviously there are certain things that are not going to get better, but other things may well be helped a lot.'
'I'm really looking forward to it, I'm very excited.'
Next steps
Dementia together magazine: Dec 17/Jan 18
Dementia together magazine is for everyone in the dementia movement and anyone affected by the condition.
Subscribe now
More from Dementia together magazine: Dec 17/Jan 18:
Dementia together magazine is for everyone in the dementia movement and anyone affected by the condition.
Subscribe now