Feedback informs Northern Ireland's first dementia-friendly shopping centre
This page is about how 121 and small group conversations have gone beyond use of a checklist and enabled a shopping centre to become more accessible, and inclusive, for people with dementia.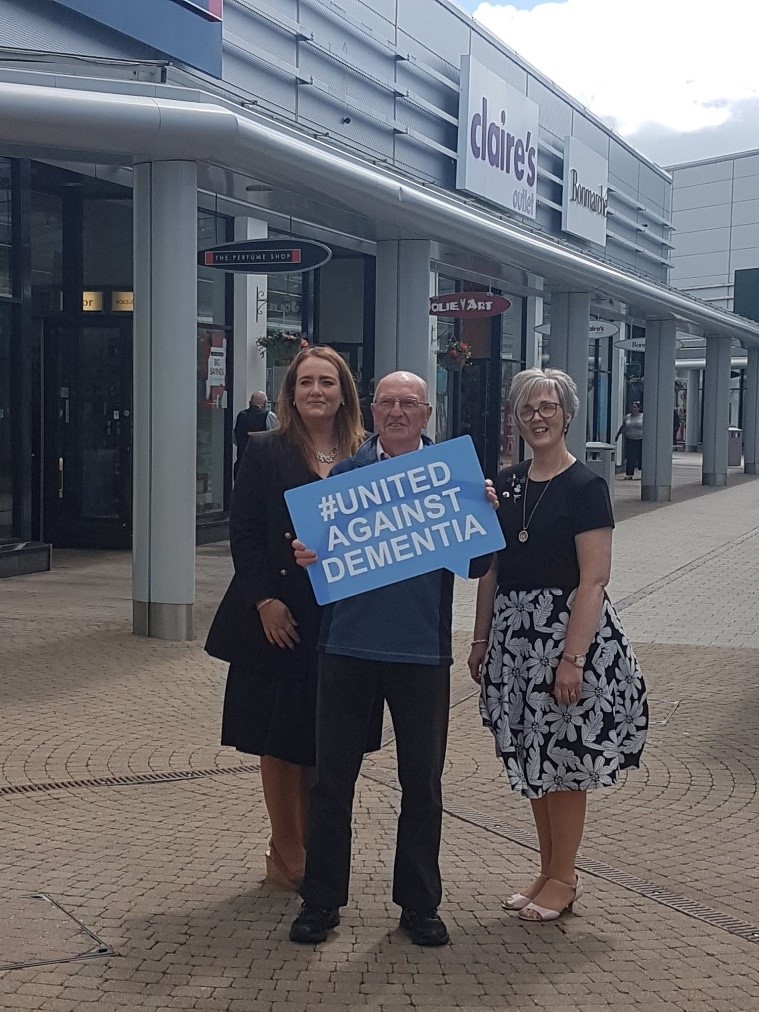 ​
The Purpose
More than 20,400 people are living with dementia in Northern Ireland. Becoming dementia friendly enables businesses to support people to continue their daily living habits, shopping with them for longer. Research shows that 83 per cent of people with memory problems have switched their shopping habits to places that are more accessible (Alzheimer's Society, 2013).
The Junction Shopping Centre in Antrim has a range of shops and facilities. These include opticians, health food, wheelchair and mobility scooter hire.
The shopping centre managers wanted to become more dementia-friendly, to support people affected by dementia to live independently, and be active members of the local community. 
Preparation
Alzheimer's Society volunteer, Lynne Bull, approached centre management and agreed a plan.
Shops and their staff would complete a Dementia Friendly Communities Workshop and create Dementia Friends Champions who would then run Dementia Friends sessions.
Inclusion of people affected by dementia to influence the changes and improvements at the shopping centre.
What Happened
An Alzheimer's Society Dementia Support worker recruited Barney, a person with dementia, and his wife, to help the shopping centre to improve.
The shopping centre's management team met with Barney and his wife.
Barney and his wife toured the shopping centre, using their own observations together with a Dementia-Friendly Environment Checklist as a prompt of things to consider. They made notes as they walked around.
After the tour, the management team worked with Barney, and volunteer Lynne, to make an action plan using the feedback Barney and his wife had provided about their experience of the shopping centre.
The Results
The environmental checklist highlighted several areas where small changes could be made to the benefit of people affected by dementia.
Barney's feedback enabled the shopping centre to learn more, going beyond what they could learn just from using the checklist. Barney helped the shopping centre to identify and appreciate issues such as signage and music levels. 
The shopping centre managers worked through the action points in the improvement plan. They made several changes to the environment around the shopping centre. each store has a nominated 'dementia friend' to assist anyone who needs additional help whilst shopping.
What changed for people with dementia
The shopping centre managers wanted to make sure that they really had made a difference for people with dementia by making the changes in their improvement plan. They also wanted to find out what else they might be able to do to improve the experience of people with dementia using the shopping centre.
So, the shopping centre managers invited a group of people with dementia and carers to complete a tour or 'walk-through' of the shopping centre. Afterwards, the managers met the people with dementia and carers to learn about their experience in a group discussion.
The group's feedback showed that
people with dementia had better experiences of music and quiet areas.
people with dementia found the signage was much better. They also suggested some minor improvements to where signs were placed. The managers agreed to make these improvements.
The shopping centre has continued to learn from feedback about the experience of people with dementia using its services.
One day, Danny, a person living with dementia, said he felt confused when he went into a shoe shop. A member of staff helped him, so that he was able to complete his purchase. Danny feedback about how comfortable the staff member made him feel and this extra care has enabled him to remain independent in his community. 
'I know if I come back to the store, I'll not be left standing on my own. It's very encouraging. It gives me strength to go from day-to-day.

The more people that are there to help, the easier our lives are. We just need that support, and a little bit of time to express what we are looking for.
Barney, who can find noise difficult to manage, has praised the centre for reducing the level of music playing across the site and is especially pleased there is a quite area where he can relax, while his wife is doing some shopping.
The Junction is now the first shopping centre in Northern Ireland committed to becoming Dementia Friendly.
Learning points
Checklists have a role to play but feedback on lived experience can provide a much richer picture to identify how and what to change – often highlighting small actions that are quick and easy to implement, with big impacts.
The involvement of more people with dementia, helped to learn from a broader range of people, appreciating that dementia affects people in lots of different ways. The group were able to confirm improvements and highlight some things which may not have been identified had the shopping centre only listened to one person with dementia.
Key contact to find out more
Alzheimer's Society Local Services Team, Northern Ireland
Useful links
Dementia-Friendly Environmental Checklist