During coronavirus, Sara and her family had been caring for her dad, Brian, who has frontotemporal dementia (FTD), in addition to working and home-schooling. They have lived through the flawed care system and are now calling on Government to act.
At the beginning of 2020, my dad, Brian lived relatively independently with support. Every day, he would be collected by the local bus service to make his way to the day centre.
Dad relied on structure and routine; a love for getting outdoors and an ice cream at the park. However, as day centres closed their doors due to coronavirus, this lifeline was taken away, with no sign of further care for him or support for me and my family.
Family carers are exhausted, over 40% are caring over 100 hours per week
In April 2020, we were left with the challenging but only decision possible, for myself, my husband and my eleven-year-old daughter, Aimee - to move in with Dad.
Managing caring responsibilities with other commitments
Juggling work, home-schooling, and full-time care, we did our absolute best, but the pressure mounted.
On good days, break-times for Aimee were cuddling up to her Grandad and reading to him. For me, it was witnessing the fun they have in each other's company.
But on bad days, Dad was up and down the stairs, pacing around the house, back across the room and unable to leave my side, familiarity and routine were key to him.
There was simply no support available to support Dad living with us. The answers we got were he should have remained on his own. The feelings of confusion, anger and isolation he felt, I felt them too.
Due to his frontotemporal dementia (FTD), Dad lost his ability to communicate, and when his discomfort grew, understanding his needs became trickier and trickier.
With a massive neurological decline and a lack of support and guidance from the care system, it soon became too much.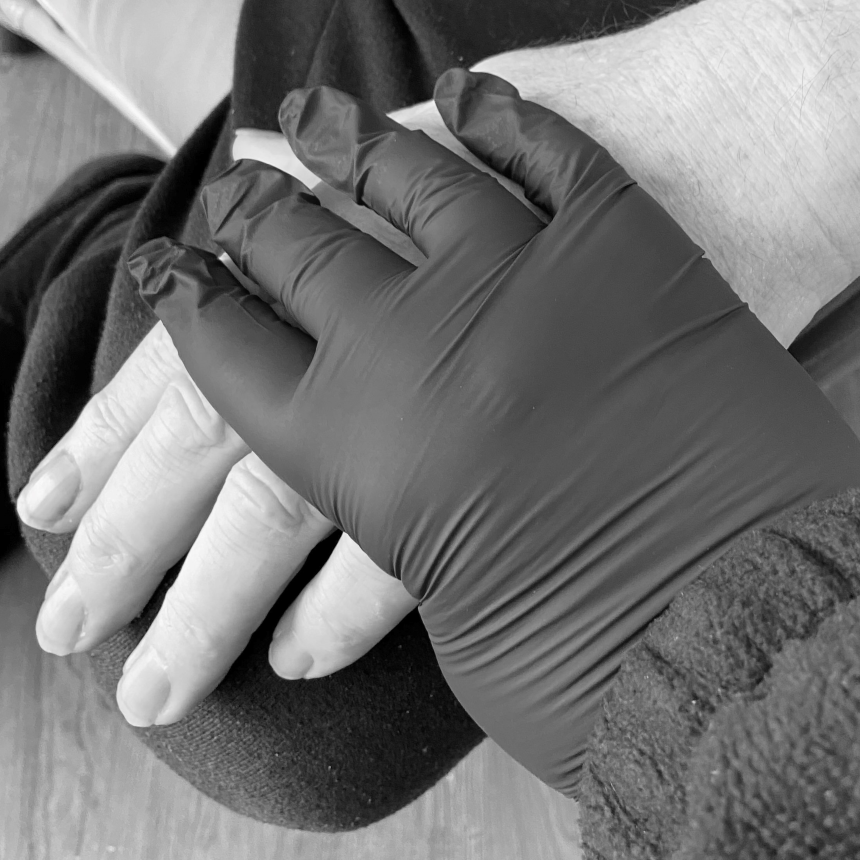 ​
Shortly after entering respite care, Dad had a number of falls.
At 6'2 he is a gentle giant, and a very tactile man. However, without the correct care and attention, he can tumble very far. Within 36 hours, Dad had three falls.
Negligence in the system resulted in a battle to visit him in hospital and then more change for him to place him in a different care home.​
Battling with an unfair care system
Whilst after some time both Dad and my family have felt more settled, now the challenge we face is distance, a lack of connection, and the deterioration that the lack of Government support has caused to Dad's condition.
My daughter, Aimee, would love to bake for my dad and the other residents at the care home or read with him as she did before.
But with the care system unable to meet our needs, Aimee has taken on a role far greater than a granddaughter.
Since Dad's diagnosis I have seen care in every form. The care my daughter gives to my dad, the care Cathy, a Dementia Support Worker at Alzheimer's Society, has given me, but also the care provided by a system that has been stretched to its limit.
Now, I'm calling for better care from the Government. Because while dementia isn't curable yet, the care system is.
Right now, our flawed social care system means that nearly a million UK families are struggling to care for their loved ones with the dignity and support they deserve.
Decades of under-funding have led to a system that's difficult to access, costly, inadequate and unfair.
It doesn't have to be this way.
Sign up to support our campaigns
Become a campaigner to help people affected by dementia today and in the future.
Sign up now
This article was originally published on 1 March 2021 and most recently updated on 21 July 2021.