Researchers have been working tirelessly over the last two decades to understand the genetics of dementia. Find out how this fast-moving area of research could be life-changing for people like Daniel Bradbury, who was diagnosed with a rare form of dementia, aged 30.
The genetics of dementia might be complex, but researchers across the globe agree that they could hold the key to a cure.
Although it is very rare for dementia to be inherited, research has found other genes that influence our risk of developing the condition. These genes provide researchers with clues to identify new targets for drugs and other therapies that might slow down or stop dementia in its tracks.
Daniel and Jordan
Daniel Bradbury, 31, was diagnosed with a rare form of Alzheimer's caused by a mutation in the gene called PSEN1.
He inherited the gene from his father, Adrian, who died from the condition himself aged just 36. 
'Treatments are great, but for me, as somebody who is watching their partner live with the condition and manage it every day, nothing short of a cure will do.'

- Daniel's wife, Jordan Bradbury
There is a 50 per cent chance that Daniel and Jordan's two-year-old twins, Lola and Jasper (pictured below), have inherited the PSEN1 gene. Jordan is worried not only for her husband, but also for her children.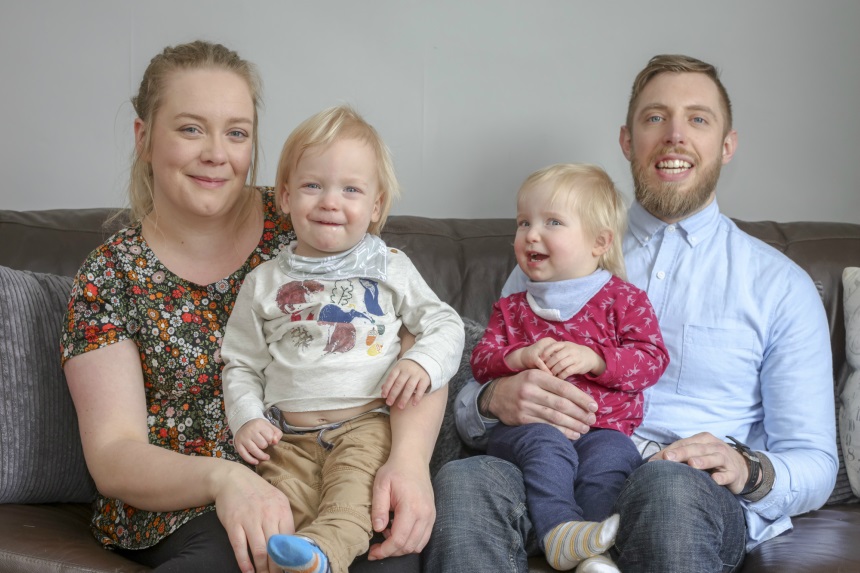 Jordan believes that if something doesn't change in the development of dementia treatment, history will simply repeat itself. 
'I'm going to be caring for my children who will have Alzheimer's in their early thirties. I could lose my entire family unit before I retire. That for me is a very scary feeling, a very scary reality. I want there to be something available for my children should they need it.'

- Jordan Bradbury
Better understanding
Ten years ago, dementia researchers only knew about one gene – ApoE – that is known to play a role in our risk of Alzheimer's disease.
Now, thanks to the families affected by dementia who have put themselves forward for research, we know so much more.
Today, we know of over 25 genes involved in risk for Alzheimer's disease, as well as specific rare gene mutations that cause Alzheimer's disease.
Invaluable projects like the 100,000 Genomes Project mean we also understand much more about how these genes work together to cause dementia.
Learning from other conditions
Gene therapies work by using 'molecular scissors' to remove or silence specific genes we know are involved in causing a condition.
In recent years we've seen astonishing results in gene therapy trials to treat incurable debilitating neurological illnesses including Spinal Muscular Atrophy and Huntington's disease.
Alzheimer's Society researcher Professor Sarah Tabrizi has shown in a phase 2 trial that gene therapy can reduce levels of the toxic Huntington protein that causes Huntington's disease. The next step will be to test this therapy on a larger group of people with Huntington's disease to see if the treatment can prevent the disease from progressing.
Dementia researchers are watching as these results unfold. They are learning from these breakthroughs, bringing us closer than ever before to seeing a gene therapy for dementia.
At the UK Dementia Research Institute, researchers such as Professor Adrian Isaacs are already using similar approaches to target a faulty gene that causes frontotemporal dementia.
What's on the horizon for dementia research?
It's vital that we make the most of this new and ever-growing knowledge of the genetics behind dementia.
Alzheimer's Society's Head of Research, Dr James Pickett, said:
'We're at a tipping point for dementia gene therapy. There are lots of different piece of the puzzle coming together. We've got all of this genetic knowledge, like cancer researchers did 30 years ago, and now we're investing in understanding and exploiting it.'
But with more Government investment, the field could really take off. In 30 years' time, we hope we can prevent dementia before there are any symptoms.
In Alzheimer's disease, researchers are using techniques to stop a toxic protein in the brain (tau) forming, by disrupting the way our genetic code make these proteins.
Researchers at University College London are currently recruiting people with Alzheimer's disease to this trial.
Register with Join Dementia Research, an online platform that matches you to studies taking place in your area. Alternatively, or call our Dementia Connect support line to make an enquiry.
Join Dementia Research
Enquire by phone