Amy and her grandfather Ron share an incredible bond. Once the person caring for Amy, now her Grandad is being cared for. Here's Amy's heartwarming tribute to her biggest role model.
Grandad's upbringing
My Grandad, Ron Chancellor, was born in 1933 in Guildford, Surrey. He's had quite an interesting but challenging life.
Following the death of his mother during a siblings' birth, Grandad was put in an orphanage with his sister, Sheila, by their father.
During the war some years later, my Grandad and Sheila were brought to Brierley Hill in the West Midlands. Along with many other children, they were taken to a church where local residents came to collect the evacuees to look after.
Grandad's sister was taken in by a lovely couple who were unable to have children of their own. Not wanting to be apart from her big brother 'Ronnie', Sheila returned with the couple to fetch him.
Family bonds
After the war ended, Grandad never returned to Guildford. He had finally found the loving parents he deserved. He was adopted by the lovely couple, aged 11.
Despite having found a loving home, Grandad was always keen to find out more about his biological family.
Around 15 years ago, he had a phone call from a sister he never knew he had. He had always been told when his mother died in childbirth, the baby also passed away. This was not true. Almost 70 years later, Grandad and Sheila met their little sister and the three have kept in touch ever since.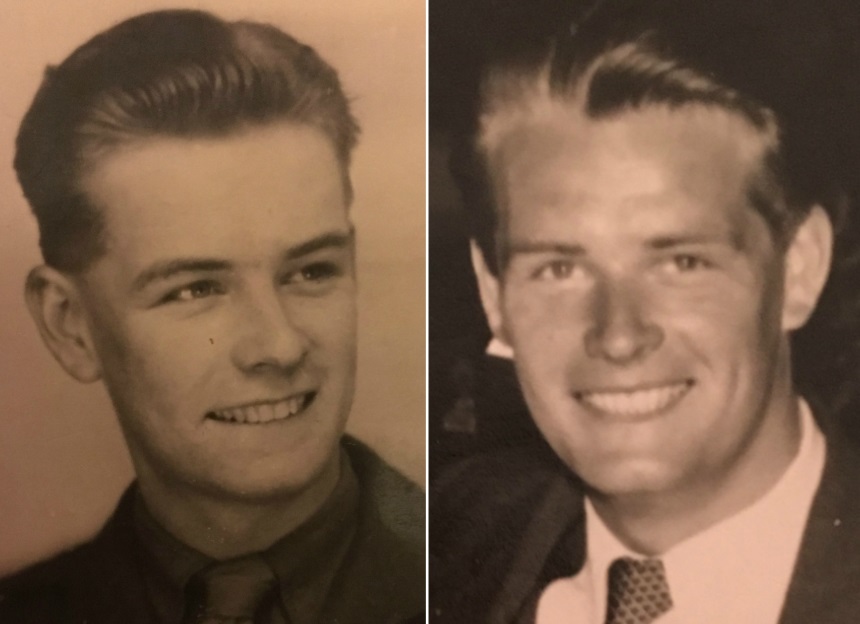 Role model and father figure
At 60 years old, Grandad retired. That same year, I was born. From 6 months old when my mom went back to work, Grandad looked after me and we spent every day together.
Throughout my whole life, my Grandad has been my role model and a father figure. We have always been so close, even before my Dad passed away when I was 15. Grandad has brought me up like a daughter and we have the most incredible bond despite his diagnosis of vascular dementia five years ago.
Being his only grandchild, Grandad definitely gave me all the love he didn't have as a child. He knew what it was like to grow up not feeling loved. He would play with my toys with me, take me on holidays and really was my best friend.
All of my earliest memories are of Grandad and they are memories I will cherish forever.
Even as I have grown up, Grandad has been a part of all of the important milestones. He taught me how to drive and was there when I graduated. He really has done all of the things my Dad would have done.
We would have always been close but I know Grandad stepping up to be my father figure has made us even closer.
Our personalities are very similar and as I get older I can see I am even more like him. We are both caring and family-orientated.
A switch in responsibilities
Grandad has looked after me since I was a young girl. I have taken care of him during recent years. Our roles have definitely reversed.
Now Grandad is in a care home the things we can do are limited. I visit him every weekend and he enjoys watching football.
Grandad is an Aston Villa fan so we watch them on TV and watch his favourite TV programmes.
He enjoys looking at old photos on my phone during visits. He flicks through photos of us all from years ago and we talk about the memories. This is when I see parts of my 'old' Grandad coming through, as we reminisce on old times and he smiles and I know he does remember.
I always make sure I take chocolate with me when I visit - he has a real sweet tooth! He will sit and hold my hand and tell me how much he loves me. I know I am so lucky he still knows me and is able to communicate with me. When I leave, the staff say he will shout for Amy. I hope our love for each other is the one thing he never forgets, because I know I never will.
Endless love
My Grandad had a tough start to his life and has certainly has had a tough end. But I am so proud of him and thankful for all he has done for me.
This disease may be heart-breaking, but I am so grateful I can tell his story of the wonderful man he was, and the incredible life he had, now that he no longer can.