Lyn's dad, Ben, spent much of his life as an Engineer in the Royal Air Force. After he was diagnosed with dementia, Ben moved to a Royal British Legion Poppy Home for retired servicemen and servicewomen, where Lyn says her dad found safety and happiness.
As an RAF Engineer, Dad was known for being precise and particular about details. So my husband Steve and I were shocked when we started to notice changes in his behaviour.
The tipping point happened when my father came down on the train from Edinburgh, where he lived, to visit us in North Yorkshire. He arrived at the right time and the right station, but it was the day before he was due to come. I knew then that something wasn't right.
The following morning I found Dad sitting on his bed fully dressed asking to go home, clearly confused and upset. This behaviour was so out of character. I felt desperately sad and worried for my dad, but I had no idea what to do.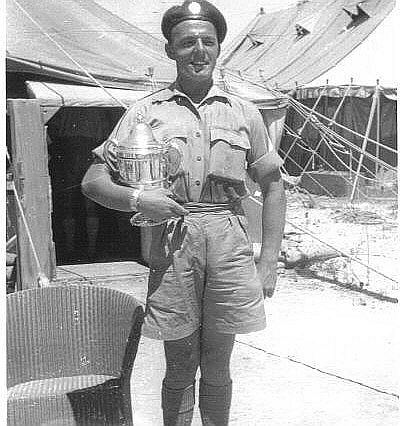 ​
Dad in his RAF uniform
Piecing together the signs
Shortly after Dad's return to Edinburgh I received a call from his local Police Station. The Police Officer explained that my Dad had reported a break in at his house. They said he had been reporting things like this for a while. But each time the Police attended his house they could find no evidence. The Police said if Dad continued to report these incidents they would have to refer him to Social Services as a vulnerable elderly man living on his own (my mother died in 1988).
I began to think back to the strange phone calls from Dad when he told me someone had stolen his shoes. I also remembered him saying he could hear 'voices' in the house. Not to mention the conversation about getting the bus into Edinburgh and believing the driver had forgotten the way, as Dad had ended up in Glasgow.
I had previously put all these stories down to Dad's age and general forgetfulness. But I was beginning to understand how abnormal these behaviours were.
A Diagnosis!
In desperation I made arrangements to take Dad to see his GP. I remembered he told me he'd been to see his GP on a few occasions and had been given anti-depressants, which he had not taken. I wondered then if Dad had not really told the Doctor what was happening to him or was unable to.
During our visit, Dad's GP made no mention of the possibility of Alzheimer's disease, but I now think he had enough understanding to suspect, even though it was not a very long appointment. I remain eternally grateful to the doctor as he immediately referred Dad to the Memory Clinic, at the Royal Victoria Hospital in Edinburgh, for a whole week of tests. While he was attending the memory clinic Dad also received a hot meal each day, which was good as I realised he was now incapable of safely making anything more than toast.
Dad was diagnosed with Alzheimer's disease and Vascular Dementia. Doctors suggested he had probably been declining during the last three or four years, maybe even longer. Dad was 79 years old. How was it possible I had not realised any of this?
The diagnosis was completely devastating and I didn't know what we were going to do next or how we would cope. Although we had a diagnosis it felt we were very much on our own at that point.
Difficult decisions
I realised it was unlikely Dad would be able to stay in his own house on his own. I approached the Royal Air Force Association but they were unable to help.
In the end, following a conversation with a retired Army Major friend, I contacted the Royal British Legion. They have a number of Poppy Homes for retired Army, Navy and RAF Servicemen and servicewomen and their spouses. Steve and I went to see a home in Ripon, about 25 miles from our own, and were impressed.
The care home had residential, nursing care and a new Dementia unit based on a military theme. We took Dad to see the home – he loved it and wanted to know when he could move in.
At the time I still thought Dad would be in the residential part of the home. But the Manager had seen the reports on Dad's diagnosis and had done some assessments of their own. In their view they felt Dad should go into the Dementia Unit. Despite what I now knew this was a shock to me. I felt very guilty, that I had betrayed my Dad by letting him go into the home. But Dad was willing to go and moved in the June of 2007.
We dressed his room with familiar pictures and some of his own belongings before he got there, and I like to think this made a big difference for him.
For the first few weeks it was difficult for my dad, and for me, but I came to believe it was the right decision. Gradually Dad settled down and he was there for seven and a half years. He remained in the same room for that period and died in the same room in 2014.
A care home is not for everyone
I understand going into a home is not everyone's choice, but it worked for us. I am sure my Dad was happy there. And, most importantly, he was safe, and I was able to spend quality time when I visited.
I am also aware the cost of care can be prohibitive for some. Care for those with Dementia who need to be safe and cared for, particularly in the later stages of dementia, is a massive issue the Government must address. Although the home my Dad was in was not the most expensive available, he paid £350,000 in care home fees during his stay.
Dad was very lucky to be able to afford this cost.
It grieves me that quality care for those who are ill should be available only to those that can afford it, which is quite frankly a scandal.
It is also depressing to hear so much in the media about poor care in homes when there is so much good care out there which is never reported.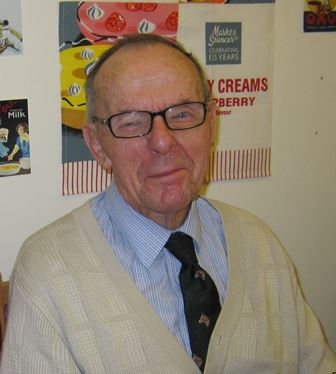 ​
Dad in his room in 2013
A Lot Has Changed
On a positive note, thankfully a lot has changed since 2007. People with a diagnosis of Dementia are going into care homes at a much later stage in the illness than my dad did. Today there is much more understanding and awareness of Alzheimer's Disease and other forms of Dementia.
At the time my Dad was diagnosed not only did I have no idea what to do, or who to turn to, I was advised it was best not to tell the person who had been diagnosed. It's a great regret to me that I never discussed Dad's illness with him, an approach I now believe is wrong.
From a personal point of view joining the Alzheimer's Society as a Research Network Volunteer in 2014 is the most rewarding and positive work I have done. I have met and made friends with some wonderfully inspiring people.
I became involved with the Alzheimer's Society for many reasons; the hope that no one is ever faced with the difficulties we encountered when my Dad was diagnosed. To help provide more awareness and understanding of Dementia, to talk about the illness and, finally, the hope that one day research will find a cure.
Read more stories from Research Network volunteers
Our Research Network members all have a personal connection to dementia. They support our research to make sure it's relevant and impactful for everyone affected by dementia.
Read more stories