Knitted fiddle toys can be helpful for people with dementia with restless hands. Knit our festive elf for a seasonal friend.
Earlier this year we published a snuggle bear pattern written by Fiona Crouch. It was very popular, and we've seen bears popping up all over the country.

If you haven't heard, Elf Day is our annual celebration of everything festive, designed to get you into the Christmas spirit while raising money to help those affected by dementia. So, to celebrate, Fiona has come up with a special Christmas themed version of the pattern.

This elf would make a perfect companion on the big day, as well as a soothing festive friend for people with dementia - so get your needles out and start knitting!
The 'Snuggle Elf' fiddle toy pattern
For fidgeters, twiddlers and anyone who needs a special festive friend. Snuggle Elf can be made in an evening – what better than to give a Christmas gift that is lovingly elf made?
Sits in your hand or for an extra special snuggle, pop him over a finger or two and let him nestle in your hand.

Equipment
4mm knitting needles
Small amount of DK yarn (I used red, white, green and flesh coloured yarn in this design)
Flesh coloured yarn for nose and black yarn or small beads for eyes
Sewing needle
Small amount of toy stuffing

Skills Required
Cast on/off
Garter stitch
Simple button holes
Increase
Decrease (by knitting 2 stitches together)
How to knit your own fiddle toy Elf
(Hat, Head and Body)
Cast on 3 stitches (in a festive colour – I've used green)
Knit one row
Increase each row by one stitch (I do it in the middle of the row, but it can be at the end) until you have 12 stitches.
Knit 2 rows
Change to flesh coloured yarn and knit 6 rows
Decrease by knitting 2 stitches together (6 stitches). This gives the shape of the neck
Knit one row
Change to colour for body and increase into each stitch (12 stitches)
Knit one row
Next row - knit 2 stitches, knit 2 stitches together, bring yarn forward, knit to last 5 stitches, knit 2 stitches together, bring yarn forward and knit to end of row (making simple buttonholes for the arms to fit through)
Knit 9 rows – legs next

(Legs)
(Working on first 6 stitches only, slip remaining 6 stitches onto a stitch holder)
Knit 8 rows
Next row - increase into every other stitch (9 stitches)
Knit 3 rows
To finish legs break yarn and sew through loops to make feet
Repeat with remaining 6 stitches to make other leg
Note – my elf has candy cane striped legs, changing colour every 2 rows (legs) and bright red shoes (from the increase row onwards). If it's easier, keep them all one colour or come up with your own festive design!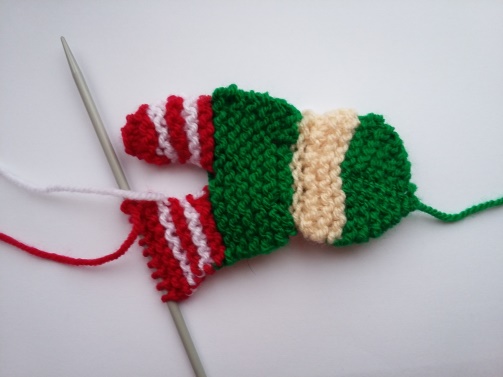 ​
(Arms)
Cast on 24 stitches (in the colour to match or complement your body)
Knit 6 rows
Cast off 

(Hat Band)
Loosely cast on 18 stitches
Cast off 
To make up
Sew arms along long seam using whip stitch and put to one side
Sew legs up to body (as shown in bottom leg in above photo – this one piece makes the hat, head, body and legs)
Sew body (seam is at back) up to buttonholes
Thread arms through the buttonholes and sew ends together
Secure arms in place by stitching an arm onto each buttonhole
Lightly stuff body (a plump tummy looks fab!) - leave legs unstuffed
Continue sewing up to top of the hat and stuff lightly
Sew hat band into place
Embroider eyes and nose using black yarn/beads and flesh coloured yarn.
Please note the author can accept no responsibility for any consequences arising from the information advice or instructions given in this pattern
Pattern is ©Fiona Crouch, 2018. All rights reserved – for personal and non-commercial use only.
Visit Fiona's Facebook page to see more of her wonderful knitted designs.
Whether you're a knitter or not, you can take part in our Elf Day celebrations on 7 December, and help us raise money to beat dementia.
Sign up