A woman horrified by her step-father's hospital stay wants dementia care to improve
Fix Dementia Care, a new Alzheimer's Society campaign, will begin by focusing on care in hospitals. Heather Stephen meets a woman horrified by her step-father's devastating experience.
When Jill Parr's step-father, David, was admitted to hospital for dental treatment she could never have predicted the trauma that lay ahead.
David Steele, who is 64 and has frontotemporal dementia, had to wait so long for an appointment to have two teeth removed that he developed an agonising mouth abscess.
Because he was in so much pain he became distressed and aggressive, but when care home staff called for an ambulance they were shocked when two police vans arrived to collect him.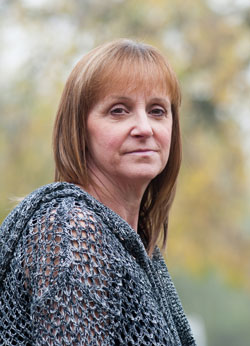 Jill, 49, from Denton, Greater Manchester, rushed down to the home after she was told what had happened and insisted her father was taken to hospital in an ambulance.
When he arrived he was taken to a medical assessment unit and Jill explained why her father was so distressed.
'I expected them to deal with his abscess as soon as possible, but he ended up being in hospital for months being moved from ward to ward.'
Absolute nightmare
After six days on the medical assessment unit David was moved to a general ward, which Jill describes as 'horrendous'.
She says,
'It was an absolute nightmare. They kept forgetting to give him his medication and didn't know how to deal with him.

'One time I went in to visit and four or five nurses were running around the ward after him like a "Carry on" film, and he ended up with bruises on his arms when he was grabbed by two big security guards.

'Dad used to become agitated because staff were trying to stop him roaming around picking things up, but all they had to do was to sit him down and talk to him to calm him down.'
David's aggressive behaviour continued to be a challenge for hospital staff. During one visit Jill arrived to find that police had handcuffed her father to the bed. She was shocked when a nurse told her he had pushed over a piece of hospital equipment and could be charged with criminal damage.
Jill says,
'I was appalled. My father is a sick man but they were treating him like a criminal. It was ridiculous.'
Vast difference
By the time David was moved to a dementia unit a week later, Jill says he had already lost a considerable amount of weight as staff had failed to monitor his eating and drinking.
She says there was a 'vast' difference in the care provided on the dementia unit, and it was even better after she contacted the rapid assessment interface and discharge (RAID) psychiatric team at the hospital who oversee the care of people with dementia.
'As soon as my dad was admitted I rang RAID, a scheme that the community psychiatric nurse had told me about, and someone from the team came to see Dad three times a day.

'The lady from the team was really nice, she was able to talk to the doctors and nurses for me and tried her best to make sure he was getting the right kind of care.'
Bacterial infection
In the end David was in hospital four months waiting for surgery to remove his teeth. His operation was cancelled when he contracted the bacterial infection Clostridium difficile, and he was told he would have to return to the main hospital as he was at risk of developing septicaemia.
Jill was apprehensive.
'I said you have to give me a guarantee that you will look after him properly as I couldn't go through that again.'
Unfortunately, Jill's fears were realised as soon as David returned to a general ward.
'After they had promised he would be given antibiotics intravenously I found they were trying to give him medication by mouth and he wouldn't take it.

'The consultant told me it was Dad's choice whether he took the medication or not which I thought was unbelievable given his condition.'
David recovered from his infection and was discharged from hospital still waiting for surgery.
After two more cancellations he finally had his operation – 11 months after seeing the dentist – by which time his teeth had decayed so much the surgeon needed to remove seven teeth rather than two.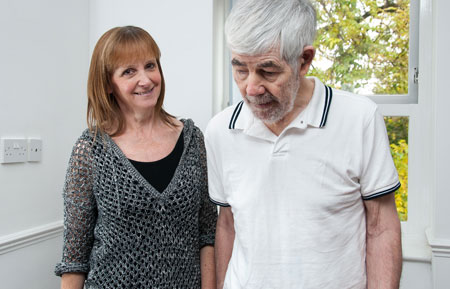 Dramatic decline
Jill says the lack of understanding of dementia and the distress suffered by her father because of all the delays led to a dramatic decline in his health.
'He deteriorated right before my eyes. When he was in hospital he lost loads of weight and since he came out he has completely changed.

'Before he went into hospital he was only on medication for his dementia but since they have doped him up with all those sedatives he just mumbles and slouches in his chair.'
Jill was so upset by her experience that she says she had six sessions with a psychologist in an attempt to get over the trauma.
But she feels the upsetting events she experienced during her father's hospital stay could have been avoided if he had been treated more rapidly and been placed in a ward under the care of staff who understood his condition.
'If my father had been seen as an emergency on a ward with staff trained to deal with the complex needs of people with dementia, we could have avoided this whole awful situation.

'I think standards of care would be much better if nursing staff were sent into care homes to get more of an understanding of people with dementia and the best way to look after them.'
Opportunity to change
Jill documented everything that happened to her father with a view to lodging a complaint against the hospital. She shelved the plan after her mother Pamela, who had vascular dementia, died in July.
But Jill found another opportunity to change things when she heard about Alzheimer's Society's upcoming Fix Dementia Care campaign.
'My friend told me she had seen on Facebook that Alzheimer's Society was looking for people to share their experiences of hospital – both good and bad – and it seemed like the right place to share Dad's story.

'It is shocking that hospital staff know so little about how to look after people with dementia. My advice if you have a relative who needs to go into hospital is to contact your local community psychiatric nursingteam straightaway, as they can go in and talk to the hospital to make sure the right care is being given.

'Our experience in hospital was awful but it would have been even more of a nightmare without that mental health professional support.'
Next steps
Look out for our Fix Dementia Care campaign in the new year to improve standards of dementia care.
Join Talking Point to connect with other people affected by dementia through our online support community.