New Fidget Widget toolkit provides meaningful activity for those living with dementia
An Alzheimer's Society and University of Central Lancashire (UCLan) funded innovation has created five tactile wooden tools – the Fidget Widget toolkit.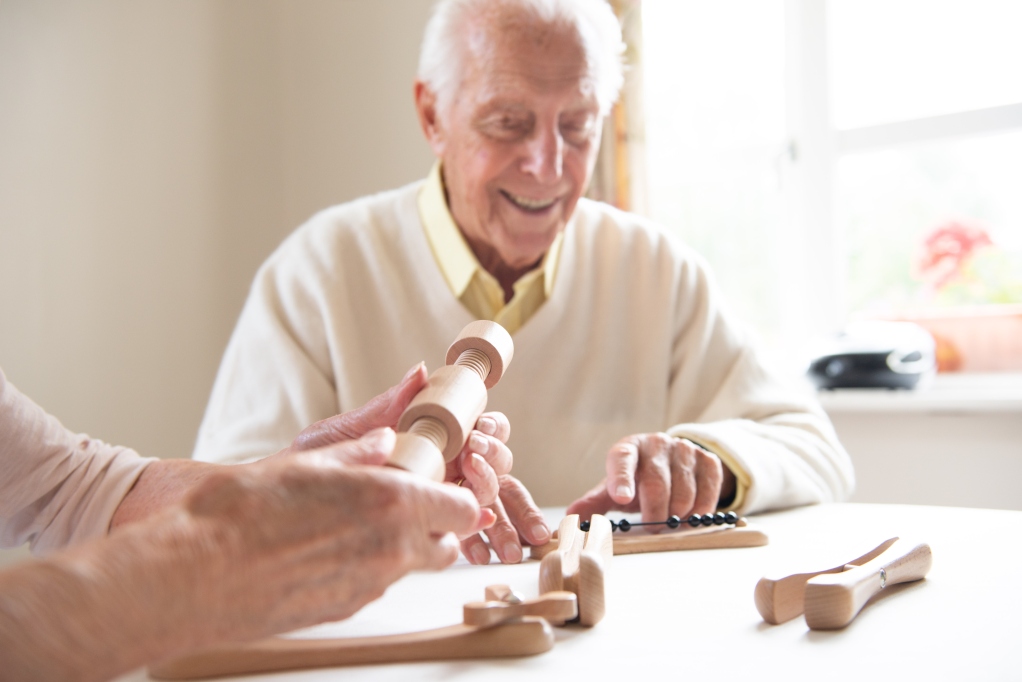 ​
The Fidget Widgets provide meaningful activity for those living with dementia, who may experience fidgeting behaviours and have difficulty with words.
The Fidget Widget improves the wellbeing of people with dementia by tapping into the psychological need to feel occupied, engaged and included in an activity of their choice.
Feedback from carers suggests this can help people with dementia feel calmer and more relaxed.
Carol Benabda, a Dementia Support Worker who has worked with people affected by dementia engaging with the toolkit said:
'It was very much a wow moment, big smiles on faces.'
'A lady with dementia immediately began to interact and engage with the Fidget Widgets – she was laughing with a big smile on her face and spent a long time exploring the tools.
'The family of a lady told us that, when they collected her from the day centre at the end of the day, often she was cross but when she had spent some time using the tool she was different. She was happy and it lasted throughout the evening.'
How do the tools work?
The specially designed widgets, which use touch, feel and repetitive movements, each with a particular motion; spin, slide, twist, turn and roll, are intended to be unrecognisable, removing any need to rely on memory or words to use them.
Manufactured by Active Minds, the tool means users are free to get creative, playing and interacting with the tools as they wish, with no right or wrong way of using them.
The idea was developed by industry experts, Judith Bower, Alzheimer's Society Dementia Adviser, and Jane Souyave, Senior Graphic Design Lecturer at the University of Central Lancashire.
After speaking to numerous carers where fidgeting and repetitive movement was often the subject of conversation, they realised that there was a gap in the care market.
Judith Bower, said:
'Carers often described fidgeting as a negative and disruptive behaviour. We wanted to create something that would tackle this idea, while, at the same time, creating something engaging that people with dementia could benefit from.'
The creative duo applied to both Alzheimer's Society's and the University of Central Lancashire's Innovation funding schemes, which support innovative research that could better help people with dementia live better.
Provided with advice and support by the charity, the duo tested their tools in day centres, care homes, and in people's homes over a two year period. They found that both men and women engaged with the tools equally, and that families were keen to be involved in using it with their loved ones.
The Fidget Widget toolkit is one way in which Alzheimer's Society is leading the way in rebalancing investment between biomedical and care research. We have invested £5.6 million in three Centres of Excellence across the UK, and as a founding funder of the UK Dementia Research Institute (DRI), are supporting the investment of £20m for a care and technology work stream.
Fiona Carragher, Chief Policy and Research Officer at Alzheimer's Society, says:
'The Fidget Widget toolkit addresses an unmet need for people with fidgeting behaviours, a group which can be overlooked or labelled 'difficult to manage'.
'Dementia is a devastating condition, and while our funded researchers are hard at work to find a cure, it's great to see the brilliant ideas that we have helped make a reality, being employed to help people with dementia right now.'
Jane Souyave, Senior Lecturer in Graphic Design at the University of Central Lancashire (UCLan), said:
'In collaboration with the Alzheimer's Society and Active Minds, the Fidget Widget Toolkit is the result of eight years of research and development and provides an opportunity for those with advanced dementia to be engaged in meaningful activities that enhance personal wellbeing.
'The results of our product testing, in people's own homes, day centres and Lancashire County Council care homes, confirm that the toolkit supports psychological needs.
'Users feel occupied, engaged and included in a meaningful activity of their choice.'
'Caregivers also reported that there was an ongoing and lasting well-being effect.'
Ben, Founder and CEO of Active Minds, said:
'We are delighted to be partnering with the Alzheimer's Society and UCLan to bring the Fidget Widget to market. Active Minds have spent the past eight years creating products to make people with dementia feel valued and included.
'As it is often those with moderate and advanced dementia that are harder to reach, we are excited to now be able to offer more to those customers.'
'We have already secured pre-orders from care groups and international partners as many have recognised this meets a need for those with more advanced dementia.'
Jackie Pool, Director of Memory Care, Sunrise Senior Living UK, said:
'We are delighted to have the Fidget Widget Toolkit in all of our Sunrise Senior Living and Gracewell Healthcare Homes.
'Having these evidence-based, specially designed resources will support our residents to be engaged and relaxed – and they are beautifully made, tactile objects that everyone can enjoy.'
The full Fidget Widget Toolkit is available within our Online Shop, priced at £59.99 for the complete kit of five tools, or you can buy each tool for £12.98 each.
Browse our shop