Living alone with a dementia diagnosis
Being diagnosed with dementia is a life-changing experience and some people feel more alone in facing the journey ahead. Fiona Madden talks to one man who was diagnosed last year.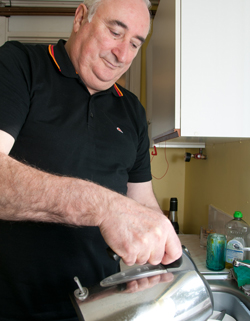 When 63-year old Alex Burton was diagnosed with early onset dementia last September he was prepared to tackle his upcoming journey with the same fighting spirit he had exhibited in two years of caring for his late wife when she had cancer.
However as someone living alone, Alex, in Lancashire, has had experiences that have left him feeling anxious and frustrated.
Getting on with it
Alex says:
'I started to notice short-term memory problems 18 months prior to diagnosis, which were probably more acute to me as I come from an engineering and analytical background. I'm used to dealing with exactness and to forget short-term things was very unusual.

'I had initial discussions with my GP and was referred to a memory clinic and diagnosed with mild cognitive impairment. After many tests and a brain scan over a year, I had a consultant's review where I was diagnosed with dementia.'
Alex says that after he left the memory clinic he was unclear about what he should do next and felt as though he had to 'get on with it' on his own.
He feels that people with dementia often rely on those around them for support and to pick up on changes in behaviour. Since he lives alone he says this puts him at a disadvantage.
'Short-term memory is the biggest contention. In my own way I'm trying to safeguard myself and work out if things do change how I'm going to spot them. If I had a partner they would be the regulator in some ways - they are more likely to spot changes in the condition.'
Alex says that although services may be there for him if things get really bad,
'I live on my own - who's going to tell me when I have a crisis or emergency? This is one of the biggest problems for me of living alone with this disease.'
No one seeing me
Alex has a good relationship with his GP who offered to monitor his condition. However he respectfully declined because although he has known his GP a long time he would prefer a dementia specialist's input.
He says,
'I was offered medication when I was diagnosed - I was literally handed a prescription so I looked into it. I asked one of the doctors who was kind enough to have a 30-minute conversation over the phone about it.

'I also picked up research papers on the particular drug and they didn't convince me at all about the pros of it because it relies on me to decide if there are any improvements. When they give you a drug they review you every three months from the nursing side of it, but of course I have no one seeing me in between.'
Alex was diagnosed with a heart condition a couple of months after his dementia diagnosis. This led to concerns about whether his dementia medication might affect his new condition, and he was worried about the idea of having a pacemaker fitted as a result. He says, 'This terrified me.'
Opening the lid
Through taking part in the Society's online forum Talking Point, Alex noticed very different feedback from other people about local services in various parts of the country.
Alex has spent 12 years campaigning on carers' issues with Macmillan Cancer Support and says,
'I have three grown-up children and the dynamics of the family have changed. They know I had a battle caring for my late wife. I'm a strong person but that doesn't protect me with taking on the vigour for this disease. I don't want to sit at home crying about it.

'One option is to move down to my daughter in Somerset but as a person living with dementia knows, familiarity is one of our safeguards. I feel like I'm getting pushed and I can't seem to find someone who is brave enough to tell me "this is how it is".

'My basic question is how is anyone going to know if my condition deteriorates? They won't because I live on my own.

'I'm not seeking publicity - I'm more than happy to support this cause because it affects me and it needs the lid to be opened.'
To find out more, you can download our Living alone factsheet (517) or order a copy by calling 01628 529240.
You can also access and take part in our online forum Talking Point.
For advice about living with dementia, call the Alzheimer's Society National Dementia Helpline on 0300 222 11 22.