A woman determined to create communities that are more dementia friendly
From the October/November 2015 issue of our magazine, a dementia diagnosis can turn life upside down. Luke Bishop talks to a woman who found ways to use her energy and determination to make life better.
Joy Watson's life changed drastically when she was diagnosed with Alzheimer's disease in her mid-50s, after years of worsening symptoms. She and her husband, Tony, knew many of their plans for the future could not now be realised.
Joy experienced a very low period, spending 'two months on the sofa'. She wondered if she would live to see her son get married or her granddaughter turn 18.
Two years later, her outlook couldn't be more different. Joy, 57, is brimming with plans and ideas. Although she would never have chosen to have dementia, she describes herself as feeling oddly privileged because it has led her down paths she would not have taken otherwise.
Despite this, getting her diagnosis was clearly a struggle and she says there was not enough emotional support available to her immediately afterwards.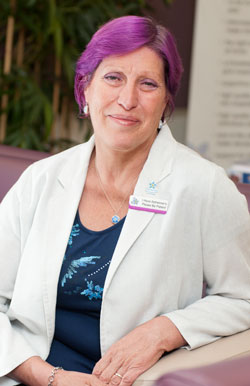 Forgetful and clumsy
Joy's symptoms first appeared when she was around 49 and working as a carer. At first she found herself becoming forgetful and clumsy, but things got worse after she was anaesthetised for a routine operation.
She says,
'I was forever banging into things and couldn't remember phone numbers that I had known for ages. Then it started to affect my work.

'My clients would ask me to make them a drink and by the time I got to the kitchen I couldn't remember if they had asked for tea or coffee.

'I thought to myself that I can't really carry on like this and that I was putting my clients at risk. I was devastated to give up my job.

'At that time I didn't really have an idea what it was - I thought I was just clumsy and tired. I did go over and above the call of duty and worked extra hours.

'It all came to a head when I had a routine operation and, once I came home from that, I completely lost the plot for around three weeks.

'They thought that I'd had a stroke because I lost my speech, I lost feeling on one side of my body and I didn't really recognise anyone.'
After this she took some memory tests which she 'failed abysmally'. However because of her age, dementia was not put forward as an explanation, with depression and the menopause being offered as the most probable causes.
It wasn't until Joy and Tony moved from Kent to Greater Manchester that she was diagnosed. She was referred for a brain scan after taking more memory tests, which found that she had Alzheimer's. The news was broken to her on her 55th birthday.
'I would have definitely preferred it to have been diagnosed earlier - I could have got my house in order a lot sooner and we would have planned our future completely differently.

'My husband was going to retire and take a part-time job. We had so many plans together and if we had known earlier we could have planned better, but it wasn't to be.

'My world fell apart at that moment. Having cared for people with dementia for years and seeing what happened to Tony's parents, I had a clear idea about what might be ahead.'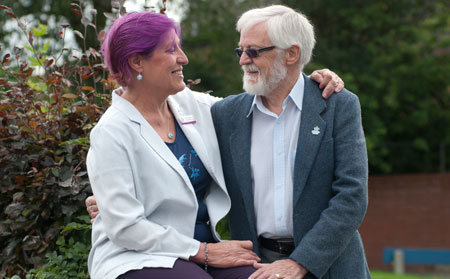 Although she had immediate medical and physical support from health and social services, she believes that counselling sessions could have helped her to avoid feeling so dejected.
'Not everyone will want to talk to a counsellor after diagnosis, but it would have been good to have the option.

'Some of the younger people with dementia I have spoken to have said that if they just had 20 minutes to talk to someone and process what they had just been told - even if it happened a few weeks after their diagnosis - it would have made a difference.'
A choice
Joy says her despondency lifted almost as quickly as it had arrived when she recognised that she had a choice in how she responded to her situation. She decided to throw herself into raising awareness and challenging perceptions of dementia in her community.
Her energy and determination are clear when she talks about Dementia Havens, her project working directly with local businesses and organisations to create a dementia-friendly community in her adopted hometown of Eccles.
Although the project has a very positive focus, it was spurred by some negative experiences she had around the town.
In one particularly distressing incident, her bankcard got stuck in the card machine while paying for petrol. She went to get help from a member of staff, which a number of other customers waiting to pay took umbrage with. When she tried to explain she had dementia, they laughed at her.
'I went out in floods of tears and one of them even came outside and stood in front of the car and continued to laugh at me. Fortunately a lady came over and asked if I was OK, she said to me, "You are that lady that talks about dementia." She was very clued up about dementia so that made me feel better.'
The community has got behind Joy and her Dementia Friendly Eccles campaign, launched in March 2014 with the local MP, mayor and businesspeople in attendance.
Personal style
Joy says her style of campaigning is very personal - she handed out leaflets about dementia to around 200 shops and businesses in Eccles herself, and only two said they were not interested.
She says this has had a tangible impact, for example, in the way that staff at her local hair salon and café accommodate the needs of customers with dementia.
Joy, with her trademark dyed purple hair, has also become well known in the community.
'The town had been hit by this crazy person with purple hair and they didn't have any choice but to become dementia friendly!

'It just shows that if you try to break down barriers so that people aren't of the mindset that dementia is all about old people's homes, but that it is about people in their community that they see every day, then you can have an impact.'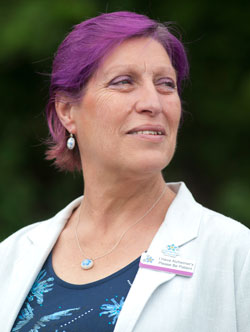 She hopes to fulfil her vision to create a 'dementia village' in Salford with shops and amenities, where people would be able to receive care catered to their individual needs while living in their own homes.
Joy is a Dementia Friends Champion, trained to run sessions for people becoming Dementia Friends, letting them know about the impact of dementia and what they can do to help. She is also one of the Society's four new ambassadors living with dementia.
Fighting it
Joy, who says she has always been an adrenalin junkie, also plans to take on a mile-long zip wire - Europe's longest - in north Wales, to prove what people with dementia are capable of.
'If I didn't stay active then I would have long given up by now.

'In an odd way, I feel quite privileged to have dementia, it is not the path I would have chosen but it has led me to do things and meet people I would not have done otherwise.

'I'm determined not to let the dementia win - in the end it will win, but until I lose capacity I am fighting it, and if that means making life better for my kids and their kids and future generations, then I am up for that.'
Next steps
Become a Dementia Friends Champion like Joy.
The dementia guide is for anyone recently diagnosed, or call 0300 303 5933 to order.
Find out about ways to support our work, or call 0330 333 0804.