A volunteer helping churches across his county to support people affected by dementia
From the April/May 2016 issue of our magazine, a prominent volunteer in Cumbria is working with churches to provide supportive environments.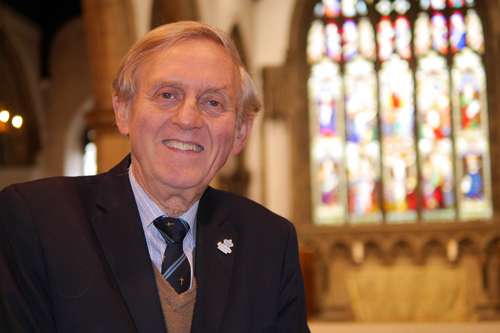 David Richardson, a long-time Society volunteer and former trustee, is leading a new drive to make every church in Cumbria dementia friendly.
David's late mother had vascular dementia, and as someone active in his church, it struck him to ask what they were doing for people affected by dementia.
He says,
'Churches constantly say that they are there for everyone. This initiative helps make that claim come true for people with dementia and carers.'
All churches
Encouraged by the Bishop of Carlisle to involve all churches, David is now Dementia Co-ordinator at Churches Together in Cumbria, an organisation doing just that.
Each local church has been asked to nominate a dementia enabler, who will attend two days' training in April and June.
David says,
'It's not that the dementia enabler will shoulder all responsibility for anything dementia related, but that they should make dementia everybody's business within the church.'
Enabling change
Dementia enablers will become Dementia Friends, assess how their own church could become more dementia friendly and pin down how they will achieve this.
The goal is for every church to support people after a diagnosis of dementia, make sure that services are welcoming and accessible for people with dementia and carers, and that both continue to be supported if the person can no longer attend or moves into residential care.
Challenge to all
David wants all faith communities to learn from their experiences in Cumbria.
'What works here will work for other faiths too. I want to challenge people – what is your faith community doing to become dementia friendly?'