A programme which provides carers with invaluable support and advice
From the August/September 2016 issue of our magazine, find out about a programme to support carers of those with dementia.
The Carer Information and Support Programme (CrISP), offered in many areas, brings people together to learn and share.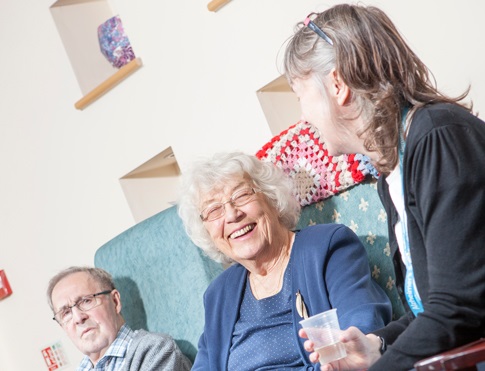 Being a carer can be challenging, as Bill Venables, 77, knows all too well. Christine, his wife of 55 years, was diagnosed with Alzheimer's over four years ago, but only after pushing the issue with their GP.
Bill uses all his organisational nous to give Christine, now 74, the support she needs, as well as learning new skills such as cooking. A former designer in a hot-rolling mill, he took part in the Society's Carer Information and Support Programme (CrISP) in Dudley, West Midlands.
Bill says,
'The course made me realise that I am far from alone in what I am dealing with.'
What and why?
Dot Wood's husband, Bernard, was diagnosed with vascular dementia three years ago and now has difficulty speaking. The five-week CrISP course gave Dot insights into his condition that help her to cope with day-to-day frustrations.
Dot, 71, says,
'The descriptions and pictures of what happens in the brain were a real eye opener, which I showed family and friends to help them understand too.
'Before, I couldn't grasp what was happening and why.'
Gill Fletcher's mother, whose vascular dementia was diagnosed 18 months ago, lives on her own.
Gill, 67, says,
'We have carers come in every morning, and someone from Alzheimer's Society visits four times a week.'
As well as information on planning ahead and looking after yourself as a carer, the course in Dudley put Gill in touch with other local support, such as potential future care homes.
'Everything we did on the course had some sort of impact on the way we think and deal with caring.'
Carers sharing
CrISP courses bring carers together to share perspectives. Jim Dean's wife, Pam, was diagnosed with mixed dementia seven years ago and both are now 82. In that time Jim, an ex-librarian, has built up a lot of knowledge, but CrISP had more to offer.
He says,
'Most useful to me were the discussions, the questions that we got to ask each other.'
Jim says this was particularly helpful with subjects such as what to do if someone isn't able to make a decision for themselves.
Carol Bowsher, Information Worker at the local Society, says,
'People are often left with a lack of understanding about dementia and unanswered questions. CrISP can help fill the gaps.'