People with dementia sharing their experiences through visits to local schools
From the May 2015 issue of our magazine, people with dementia in Sussex are raising awareness among young people in their community. Andrew Bence shared in an enriching visit to a local secondary school.
Bit by bit, local initiative by local initiative, Alzheimer's Society's ambition of building dementia-friendly communities is being realised. Many of those in the vanguard of this campaign are not seasoned politicos and hard-nosed strategists, they are people living with dementia.
I joined one such troupe - Mid-Sussex Dementia-Friendly Group - on a recent visit to a large secondary school called Warden Park Academy in Cuckfield, West Sussex, where they had been invited to give a talk to year nine students. According to the curriculum, 'learning for life' was the group's raison d'être, 'living with dementia' their subject.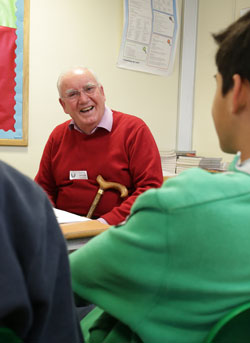 We assembled in Warden Park's reception to be met by Tim Wilkins, the Society's local Service User Involvement Officer and today's facilitator. This was only the second of a series of school talks the group had signed up for and there was a hint of trepidation in the air.
Just before the school bell rang for class change-over, we were led to a room resembling a large store cupboard: our green room and sanctuary from the corridor chaos about to ensue.
Tim said,
'You get to see all the sights with me, don't you guys?'
Sylvia was looking a little nervous, and Eileen reminded herself,
'Don't let's get hysterical.'
Looking back
And suddenly there we were, back in the classroom after all these years, seated along the front this time next to the whiteboard, opposite our younger selves, listening as Mr Lickorish went through the register. Memory problems? The memories were flooding back!
Tim kicked off proceedings with a presentation. He introduced the group, talked about dementia, its symptoms and challenges, and outlined our shared vision of dementia-friendly communities.
A key message was that it is possible to live well with dementia and that there's more to a person with dementia than the condition.
Coaxing questions from our young audience was difficult at first, even for practised facilitator Tim, but gradually curiosity got the better of them.
From the practical, 'Are there things you're not allowed to do?' to the clumsier, 'What's it like living with a shrunken brain?' From the sensitive, 'Do you worry about it getting worse?' to the less so, 'What's the most extreme form of dementia?'
Answering these and other questions, we learned along the way about Sylvia's fitness regime of swimming and long walks, Alan's background in newspapers and David's discovery that he had dementia during a routine visit to his GP.
Eileen confessed to being a former teacher, Gordon spoke of his admiration for the film Still Alice, and everyone expressed gratitude for the support they received from partners and close friends.
Shared experience
Splitting up into small discussion groups allowed the students to talk more freely with each of their visitors. Former teacher Eileen was in her element here, asking as well as answering questions, drawing out students' knowledge of and feelings about dementia.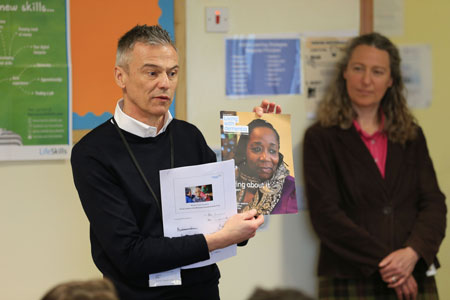 Three of the five students in Eileen's group had family members affected by the condition. They talked movingly about their loved ones' difficulties. It was becoming apparent these young people knew more about dementia than some of us had imagined.
The world, it seems, is changing. In part because of the efforts of Eileen and her colleagues, the taboo that prevented us talking about dementia is lifting. The media's coverage of the condition has vastly increased and significantly improved, and in some ways today's young people grow up much faster than we did.
Class teacher Alex Lickorish thanked the mid-Sussex group for their visit. He thought their warmth and openness had given his students 'a greater understanding of dementia, and that it would help them speak more openly about it within their own families'.
Back in reception, husbands and wives had arrived to pick up their other halves, and trepidation was replaced by an air of satisfaction, of a job well done.
Tim reminded everyone of the date for their next meeting, and mentioned that he hoped to have Radio Sussex in tow for their next school visit.
With goodbyes all round, and as if to prove a point, our team of covert revolutionaries dispersed, to lives enriched and enriching.
See our dementia resources for young people, parents, teachers and youth leaders.