Online support and expert Q&As from Talking Point, our online support community
From the October/November 2015 issue of our magazine, people may have questions about dementia or need support at any time of day or night, and Talking Point is a free, safe space that is open 24 hours.
Talking Point is a place to ask the really tough questions about living with dementia, share frustrations and learn from others in a similar situation.
You can become a member of the community to receive support, ask for advice, read others' stories and share information.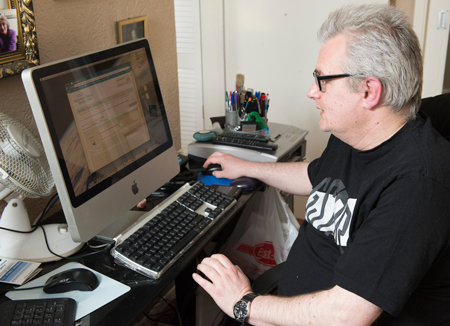 Our volunteers draw on their own experiences of dementia to welcome new members and point people towards useful resources, and Society staff can also answer questions.
One volunteer, Jan, says,
'I was amazed at how I made friends on Talking Point. It was a place to share my problems and to gain from the experience of others. We could help each other while sitting in the comfort of our own homes.'
Our help videos demonstrate how to join and use Talking Point - anyone can read messages in the public forums, but you need to register to post your own.
The free app makes it easier to access Talking Point anywhere - from the sofa to when you're on the move.
Expert Q&As
Dementia brings many challenges and questions, and it can be difficult to know who to ask.
We hold monthly expert Q&A sessions for Talking Point members in our chat room on a wide range of topics. These feature helpline advisers, knowledge officers and others with specialist areas of expertise.
We invite members to send questions in advance if they won't be online that day, and we publish a transcript of the session afterwards.
Upcoming sessions:
The 'sandwich generation' - caring for a parent with dementia and your children, with Kim from our helpline, 7-8pm on 19 October.
Demystifying the Care Act - what do I need to know? with Tina, Knowledge Officer, 3-4pm on 19 November.
Find out more about Talking Point and join in.
Your answers
See the discussion thread on Talking Point in response to our question about preventing a man from falling when he gets up to visit the toilet at night.