A man with dementia who overcame his anxieties about going to support groups
From the June/July 2016 issue of our magazine, When John Kelly first went to a group for people with memory problems, he wasn't sure he'd be able to cross the threshold. Luke Bishop hears how he now helps others overcome their anxieties.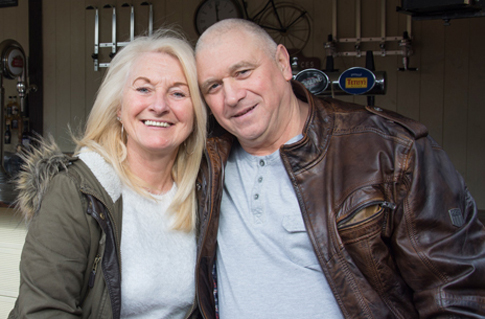 When John Kelly was persuaded to attend a group for people with memory problems in St Helens, Merseyside six years ago, he was so nervous that he sat in his car for 10 minutes before going in.
Even after plucking up the courage to enter the building, he had to stop again before opening the door of the meeting room. John, now 65, had been diagnosed with vascular dementia the previous year after a number of instances of forgetfulness. These had affected his work as an electrical and plumbing engineer in particular.
After diagnosis he took early retirement and, out of work for the first time in his adult life, says he entered a 'dark place' for several months. He barely left his house or spoke to anyone, worried that people would be talking about his condition and judging him for it.
All this was playing on John's mind when he went to attend the group, and it was touch and go as to whether he would be able to overcome his anxieties.
Fear and embarrassment
When the group was first suggested, John dismissed the idea immediately, thinking it was simply not his sort of thing.
He says,
'At this stage I hadn't really been out for about six or seven months for fear of people recognising what condition I had. It was an embarrassment to me and that is how I saw it.
'The psychiatric nurse told me about this meeting and I said I would think about it, but had no intention of going. Vivian, my wife, then chatted to me about it and said, "You can let it take over you, or you can fight back and get your life back."'
As Vivian had foreseen, attending the meeting was to be a life-changing experience for John and something that initiated his 'fight back' against dementia. He recalls,
'When I went in I could have died – there were quite a lot of people around a big table talking, but talking really quickly – and it frightened me. I had a fear of everyone talking to me really quickly and not being able to cope.
'However, a lady there said to me, "Sit down John," and eventually I started to come to terms with the situation – I wasn't happy but was coming to terms with the fact I was there.'
Playing his part
Going to the group the second time was a lot easier for John, and he felt more able to talk about his experiences of living with dementia. When people were asked if they would like to establish a regular group, John was very keen to play his part.
'That was the moment that I founded the Looking Forward Dementia Support Group, for which I am now chairman, along with Tish McKee, who works with people with dementia and their carers.'
From that point on the new group started to meet on a monthly basis. It describes itself as an innovative and forward-thinking group that aims to inform, expand, educate and enhance knowledge and understanding of what it is like to live with dementia.
The group grew organically and, at first, the main aim was to gauge the level of interest and engagement that there would be for it in St Helens. They quickly discovered a significant amount of interest.
Friendship and support
John says the group became a great source of camaraderie, friendship and support for those who attended, and not least for himself.
Many new members seemed to have gone through a similar experience to him, doubting the benefits of joining a group and uncertain about wanting to be there or engaging with others. In most cases, however, such reservations were soon overcome.
'With me being the chairman as well, I saw all the people coming through the doors. At first, they often look frightened and confused and like they are thinking, "What the heck am I doing here?" – just like I was at my first group meeting.
'You can see the worry on their faces. But my motto now is that if that person doesn't leave the meeting with a smile on their face or talking to other people, then I haven't done my job properly. The majority of time they accept the situation that they are in and learn that they are in the right place.
'We offer people peace of mind. The way forward is not to let dementia ruin you but to stand up and rule the dementia. In the group we take the mickey out of it and the effect it has on us. We say things like, "If I knew dementia was going to be this good when I am trying to fight it then I wish I would have had it earlier."
'When someone is feeling sorry for themselves that is another time when people rally around to make the person feel better. You chat to people and you get them involved.'
Out and about
Although the focus has mostly been on providing companionship and emotional support for people with dementia, John says that going on trips is increasingly becoming part of the group's remit.
A recent excursion to a museum in Yorkshire was very well received, and he is planning a series of nature walks so that members can take part in activities such as bird-watching. The group also acts as a source of information, with talks from Alzheimer's Society and other organisations.
John says,
'The group is not about me making decisions for everyone else on what we should do. Whatever is the decision of the majority of the people, that is what is going to happen.'
Speaking more generally about overcoming barriers to attend groups he adds,
'Once you go over that threshold, that is the first step and that is the major step. You may not have been out of that front door for months or years but as soon as you make that first step, that is the road to creating a better way of living with dementia.'
A better life
Although John went through a tough time after diagnosis, his current mission to try and make life better for other people living with dementia is influenced by the grit and determination he has shown throughout his life.
For example, he attended night school as an adult so that he could fulfil his ambition of becoming a union shop steward by learning to read and write. This later led to him becoming a full-time union convenor.
The other mainstay in his life has been Vivian, whom he credits with helping him get out of his initial period of depression after diagnosis. She insisted that he should do what he can to live well with dementia rather than letting it stop him in his tracks.
These positive influences have helped him form his overall philosophy on life with dementia.
'You can take dementia two ways – and this is just my way of looking at it – it is like a motorway and you can stay in the fast lane and get to your destination quickly, or you can go on the slow lane and learn how to cope with it and get a better way of life out of it.'