Clear, accessible information about dementia for people with learning disabilities
From the December 2015/January 2016 issue of our magazine, The Society has two new factsheets for people with learning disabilities. Andrew Bence meets the people who helped to develop and test them.
Dementia is distressing and hard to understand. It can challenge even the most knowledgeable and experienced of carers, professional or otherwise. Its taboo status – only now being lifted – has traditionally condemned it to the darkest of corners.
Today that picture is changing. As treatment, care and awareness gradually improve and good, reliable information becomes more available, our understanding may begin to grow and our fears to lessen.
On this particular journey, people with learning disabilities have further to travel than most. As likely as anyone else to know someone with dementia, they have an increased risk of developing the condition, particularly if they have Down's syndrome. Yet their special communication needs have often been left behind.
Worth celebrating
That's why the publication of two new Alzheimer's Society factsheets, produced in conjunction with the British Institute of Learning Disabilities (BILD) and the vital contribution of a self-advocacy group, warranted a launch party.
On arrival at BILD's Birmingham offices, Sally, from Our Way Self Advocacy, was keen to talk about an interview she had seen on the telly. Ian Botham, the former cricketer, had been so upset by his father's dementia he'd had to stop visiting him.
Sally's late aunt had dementia. It felt as though, in a process still continuing, that interview and this project are helping Sally to come to terms with what had happened. Meanwhile her colleague, John, had worries of his own – the organisers of the event had forgotten to make him a name badge.
Karl, also from Our Way, sat studying his pristine copies of What is dementia? and Supporting a person with dementia. He explained that his mum had had dementia and the project felt very personal to him.
'She lived with me until the end. I was her carer. It feels rewarding to have helped with this.'
Knowledge is power
Lesley Barcham from BILD was just as pleased. The organisation aims for people with learning disabilities to be valued equally, treated with dignity and respect, and empowered to participate in society. This project hit the bull's-eye.
'We wanted to produce reliable and factual information in an Easy Read format and using plain English. The factsheets needed to answer the sort of questions we all have about dementia.

'They would need to be text-light, free of jargon, and generously illustrated. We think the results are great.'
Lesley is clear that the editorial process was important, and helped ensure these resources have the potential to help many thousands of people.
'By meeting with the self-advocacy groups five or six times, we were able to go over all the different elements – words, layout, choice of photos – road-testing them, as it were, with people who knew better than most what was needed.'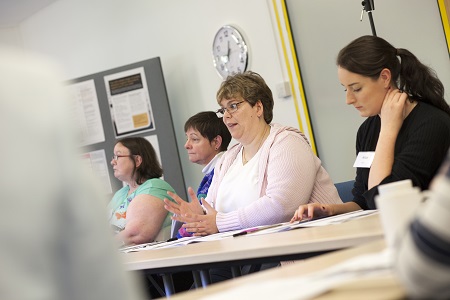 Learning from experience
Nisha, from Our Way, lost her grandmother to dementia.
'It still feels really hard for me because, although she was my mum's mum, in a way she looked after all of us.'
One of Nisha's in-laws has recently been diagnosed with the condition.
'But I understand better now how to help care for him.'
Ann Chivers, BILD's Chief Executive, says the factsheets will be valuable in a wide variety of settings and across different services.
Once again personal experience proves pertinent. 'I've just used them, actually,' says Ann, whose mother has dementia, waving her copies.
Proud to be involved
Before breaking for a celebratory lunch, Lesley asks the group,
'If we were to start again, what should we do differently?'
Karl looks worried.
'Not that we're going to!' adds Lesley. 'But if we did.'
No one can think of anything.
'Then they must be perfect,' says Lesley.
John now thinks of something –
'Better planning?'
There are quizzical looks all round.
'Next time we could make sure I had a name badge.'
As the laughter subsides, John adds,
'I'm proud to have been involved in this.'
The murmurs of agreement make it clear he has spoken for all concerned.
See our Easy Read factsheets What is dementia? and Supporting a person with dementia or call 0300 303 5933 to order.