An Alzheimer's Society volunteer who has dealt with dementia both at home and in her career
From the June/July 2016 issue of our magazine, a volunteer in the East Midlands is using her professional and personal experiences of dementia to help provide local Society services.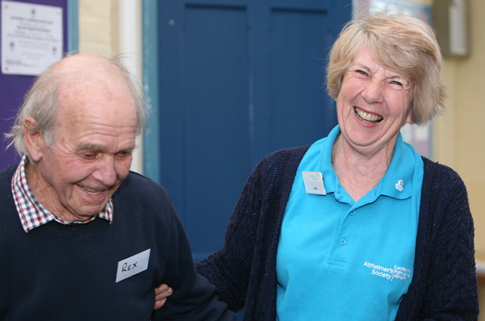 Pam Freer, who volunteers for the Society in Fenland, has no illusions about the impact of dementia on people's lives.
She was supporting people with the condition, initially in hospital and then social services, decades before her husband's diagnosis.
Pam, now 71, says,
'Although I'd worked with dementia for over 30 years in various roles, it was very different being on the other side of the fence.'
Despite her experience and skills, there were times she simply needed to let off steam while caring for her husband of 51 years, who died last August.
She says,
'I had a "swear garden". I used to go to the end of the garden and have a little swear! After that we'd have a cup of tea and things felt much better.'
Determined
Even before her husband's vascular dementia was confirmed, Pam was determined to put her professional experience to good use after retiring six years ago.
'I didn't want to sit at home and I had enjoyed working with people with dementia, so I contacted Alzheimer's Society's Fenland office.'
At first the only volunteer at her local group, she is now part of a team whose volunteering means the local Society can offer a monthly dementia café as well as fortnightly activity groups in Wisbech, north Cambridgeshire.
'It's very rewarding and positive – it makes me get up in the morning. It's using all the training I had, taking that experience along to the group and sharing it with other volunteers.'
Nice group
People access a lot of information in the dementia café's relaxed environment, while the activity groups are an opportunity to meet others and have a bit of fun.
Pam says,
'We've got a nice little group of volunteers. Some go straight to the kitchen to get the urn on, others arrange chairs or greet people as they come in.'
She is most animated when talking about the impact of groups on the people who attend them. One man with dementia who didn't want to leave the house agreed to come to an activity group accompanied by a support worker.
'The transformation now is unbelievable. He really looks forward to enjoying the group and meeting his friends, and his wife is not so stressed.'
In her own time, Pam also runs a monthly lunch club for people with dementia and carers, helped by another volunteer.
Happy place
Pam's advice for anyone who is hesitant about attending a local group is simple.
'Go along with an open mind and you'll be pleasantly surprised with the laughter and activity. It isn't doom and gloom – it's a very happy place.'