Dementia Voice: Patrick Ettenes's story
Patrick Ettenes is living with young-onset dementia and has got involved in a wide range of exciting activities with Alzheimer's Society. Here he shares how it all started.
Get up and start exploring more, meet others like yourself, talk about your condition with others...and don't be afraid to open up and express yourself.
- Patrick Ettenes

​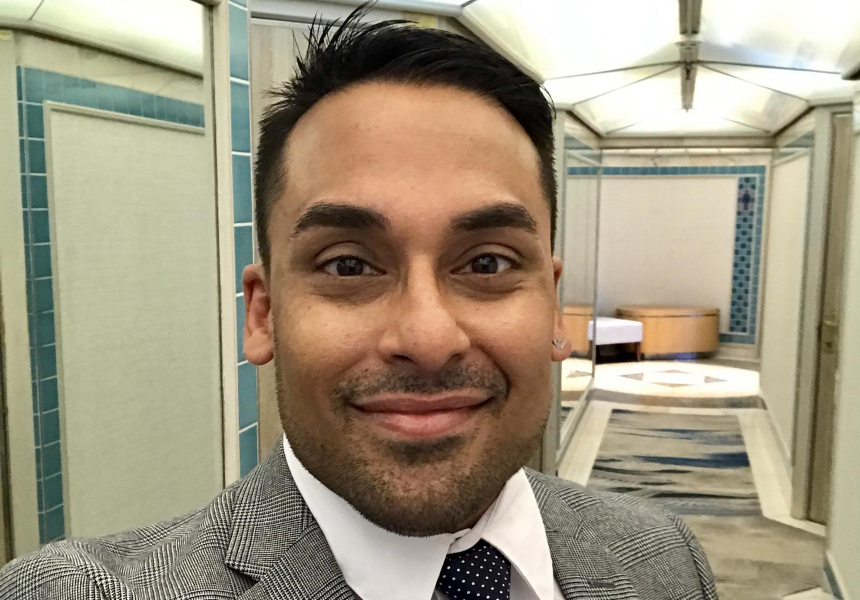 ​
How did you start working with Alzheimer's Society?
Well, it started when an article was written about me in 2017, called the Shining a light.
It was published in Alzheimer's Society's Living With Dementia magazine (now called Dementia together). From there I got some recognition for my story.
The story was about my struggles with getting a diagnosis at the time and getting support. You see, I was a TV producer for a small local TV station called That's TV, producing a daytime show called The Advice Show.
I had the Alzheimer's Society on there a few times, where I met one of your colleagues called Julia Collins, to whom to this day I say has saved my life many times over. She would appear on my show and a few others around Dementia Action Week, and whenever I found a slot to interview them about various topics related to dementia.
So you can say that was my first collaboration with yourselves. The article soon followed and after I gave up producing after two years. I decided to concentrate on my new illness, see where I can work, broaden my knowledge and see if there was a place for myself to bring awareness.
What are your favourite things you have been involved with?
My favourite things I've been involved with? Well here are some of the projects I've been in and enjoyed so far
co-producing the innovation campaign Bring Dementia Out.
participation with the Dementia Action Alliance (DAA) roundtable about dementia issues within the LGBT community
participation in a Greater Manchester Mayor event
Filming for the Hospital team project.
Lecturing at Manchester University, about living alone with dementia.
Talks to Alzheimer's Society staff in Wales and Durham.
Creation of LGBT Dementia Network.
Royal College of Nursing talks for Alzheimer's Society with Dementia Action Alliance; and
being part of the 3 Nations Dementia Work Group.
If you are someone who has dementia, and want to be involved, get up and do so!

I was told I was a miracle because I am living proof that if you keep yourself busy your brain can cope better. So in other words, now is the time to pay attention to yourself.
What would you say to anyone who is thinking about getting involved?
There are plenty of other people out there who are craving your company and your smile. Even if you don't know what you want by volunteering, you'll find your way, and find what you didn't know was missing from your life.
As for those who don't have dementia but you have someone in your life that does? If you want to get involved, do it, because it could be you one day who needs someone to help you.

Having dementia strips you of your personality and so much more, so be there to help someone remember theirs. Kindness is the biggest comfort when you have this condition. And you'll also find a piece of your humanity that makes you believe in each other once more.
Alzheimer's Society saved my life. And you'll see it might just save yours also.
Some of the impacts of Patrick getting involved
Bring Dementia Out

The innovation project campaign developed into a programme led by the LGBT Foundation, supported by the Guinness Partnership, and working in partnership with National Dementia Action Alliance, Switchboard (Brighton & Hove), National LGB&T Partnership and LGBT Consortium. Alzheimer's Society has continued to provide guidance and advice to the partnership.

Internally, Alzheimer's Society continues to run learning and development sessions for staff using the Bring Dementia Out resources to encourage LGBT+ inclusion and awareness.

National Diversity Award for LGBT Positive Role Model 2019
Patrick was nominated and voted for by lots of people and organisations he has helped about living better as an LGBT+ person affected by dementia. The judges recognised the community impact of his involvement in co-production, campaigning and awareness-raising.

Attitude Award 2021

In this very moving interview, Patrick talks about adjusting to life with his dementia diagnosis, and how important it is to him to be able to help other people live better when they are affected by dementia.
Want to influence our work?
Complete our short online form to get involved with our work.
Sign up here