Reminiscing about sport can help people with dementia revisit vivid memories. Meet a group of football fans who love looking back.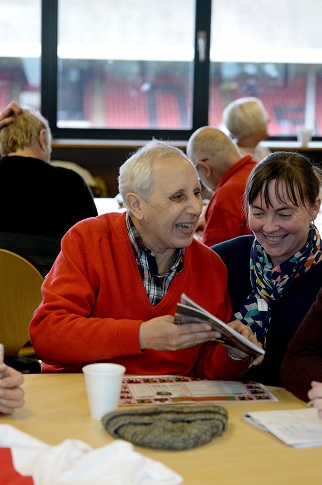 A group of men and women are gathered at Leyton Orient's Brisbane Road stadium, east London, ready to talk football. Seated in an indoor gallery area, overlooking the pitch below, they are surrounded by club memorabilia including match programmes from across the decades, an old-style team shirt and even a trophy, all designed to prompt reminiscence and discussion.
These monthly sporting memories sessions are organised by the Leyton Orient Trust – the charity and community arm of the club – in partnership with the Sporting Memories Network. Open to anyone over the age of 50, the sessions use sporting reminiscence to help combat the effects of dementia, depression and loneliness.
Special guest
This month's theme is 'Memories of Leyton Orient' and the club has invited former star striker Peter Kitchen along as a special guest. The talk soon extends into all areas of football however, including the participants' own playing.
Eric, an 86-year old retired electrician who has dementia, says,
'I'm not boasting but I thought I wasn't a bad player.'
Pietro Ferrillo, 75, is a former restauranteur also living with dementia.
He says,
'If I worked at a hotel, I would play football against the other hotels – I got involved.'
The conversation comes thick and fast, and soon turns to the group's personal allegiances.
Eric says proudly,
'I'm a Spurs man, always will be. I used to go to games quite a lot.'
Brian Richards, a 78-year-old former painter and decorator who now has dementia, is a West Ham fan. Asked if he used to attend matches, he replies,
'Oh yeah! I saw Frank Lampard, Trevor Brooking and all the famous people. But I don't go now because it's so expensive!'
Terrace banter
Brian enjoys recalling some of the terrace banter that was commonplace at games.
'I used to see a few get injured and hurt – they used to cart them off. A player got bundled over and a fan shouted, "Bury him there!"'
Pietro, an Italian who came to England in 1965, supports Chelsea and AC Milan. His passion is obvious as he rolls off some of the continental club's legendary players of the late 80s and early 90s.
'Gullit, Van Basten, Rijkaard – the best trio. They won the league!'
Pietro welcomes the opportunity to reminisce and enjoys being asked questions about his football past.
'I'm very happy to remember my days.'
For Eric, the experience is slightly more bittersweet. He describes reminiscing as 'fantastic' but adds,
'It upsets me because I can't play anymore.'
The chatter flows and the time flies as participants share the highs and lows of their respective teams and exchange memories about favourite players.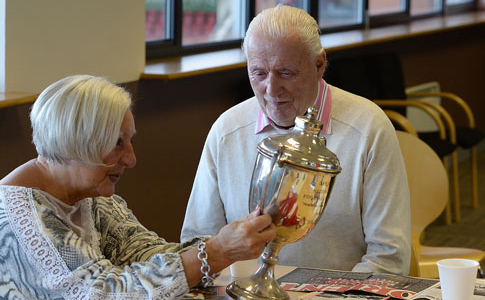 Power of sport
The sessions are run by Phillip Smith from the Leyton Orient Trust.
He says,
'It's been great to bring together so many people from different backgrounds through the power and love of sport. It's an opportunity for everyone to make new friends and have fun.
'It can support people living with dementia to unlock memories too.'
The reminiscence sessions are often followed by physical activity. For example, when the theme was the Olympics, participants tried out an armchair Olympics session.
Leyton Orient has long been known as a community club and supports local people with dementia in a number of ways, including through weekly walking football sessions.
It is also part of the national #TeamDementiaFriends campaign, which encourages football clubs to become more dementia friendly.
Buddy system
A home game against Portsmouth in October was promoted as a dementia awareness day. On the morning of the match, all stadium stewards received dementia awareness training, while free tickets were given out to people with dementia and carers.
Waltham Forest Dementia Action Alliance, of which Leyton Orient is a member, and Waltham Forest Housing Association also had volunteers stationed at stadium turnstiles to offer advice on dementia to fans.
Looking ahead, the club is keen to develop a buddy system where people with dementia attend games with the support of a fellow local resident.
Earlier this year Eric, Brian and Pietro, who all use dementia services in nearby Redbridge, took a tour of the Orient stadium. They were accompanied by Lisa Oliver from Redbridge's dementia services, who also attended the sporting memories session.
She says,
'It's great for them to have the opportunity to come along and share their experiences with people. They really enjoyed looking at memorabilia from the past, which brought back some special memories for them.'
As a successful session draws to a close, a beaming Pietro comes over to say goodbye.
'Nice speaking to you. Good memories!'
Dementia together magazine: Dec 16/Jan 17
Dementia together magazine is for everyone in the dementia movement and anyone affected by the condition.
Subscribe now
More from Dementia together magazine: Dec 16/Jan 17:
Dementia together magazine is for everyone in the dementia movement and anyone affected by the condition.
Subscribe now