People with dementia try out products that look back to past decades.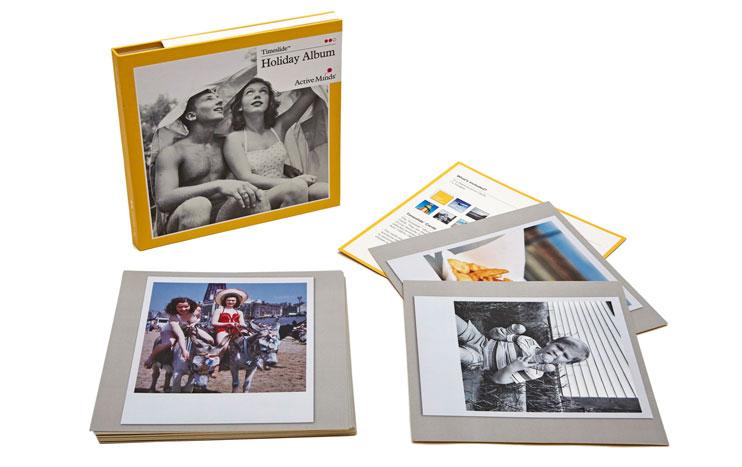 On day eight of Wimbledon, and only a handful of stops away from the tournament on south London's trams, a lively activity group at Merton Dementia Hub took tennis as one of its themes.
We joined them with some new reminiscence cards from our online shop to see what they thought of these, alongside everything else they were doing.
Timeslide albums
We took four 'albums' of Timeslide reminiscence cards from Active Minds to the group – Animal, Home, Loves and Holiday. Each card has a large picture from the 1950s to the 1970s on its front, with points and questions on the back to prompt conversation about memories.
Seeing a picture of a woman ironing in the 1960s on a card from the Home album, Jim said, 'I remember the iron being plugged into a light fitting in the ceiling because there wasn't a power supply.'
Jim added that there was an opening in the back of the iron where you placed a piece of metal you had heated on the fire, and Marie recalled using tongs to do this.
A photo of a fridge on another card brought back memories of when it was usual to have a larder, and drew Rick and Mary into the exchange. Rick talked about starting to remove the cold stone shelf in their new home's larder after getting their first fridge. By the time he realised that the same piece of stone continued into the neighbour's larder, the damage had already been done!
Overall, group members said the pictures were clear and interesting, and the text easy to read and understand. The cards started all kinds of discussion, and could be a great way to share memories between generations. The compact packaging of each album also means they are portable and simple to store.
Weekly Sparkle
The group receives a new issue of the Weekly Sparkle for each time they meet, produced by the same organisation as the Daily Sparkle newspaper (pictured). Its 10 pages of stories, including events 'on this day' from previous years, are designed to stimulate memories and conversation.
People enjoyed reading the articles throughout the session, and the group came together at the end to go through the five quizzes at the back – which Peter joked gave everyone time to cheat if they were struggling!
Rex led a number of people who enthusiastically shared their answers to questions about word pairings. A quiz about bands from the 1960s also prompted people to recall each group's most famous hits.
Wimbledon theme
A range of tennis memorabilia was to hand throughout the session. Although there could be no space for a tennis court, Harry and Sarah were among those to play a few rounds of ping-pong, taking advantage of the specially set up table.
Lena, who facilitated the group, had also organised a Wimbledon-themed quiz. After the Weekly Sparkle quizzes, everyone went through questions not only about previous champions and famous matches, but about tennis-related books, films and TV series.
Altogether, the range of activities and the warm, welcoming environment meant an enjoyable time for all.
However, as Peter observed, 'The activities are great, but the real point is that everyone ends up talking to and supporting each other.'
Next steps
Dementia together magazine: Aug/Sept 17
Dementia together magazine is for everyone in the dementia movement and anyone affected by the condition.
Subscribe now
More from Dementia together magazine: Aug/Sept 17:
Dementia together magazine is for everyone in the dementia movement and anyone affected by the condition.
Subscribe now