Ting Ting's granny, Marion, had Alzheimer's. Following her death, Ting Ting was intrigued by how cushions can be used to trigger the memory of someone with dementia, and started a textile project inspired by her granny's past.
My name is Ting Ting and I am a second year Textile Design student in my second year of university. My most recent project was looking at the use of textiles to improve the life experience of people with dementia.
My main inspiration was my step-dad's mum, my granny, who had dementia for several years before her death earlier this year.
Granny's diagnosis
Her diagnosis of Alzheimer's disease was expected. At first, my Dad and his brothers probably just thought she was getting forgetful as she got older.
She was buying groceries even when she didn't need them and would not remember recent events.
Nevertheless, she was independent and looking after herself satisfactorily. Later, she was hospitalised with a liver infection and she had sepsis which affected her mentally.
After this, she changed so that she did not want to be on her own at any time. She recovered slowly from the sepsis, but it was clear that she also had many of the signs of dementia and discussions with the doctor led to an evaluation which made the expected diagnosis.
She had lived with us for some time before going into a care home about one year before she died. Up until the final few weeks, she was outgoing and enjoyed chatting with staff and the other people in the home.
Like me, she also enjoyed crafting - even making her own teddy bear.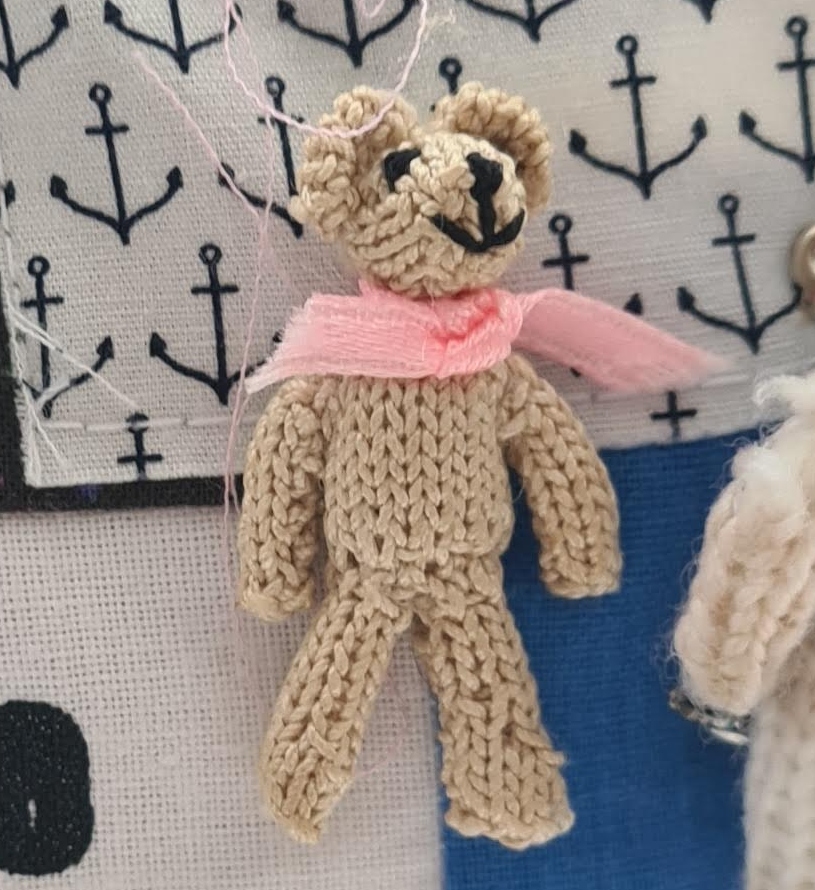 ​
A small teddy, crafted by Marion
Fond memories
Her memory was not good, but she had her favourite memories and stories which would be regularly repeated. 
When chatting with her, it was always possible to talk her into an area that she had memories of.  
For instance, when she was a teenager, she was in a cycling club and she loved to tell you about a time the club cycled from West Cornwall to Plymouth, danced all evening and then cycled back the next day. She could tell you what bike she had, where she bought it from and how much it cost.
How granny inspired my textile work
I began looking at fidget cushions and I realised that Granny could have used these in the periods of anxiety that she sometimes had. 
However, I also realised that I was not going to create anything new as there are a wide variety of these available. Instead, I began to think about how a cushion could be used to trigger the memory of someone with dementia.
Whilst Granny is no longer with us, it seemed appropriate to make a cushion that she would have found useful.
In fact it was a therapeutic process for me and my family.
I talked to members of my family and began to think of thing that I could put onto a cushion to trigger her memories.
Eventually I included all the family names in a four-heart shaped design. I also included a few photos using key fobs designed to take a small insert.
Her Cornish heritage was shown by the flag and a county badge. There was also a Cornish Pasty as one recent memory that she managed to retain was teaching everyone in the care home how to make a real Cornish pasty.
I also made a print of a bicycle wheel to trigger her cycling memories.
Granny was also happily married for 45 years. Grandad was in the Fleet Air Arm when they met and later spent 30 years as a policeman. So, I used anchor designs to signify the Navy and police buttons and Grandad's collar number to trigger police memories.
I also included lots of place names that were important to her as well as a house number and year of birth.
Overall, I am pleased with the result. I wish that I had made it a year ago as I think she would have liked it.
Instead, I thought that I would share in case it helps anyone with ideas to make their own for a loved relative or to think how they could personalise a bought fidget cushion with a few elements.
Memory problems can be experienced differently by different people. Read about common types of memory loss and our tips to help you cope and manage your feelings.
Read more