Mike Brookes, who has vascular dementia, says meeting 55-year-old Side by Side volunteer Guy Lee-Potter has made a tremendous difference to his life.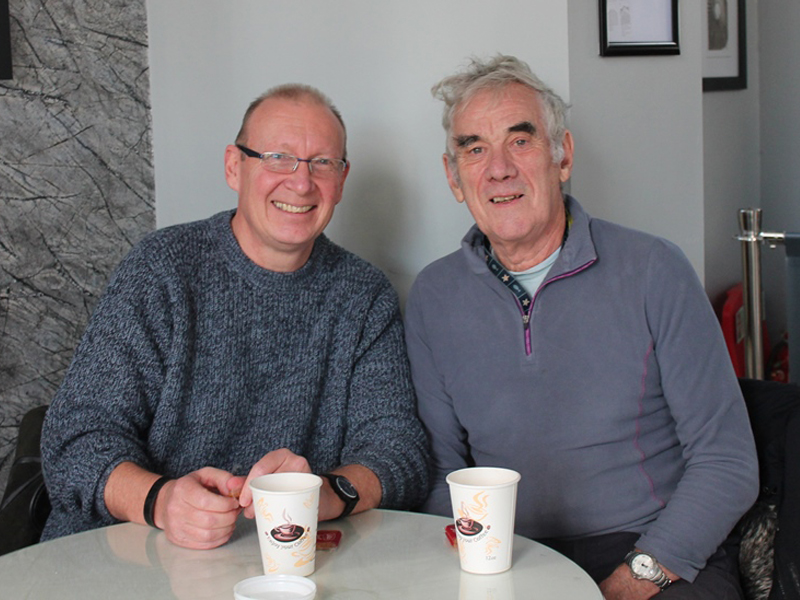 Mike and his wife Liz found it really hard to get the right help and support after Mike's diagnosis. Like many people in the same situation, they felt completely isolated. It wasn't until they came into contact with Alzheimer's Society's Side by Side service and were matched with Guy that their lives were transformed.
Liz explains: 'Getting Mike's diagnosis felt brutal. I remember the panic on Mike's face after they told him. Before we found Guy through Side by Side, Mike was feeling very unhappy so I knew something needed to change.
Mike says: 'It was definitely like someone was looking down on us all when we were matched. I was really craving male company and someone to just have a chat with each week. Meeting Guy through Side by Side has made such a difference to my life. It's part of my routine and a key landmark for me in my week. It's given me a new friend and a focus in my life.'
Guy adds: 'Side by Side came at the right time for me too. I was looking to do something more rewarding with my time. I had watched my father look after my mother who had dementia for seven years and it really struck a chord with me so I wanted to do my part in a different way.
'Mike and I can talk about anything from general day to day stuff, to politics and travel while having toasted tea cakes and coffee. I feel like we were matched really well and have reached a place now where it's so natural between us. I would really urge people wanting to volunteer their time to look to doing Side by Side. You have nothing to lose!'
Liz continues: 'It's great to see Mike so happy again. He will come home from meeting Guy in a much better frame of mind than he might have left the house in. It gives him things to talk about but it also gives me space too. Fundamentally it's about someone living with dementia being able to get out, form new connections with people, still do things they enjoy and have that contact outside the home environment. It really has changed all our lives.'
Mike finishes by saying: 'Side by side gives me something to look forward to every week. Between that and going to the gym every day which I still love doing, life is good and I feel happy.'