Mike is worried for his wife, Angela, who has Alzheimer's disease. Angela has been declining in her care home because Mike has not been allowed to care for her during coronavirus. He is calling on the Government to let him visit before it's too late.
Love at first sight
I'm from New York, which is where I first met Angela. She was taking a gap year before she started at Exeter University.
I went out one night to what we called a discotheque in those days. I was sitting at a table and Angela was sitting a little away from me. It was love at first sight. We got married two months later.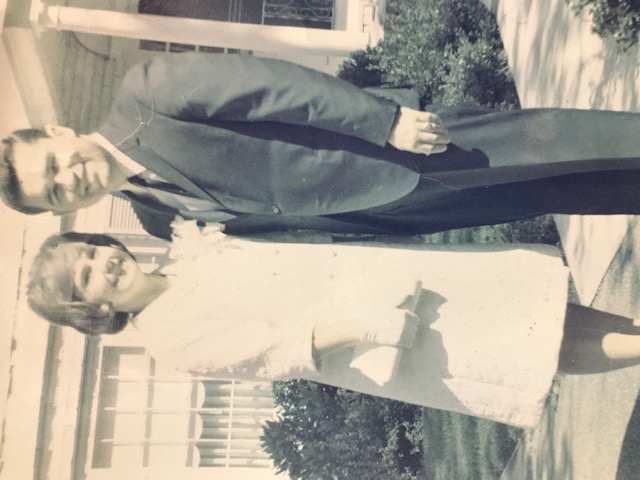 ​
Our two sons and I first noticed signs that all was not well with Angela back in 2014. Her mind was so sharp, she'd remember everything, and then all of sudden she was forgetting things and saying things over and over again.
In 2015, Angela was diagnosed with Alzheimer's disease. I've never come to terms with it. I probably never will.
Angela has been in a care home since March 2019. For over a year, I spent every day with her, from 9:30 in the morning to 8:30 at night. I was involved in most aspects of her care. I put her to bed every night for over a year. I would place my chair next to her bed and hold her hand until she fell asleep. That's when I would leave.
And then of course with the outbreak of coronavirus, I've been separated from her ever since.
Angela can't understand why I'm not there
I've gone to her every single day since the virus started. I stand in the car park and a carer brings her to a first-floor window.
'I wave to her, blow her kisses, hoping that she won't forget me and – most of all – that she'll know I haven't left her.'
Sometimes she waves to me to come in and asks the carers, 'Why doesn't he come up?' She doesn't understand. Most of the time she doesn't even know it's me and she'll walk away. But I go every day. I haven't missed a day.
She's gone downhill so much. I know that her interaction with people is significantly down and her ability to speak and walk is suffering extensively. She is also not eating normally. There must be a time in someone's life where quality of life outweighs longevity.
The residents can't understand why we're not there, why we're not with them. The separation has been hard on me too and is making me ill. I've lost two stone in weight and mentally I am scared and can't stop thinking about her.
I need to be with her
The care home has been great. They have excellent carers and nurses.
But I'm concerned that the Government hasn't clearly and publicly addressed suggestions that care home visits will not take place until May due to the vaccination timetable.
I want the Government to prioritise a timetable for care home visits and provide transparency on how vaccinations impact these visits, in their upcoming plans for relieving national lockdown restrictions.
People need to know what this lockdown is doing to people with dementia and their families. The damage that is taking place is irreparable.
I'm going to see Angela again this afternoon from a distance as usual. I can't go near her. She probably won't recognise me. I don't know how long I have with my wife and the inability to spend even a moment with the love of my life is a day wasted. My two sons and their families have also been prevented from seeing her. We have always been a very close knit family.
We have from the moment we met been in love with each other and that will never change. I must strive to be with the person I love before it's too late.
Stand with us to support Mike and Angela
The pandemic has caused too much devastation for families affected by dementia.
The Government must prioritise care home visits in their upcoming roadmap to ease lockdown. These visits are vital to the health and wellbeing of people affected by dementia.
Our urgent letter has now been sent, but you can still stand with Mike in future campaigns - sign up here.
Support people like Mike
Mike's story was initially published in September 2020 and was amended in February 2021.