Meg Wilkes' husband Keith sadly died after 14 years living with dementia with Lewy bodies. Read how the condition transformed their lives together.
In this three-part blog series written while Keith was in residential care, Meg gives a carer's view of how the condition took hold and transformed their lives together.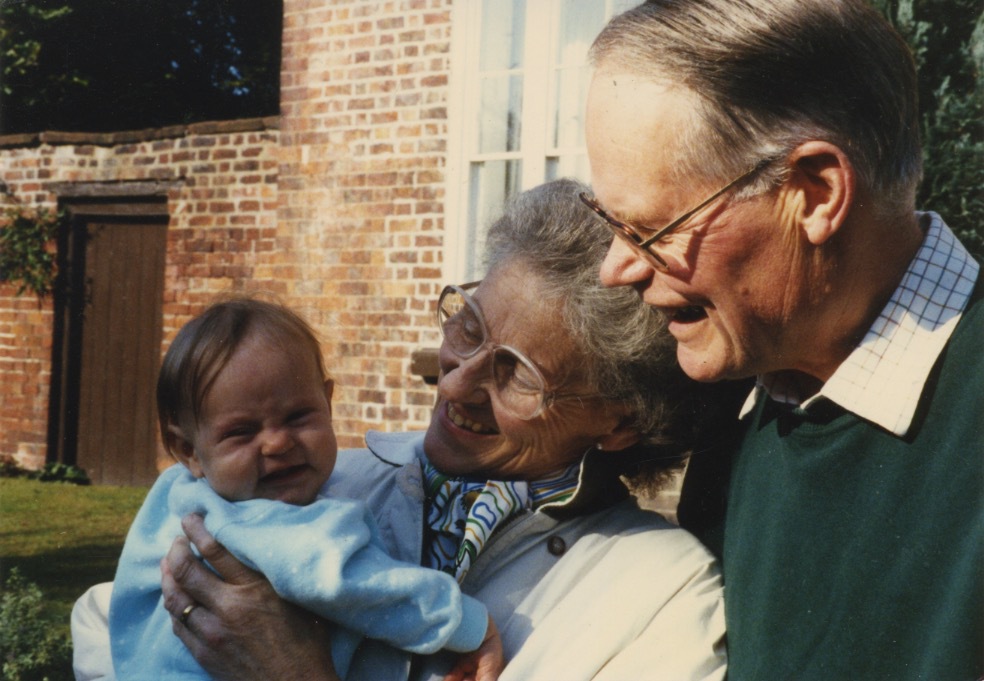 ​
Enjoying moments with family was so important, but many couldn't see how ill Keith was.
In our student days, I fell in love with a lively, clever, creative, athletic, thoughtful, deeply spiritual young man with vision and great skills in communicating. He graduated from Cambridge with a science degree, before becoming a priest in the Church of England.
We married in our 20s and had two children, trying hard to combine family care with a demanding working life.
A life transformed
We are now in our early 70s. My husband is in a nursing home in a Special Unit for Elderly Mentally Infirm patients, living as best he can with Lewy body dementia.
He has to be fed, washed, dressed and helped from bed to wheelchair. He sits slumped, like a puppet without strings. He is doubly incontinent. He is unable to read or write or to control the radio, TV or phone.
He sleeps a lot and often keeps his eyes closed when he is awake. His hallucinations are vivid, sometimes disturbing to him, always detailed and clear. His speech is mostly incoherent and so quiet that few people can hear him.
His attention span can be measured in seconds and rarely lasts a whole sentence. He seems unable to distinguish between his dreams, his waking thoughts and what is happening around him.
My heart aches to see him like this.
Longing for affection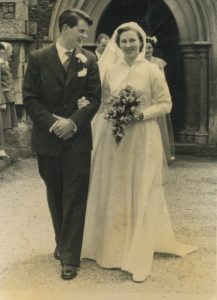 ​
Our marriage in 1955
When I arrive he greets me briefly, often with a smile, though sometimes he doesn't know me. I long for some sign of affection, some reassurance that I am still special to him. Mostly, I have to be content that I am the one he takes for granted.
When visitors come, he usually responds for a few minutes, especially if they have connections with his work. At other times he will resist or reject their approaches. His lifelong conversational skills can mask his lack of understanding. His habitual response, 'yes', means, 'yes', 'no', or, more often, 'I know that you have said something and I'm trying to fathom its meaning'.
Now and then he astonishes people with a sudden burst of energy and determination, getting up quickly and walking. This usually ends in a fall. I have come to associate these times with talk of trains and journeys, which symbolise escape for him.
There are fleeting, infrequent times when his thoughts are clearer. He might remark on events, perhaps asking after people we know or commenting on his care. I am with him for several hours every other day, witnessing the relentless progress of the disease.
I rejoice that he has excellent care and I grieve for the husband I knew.
Learning together
A frequent cry from carers is 'no one can understand how it is unless they've been there'. It must be equally true for those we care for. None of us has the full picture.
I am sure that understanding and knowledge will grow if professional and informal carers are more honest with each other, more courageous, trusting each other's expertise.
Dementia with Lewy Bodies is a horrible illness. Anything we can do to be more effective will be worth the effort.
Next steps
-- Please note: This blog is taken from a chapter written by Meg for the 2005 book 'Dementia with Lewy Bodies: and Parkinson's Disease Dementia' edited by John O'Brien, David Ames, Ian McKeith and Edmond Chiu. It is reproduced here with the kind permission of Meg and the publisher, Taylor & Francis.