Unite with us and call on the next government to fix dementia care now, for people affected by dementia today and for all of us who could be in the future.
You've saved your entire life for your pension. You put away funds every month with dreams of an early retirement, going travelling or relocating to a farm in the countryside. But then you develop dementia.
Instead of spending your carefully saved pension on the retirement of your hopes and dreams, or using it to support your family, you are left with no choice but to pay £1,000 per week for a place at a care home.
In fact, even if you had anticipated this alternative future, our investigation has revealed that it would take 125 years to save for the typical person's dementia social care bill – more than a lifetime.
In a series of videos we confronted the public with this alternative future.
Their genuine shock shows that spending all they've saved for on care costs is not something people even consider as part of their future, despite one person developing dementia in the UK every three minutes.
Dementia care crisis
Dementia is a health condition caused by diseases in the brain. Yet unlike cancer or heart disease, dementia cannot be cured or effectively treated. The only support available is help to meet people's basic daily needs, such as washing, dressing and eating. So instead of support and treatment offered for free through the NHS, people with dementia are dependent on costly social care.
Surprisingly few people are aware that dementia care is often not funded by the state. More still have no concept of the weekly cost of a care home place. Yet even if you did know, and started to save for your care today, you would still have no prospect of covering the typical bill.
Converse to the growing number of people developing dementia, since 2009 there has been an estimated £4.6 billion cut to the social care sector. These slashed budgets yield stretched services, cut corners and avoidable mistakes that leave people with dementia neglected and suffering.
On top of this, the shortfalls in funding by successive governments have left people affected by dementia and their families plugging the gaps.
Joan's story
Joan, whose parents both live in a £2,000/week care home, is terrified of the future. She's calculated that all of her parents' savings combined with the sale of their bungalow will only pay for another four and a half years of care. The situation is unthinkable for her and her husband, who are both retired and live solely off their pension.
No one should be forced to decide between supporting their parents and funding day-to-day life for themselves.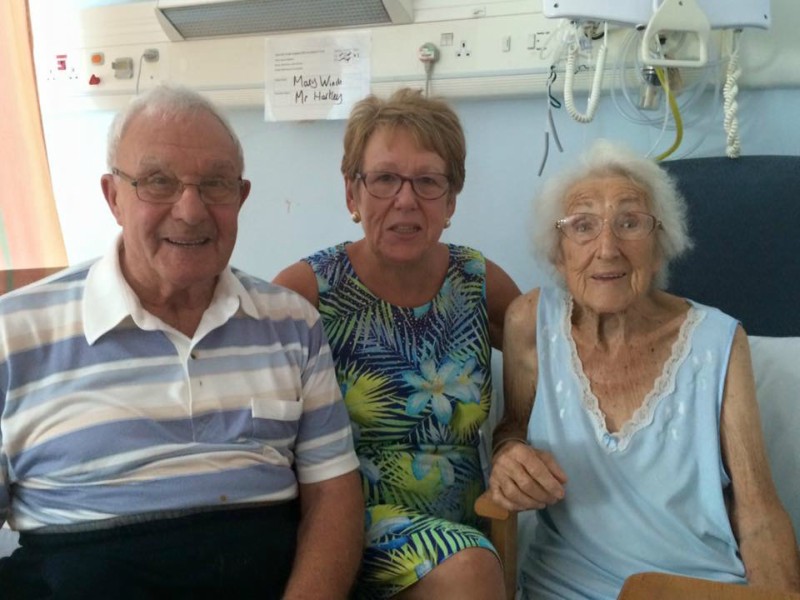 Joan with her parents, Mary and Leonard The social care crisis is a dementia crisis. With such a huge proportion of people with dementia dependent on social care, we urgently need a solution to ensure that everyone gets the right support when they need it.
Currently, many people with dementia feel deserted by the state, and must rely on family members and carers for the support they need.
Too many people like Joan are forced to give everything they own to care for a loved one. It's vital that the next Government creates a long term, sustainable system for funding dementia care.
Take action
Unite with us and call on the next government to fix care now, for people affected by dementia today and for all of us who could be in the future.