We've launched a new website and new brand! Read this post by Digital Content Manager, Kathryn Green, about changes made to the website and why we made them.​​​​​​​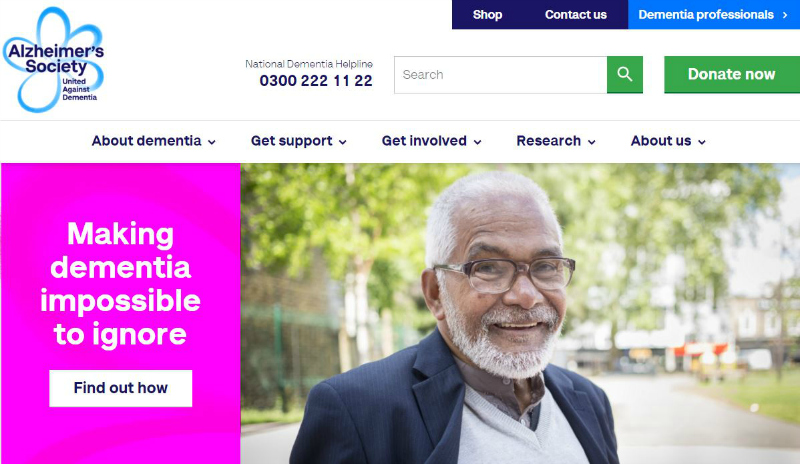 ​
Why have we restructured the website?
Although our old website was full of useful, well-written information about dementia, it was hard to navigate, with lots of pages hidden away. The last time the website was redesigned was in 2009 so it was long due for an overhaul!
You can find out more about the process behind designing our website, and how we involved people affected by dementia.
How the new site can help you
The main focus is on content that is both informative and useful. We've got more than 300 pages aimed at people with dementia and their friends, families and carers, which are all covered by the NHS England Information Standard.
There are five main sections on the new site - About Dementia, Get Support, Get Involved, Research, and About Us.
'Get Support' is where you can get help and information. It contains an online map where you can search for services for people with dementia near you. It also has information about our National Dementia Helpline, and about Talking Point, our online community which provides 24/7 support for thousands of people.
You can also read other people's stories in our Living With Dementia magazine, which has all articles available online.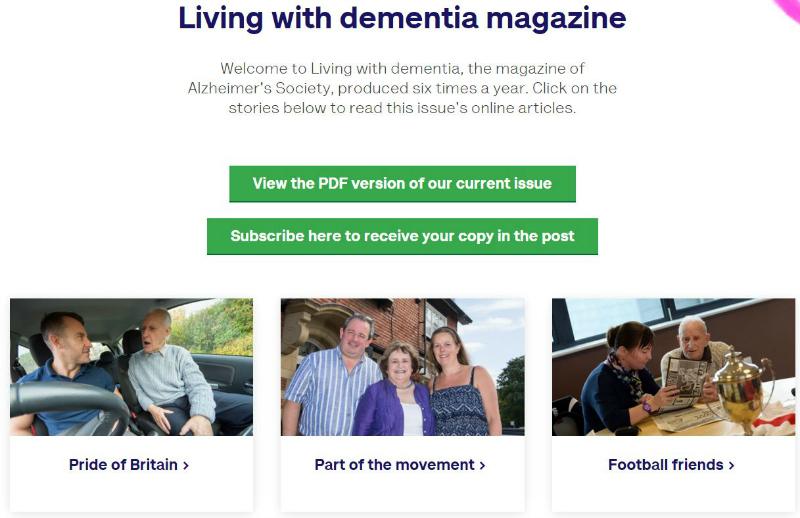 ​
Finally, 'Get Support' has information pages under the headings 'Daily Living', 'Help with Care' and 'Legal and Financial'.
Here you can find everything from advice on eating and drinking for people with dementia, to information on how to obtain Lasting Power of Attorney.
How we built the new site for specialist audiences
We've taken all the pages aimed at specialist audiences, and created sections of the new website around them. This includes the 'Dementia Professionals' area which has resources for people working in health and social care.
We've also highlighted different areas of Alzheimer's Society work which were hidden on the old site. Have a look at our pages aimed at schools and youth organisations, including lots of useful downloadable resources. Or read more about our Dementia Friendly Communities work, including a guide for customer-facing retail staff on how they can make life easier for people with dementia.
How to get involved
We have some amazing supporters at Alzheimer's Society, and we've built a section of the site just for all the people who bake, run, campaign, and volunteer for us.
If you want to take part and unite with us against dementia, our revamped 'Get Involved' section is for you. You can search for volunteering opportunities, take part in our latest online campaign to fix dementia care, and sign up for a skydive if you're feeling particularly brave!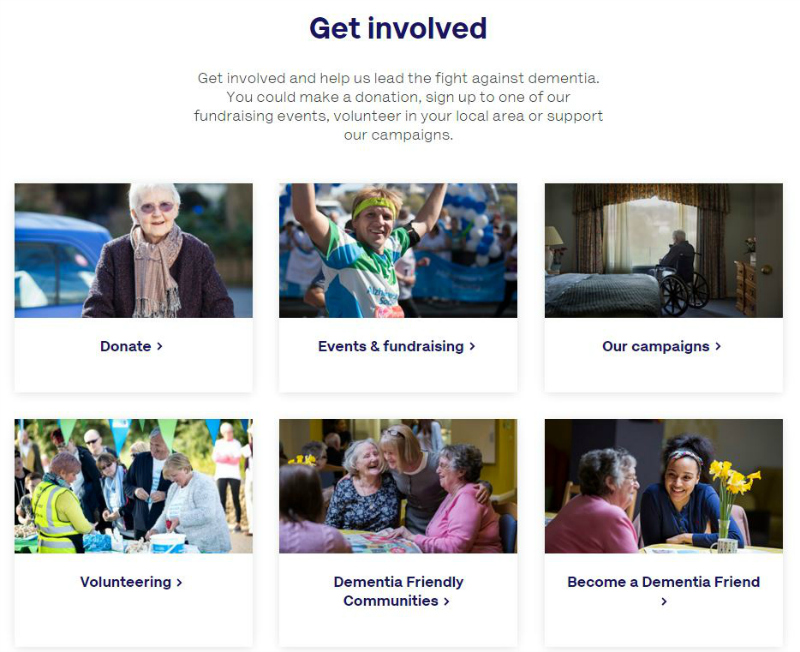 ​
Changes along the way
We made a few changes to our initial website layout after we tested it.
The most significant was moving our 'Science behind the headlines' section. This was a group of pages on our old site that examined the scientific evidence around topics like the use of genetic testing kits, and whether head injuries can cause dementia.
Although a great resource, it was buried deeply in the site - you'd need to click through 7 different page levels to get there. To make it easier to navigate we've moved it to sit underneath 'risk factors'. We'll still cover 'science behind the headlines' news on the blog (see for instance our recent post on whether heavy traffic is a risk factor for dementia), but anything with long-term interest will have a home on our website.
Removing unnecessary pages
There were over 10,000 pages on our old site, but only about 1,500 of them were regularly visited. We kept every single page that had useful information about dementia, but we've removed lots of pages from other sections that were out of date, irrelevant, or no longer accurate.
For example, we had over 2000 old news stories dating back 13 years. The huge amount of pages slowed down the site and received very few visitors, and the primary purpose of the site is not to be an archive of old content. We've removed all of these and just kept one year's worth.
Finding your way around the new site
We hope that all the changes we've made will make it much easier to find your way around the new site, and get the information that you're looking for. The website is a work in progress, and we'd love to hear your feedback – we have a survey you can fill in on every page of the new site, or you can leave comments below.