Tracey, a retired nurse, was diagnosed with early-onset dementia and posterior cortical atrophy (PCA) when she was in her mid-forties. Despite the challenges coronavirus has brought, Tracey is determined to keep her mind and her body active with a variety of activities and hobbies.
When the coronavirus lockdown first hit, I was already self-isolating with a nasty chest infection that lasted two weeks. So when everyone says that they have been on lockdown for three weeks, for me, it was a lot longer.
'I was worried about how my dementia would cope in being at home all the time.'
On one aspect I prefer to be at home, I thrive much better. I have had no panic attacks, or anxiety attacks since being at home, which I get almost daily if I must travel anywhere or go to meetings. I deal with it, but it's nice not to worry for a change.
In the beginning of staying at home, my memory did falter slightly and I had to add reminders to my Alexa, but I put that down to the fact I was too poorly to concentrate to do anything. But I was a bit worried that my dementia was getting worse.
Read our latest coronavirus advice
As coronavirus restrictions ease, we continue to update our advice and support.
Find out more
Staying at home, keeping well
When I was able to get back on my feet, I didn't want to go out as my immune system is rubbish. I needed to look at ways to keep well and exercise as and when I could.
I am lucky to have a garden. Watering it uses up a few steps as I must get a watering can and fill it up from the sink in the kitchen. I must traipse through three or four times. I have got a water butt but it's a small one.
I had some vegetable seeds that I bought months ago, so planted the seeds and placed them in my conservatory. They are now little plants.
'In this strange time where things are not easy to get, growing your own is so much more important to do.' 
In the old days, when I was a nurse, I used to use Davina McCall's workout DVDs in a way to keep fit. She really inspired me. And I have started to do that again as it's so important to keep my body moving.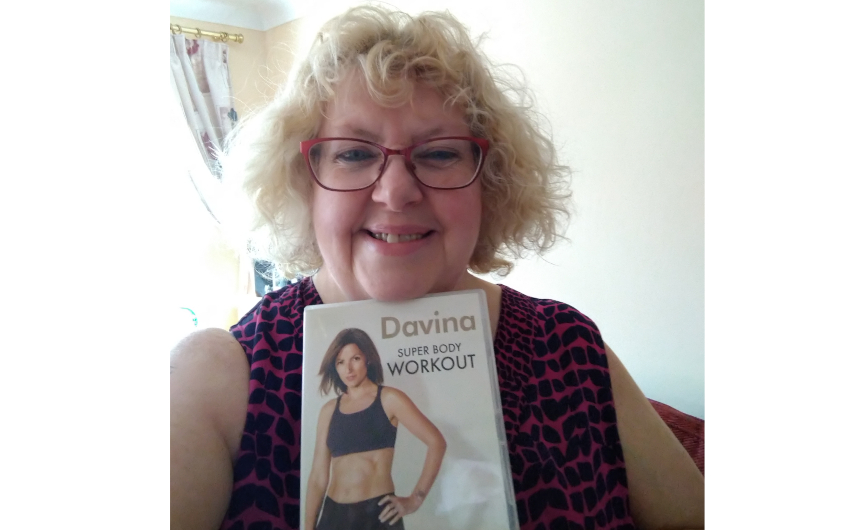 ​
I use Power Box & Tone for one day, then do a dance one with Darcey Bussell the next day.
It's important to mix and match so I don't get bored as I am liable to do.
Enjoying crafts and games
I also like crafts and sewing so I thought of ways to keep my brain active to keep the dementia at bay.
I liked the idea of sock animals, an idea I got from Pinterest. So, I ordered a few kits as I work much better from a pattern than not.
So far, I have made a sock whale and a sock snail. I have a sock monkey left to do.
The patterns I have means I can use odd socks, which is a kind of recycling. I also do latch hook, which is needlework.

I wanted things to do so I wouldn't be on my phone all the time, which is exhausting. And things that used my brain, which was the most important.
Other things I am doing are word and puzzle games as it's important for me not to be on a phone or screen all the time. I have also done painting and crosswords.
These things have made me remember a lot more than I was doing when I first got poorly.
'I know not everyone can do what I do, everyone has their own challenges. But doing something is better than nothing.'
Fighting low moods
I do get low sometimes, not being able to see my family or friends is hard especially as we are close.
Its not being hugged that's what I miss more. All my friends and family are tactile and as I live alone, hugging my cats isn't the same.
Meditation helps, as does mindfulness, in those low moments.
Activity ideas for people living with dementia
Keeping active and purposeful will help fight off boredom and frustration. Here are some activities you can try at home.
Activity ideas