Khalid is from a British Pakistani family in Leeds that helped to care for his grandfather, who had Alzheimer's disease. Now, Khalid is raising awareness about the condition and tackling the cultural stigma of dementia.
Coming from a Pakistani background, I often find it very difficult to speak to people of a similar origin due to the cultural stigma attached to mental illness and neurological disorders.
I know it is very difficult in general to speak about these issues, but I feel there's added difficulty amongst many South Asian communities.
I want to break that cultural taboo and show people from my community that it's OK to talk about these conditions.
Talking about dementia shouldn't be embarrassing and shouldn't affect your standing within the community.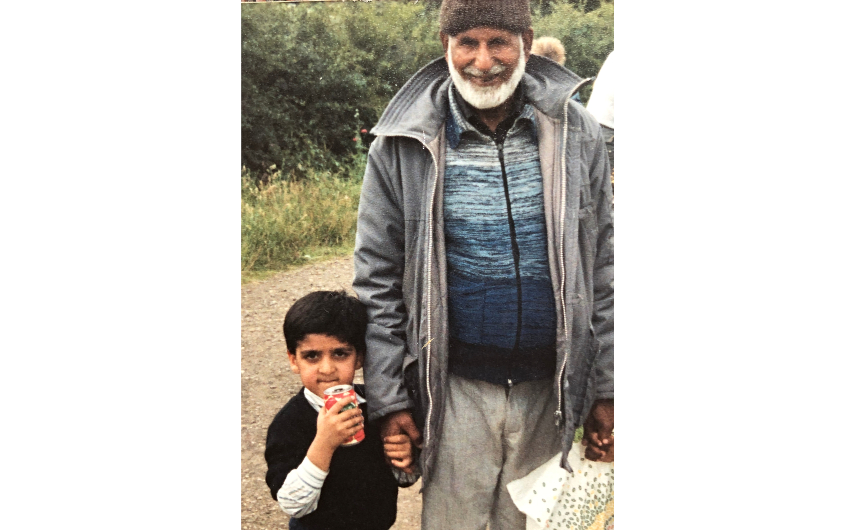 When I was a little boy, I would hold my grandfather's finger and we would go for leisurely strolls around our local area.
I would get tired very quickly so he would buy me sweets and a fizzy drink to help me along my way. He loved me and I loved him.
As time went on, his memory began to fade and I watched as a young man as he slowly forgot about me as a little boy. He gradually got worse and it became harder to care for him.
Soon he couldn't remember me at all and looked at me as a stranger in his room. It hurt.
He forgot many members of his family, except my mum. Strangely, he didn't have a good relationship with my mum, but he trusted her at the end. I never understood why; perhaps he felt her maternal touch.
My grandad's history
Born into a farming family in Punjab, India, my grandad lived through the tumultuous birth of Pakistan and everything that came with it.
In the early sixties, he came to the UK, trading the fields of the Punjab for the mills of Yorkshire. It wasn't easy for him. Those were difficult times; he was dealing with a different culture, language and weather. He struggled for work and suffered financially.
When my grandad retired, he went back to his village in the Punjab for what seemed like an age. When he returned to the UK, he was different. His English was always broken. In his later years, he rarely spoke and when he would it was only in Punjabi.
Dealing with dementia
As with many families and communities from South Asia, mental health and neurological disorders were (and still remain) a somewhat taboo subject for us.
My grandad went through many difficult and traumatic experiences in his life but he wouldn't talk about them. I guess he thought he could handle things on his own. But those issues remained dormant for many years and when he was old and weak they all came back. He could no longer handle them and by that time it was far too late.
It was so hard for us to deal with Alzheimer's. We were embarrassed about what others would think, but above all, we just didn't know what to do.
Despite how much we cared for him, he never got better. He only got worse.
A carer's job is so hard and emotionally exhausting. You see your loved one slowly slipping away. It's traumatic for carers too, and for that they also need help and support.
The #FixDementiaCare campaign is so important and needs the government's support.
Taking on the challenge
In the five years since my grandad's death, I've thought a lot about his suffering and hope I don't have to see that again.
It's still hard for us to talk about the issues that affect us, as with many families, especially from South Asia where cultural impediments make change slow to manifest.
So I've decided to take part in a six-day climb of Mt. Kilimanjaro for Alzheimer's Society; that's a lot easier to talk about!
I can talk about the challenges of the mountain and the training involved. People show interest and it captures their attention. Then I tell them why and it becomes so much easier to talk about dementia. As they watch my journey, I hope they talk more. It's a start.
To quote the Chinese philosopher Lao Tzu, 'A journey of a thousand miles begins with a single step'.
If you have a question about dementia or need some support, call our helpline to speak with our expert advisers, or join Dementia Talking Point to chat with other people in your situation.
Talking Point
Visit our online community to get advice, share experiences, connect.