University of Exeter: The IDEAL-2 project
Learn about the background of the IDEAL-2 project, the team behind it, and its aims to understand how to help people to live well with dementia by taking into account the experiences of people with dementia and their carers over a long period of time.
You are here: University of Exeter: The IDEAL-2 project
Background
It is vitally important that people with dementia are able to live as well as possible and to have a good quality of life. However, very little is known about how to improve quality of life for people with dementia. 
The project comprises 1570 people with mild-to-moderate dementia and 1300 carers. The participants were interviewed by specialised researchers at their homes initially between 2014 and 2016 and then again after 12 and 24 months. 
This Centre of Excellence will build upon and enhance the original IDEAL study. Together they represent the largest study focusing on living well with dementia in the UK. 
Who is working on the project?
The chief investigator, Professor Linda Clare, leads IDEAL and other large, long-term studies understanding dementia. She has over 20 years' experience as a clinical psychologist and dementia researcher. The large, multidisciplinary team consists of experts in psychology, social science, ethics, public health and patient and public involvement (PPI). Many of the team also have good connections to policy-makers.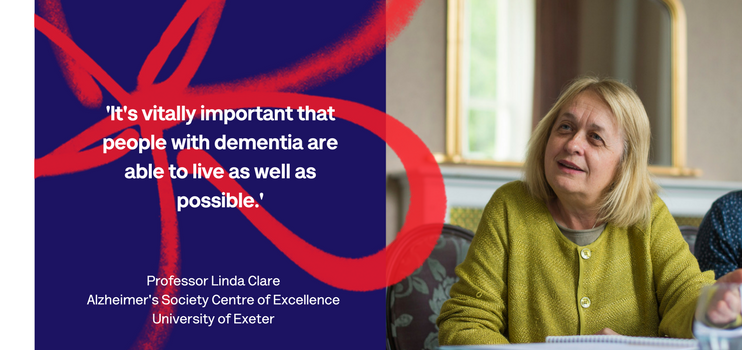 What will this research address?
The idea of 'Living well' encompasses many different aspects of a person's life including their social life, relationships and environment. However, understanding the well-being and life satisfaction of people with dementia have rarely been considered in dementia research. This research will build on the existing IDEAL study and will give the researchers a broader perspective on research into quality of life for people with dementia. 
What will the researchers do?
This project will continue to follow up with the participants in the IDEAL project every year for a further three years. This would mean that the study gains an indepth understanding of their experience of living with dementia over a 6 year period. The researchers will also combine this with administrative data to build up a detailed picture over a 10 year period. This will help the researchers to understand what factors influence how someone can live well with dementia and what affects their quality of life as their condition progresses. The study will also expand on the first part of the IDEAL project by including people from different communities, for example those from the Black, Asian and Minority Ethnic (BAME) backgrounds, people in the more advanced stages of dementia and people with undiagnosed dementia. 
The researchers are aiming to answer several key questions as part of this project. They will understand what the key indicators of living well and quality of life are as dementia progresses, and understand how to evaluate these properly to reflect the experience of the person and of people living with dementia in general. They will examine how patterns of service use and their cost are related to quality of life, and which are the best ones to use to enhance quality of life. The team will understand how to learn about the perspectives of people with advanced dementia. Finally, they will understand what strategies and initiatives can be put in place to help people with dementia to improve their quality of life, and how changes to policy, healthcare practice and the provision of services can help. 
How will this improve dementia care?
Large studies that follow people for a long period of time are rare in dementia research, and currently not much is known about how quality of life changes as dementia progresses. This study will address this gap in the evidence and enhance our understanding on what can influence a person's quality of life.
The Centre of Excellence will help researchers to develop strategies and initiatives that will make a real difference to the quality of life of people living dementia at different stages of their condition. 
Details
Lead researcher: Professor Linda Clare
Institution: University of Exeter
Themes addressed: Improving quality of life; care in advanced dementia
Amount committed: £1,999,704