HUG by LAUGH: An innovative partnership with Alzheimer's Society
Alzheimer's Society is working with HUG by LAUGH through its Accelerator Programme, helping to ensure HUG™ - a soft comforter designed to be cuddled - is commercially available and bringing it into the hands of the people who need it the most.
What is HUG™ ?
HUG™ is a soft comforter designed to be cuddled by people living with advanced dementia. It has weighted limbs and a soft body that contains a simulated beating heart and a music player that can be programmed to play a person's favourite music.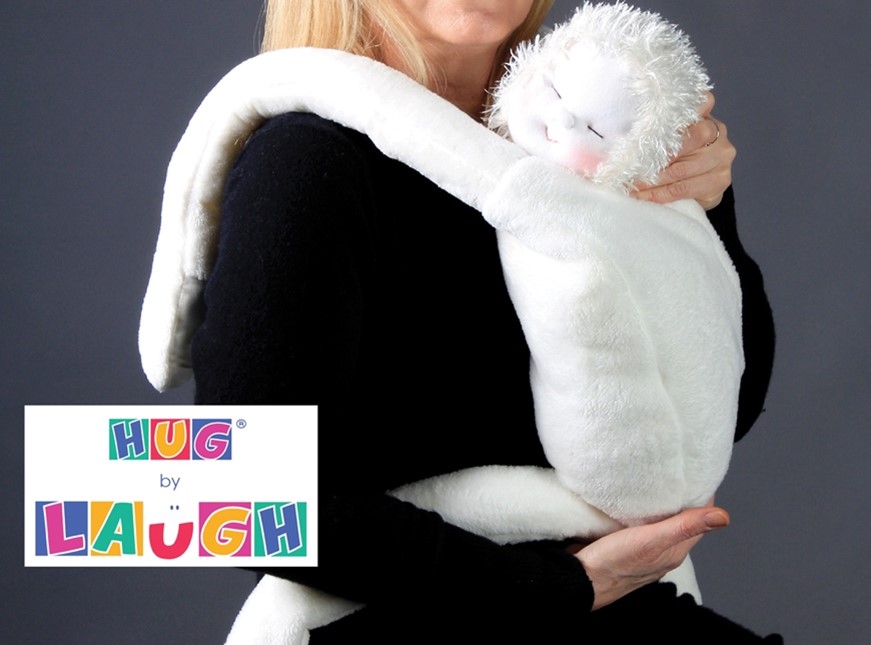 ​
How can HUG™ help people with dementia?
As dementia progresses, people living with the condition can become more isolated, agitated and anxious. There are currently very few products available that bring comfort, connection and meaning to the lives of people in the advance stages of dementia.
The story of HUG™ so far
HUG™ has been developed from academic research and has been tested over the last four years in hospitals, care homes and by people affected by dementia who are living at home. BBC News shared an article about HUG™ in 2019.
Research has shown that the HUG™ can improve quality of life, reduce anxiety and agitation and enhance social interaction. People affected by dementia have really experienced the benefits.
A daughter of someone living with dementia said:
'HUG™ is a comfort for Mum. Wherever Mum goes, HUG™ will go. There is a strong attachment and emotional bond.'
A care home worker shared, 'Using the HUG™ has been an effective way of helping our residents feel secure and loved, it has been amazing to see the smiles that a HUG™ can bring.'
Chris has been helping to evaluate the product and was featured in a film about using HUG™ in lockdown as part of the BBC's The One Show broadcast earlier this year.
" I think a lot of people living with dementia don't know how they're feeling or why they're feeling a particular way, and the comfort that the HUG™ doll will bring people in those situations is just really calming, a soothing effect, and it makes you feel loved. "
Partnering with HUG™
Alzheimer's Society is partnering with the team behind HUG™ for 12 months through its Accelerator Programme. As well as investing in the company, we are working with the team to help make HUG™ commercially available so that it can reach as many people living with dementia as possible.
We are supporting HUG by LAUGH to continue to work with people with dementia and their families to help shape the product and packaging. To support getting the product to market, we have been connecting team to various departments and individuals, including, but not limited to, training, brand, marketing and communications, and music and electronics companies.
HUG by LAUGH have told us, 'We are thrilled to be collaborating with Alzheimer's Society as it gives people affected by dementia an opportunity to help shape the product and therefore benefit those who need a HUG™ the most.'
When will HUGs™ be available?
The first batch of HUGs™ is currently being manufactured and will be available to give much-needed cuddles to people later this summer. They are available to pre-order from the HUG™ website and it will be possible to purchase them from our Alzheimer's Society Online Shop later in the year.