Support and care for people with dementia at home: A guide for homecare workers
This book gives specialist knowledge on the different aspects of providing dementia care in someone's own home.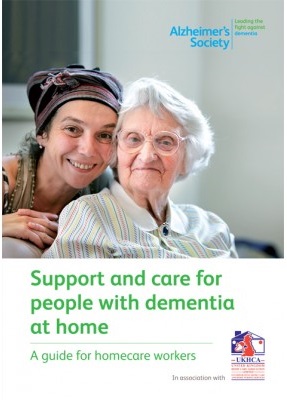 ​
Homecare workers provide a vital role in helping people with dementia to remain as independent as possible, and can enable them to stay in familiar surroundings with family and carers.
This accessible, easy-to-use book has clear concise chapters covering specific areas of care at home. It provides advice, practical tips and strategies on supporting someone with dementia with everyday living and how this can contribute to their well-being.
It also gives valuable guidance on safeguarding, record-keeping and maintaining personal physical and emotional well-being. In total, the booklet covers the following areas:
Introduction
Your role
What is dementia?
Understanding the person with dementia
Communication
Washing and using the toilet
Getting dressed
Eating and drinking
Money and shopping
Dealing with challenging behaviour
Safeguarding people with dementia
Recognising pain
Relationships with the person's family
Record keeping and moving to a new care setting
Looking after yourself
Buy now
This book is available from our online shop for £5 + postage and packaging. For bulk orders (where discounts are available on orders of 20 or more) email [email protected] stating your requirements.