A woman with dementia determined to stay connected despite a lack of local opportunities
From the April 2015 issue of our magazine, in some areas there are few opportunities to meet other people with dementia and stay active. Fiona Madden speaks to a woman determined to remain busy despite one group coming to an end.
Groups for people with dementia can provide valuable social connections as well as information, advice and support. However people in some areas can experience difficulties in accessing them, as 77-year old Thelma Hudson has discovered.
Thelma and her husband Roger, from Mablethorpe in Lincolnshire, both started to notice problems with her memory two years ago. She began to forget people's names and miss simple things around the house, such as forgetting to turn off lights or to close the fridge door.
The Hudsons were impressed with the speed and efficiency with which Thelma was diagnosed with Alzheimer's disease after going to see her GP. This visit was followed by a home assessment and a brain scan.
When the diagnosis was confirmed, Thelma found herself taking the condition on with calm clarity.
'I thought what will be, will be. There's nothing I can do about it really so I just have to get on with it.'
Stimulation
Thelma was referred to a 14-week cognitive stimulation therapy (CST) group. CST uses stimulating activities and exercises - usually over a fixed period of time - to help people with dementia maintain their memory and communication. Thelma says that she and other members missed the group once it ended.
'We did different types of activities every week but it was only for 14 weeks. We want it to carry on because it has been helping us a lot.'
Thelma liked how the facilitator ran the group.
'She brought us all back to what we could remember in our younger days and they had things like all the tinned stuff we used to have when we were young with the different labels. We even played dominoes and games.'
Roger believes that attending the group was good for Thelma and they both think it has helped with her memory and keeping her brain active.
The social aspect was beneficial for Roger as well as for Thelma, since carers spent time together separately.
He says,
'We sat outside in another room and chatted, and I got to know new people. I got to learn things that I didn't know.'
Greater awareness
The Hudsons had one particularly negative experience when seeking advice about getting a reduction in their council tax. Although their entitlement to this was confirmed, the conversation they had highlighted the need for greater awareness about dementia.
Roger explains,
'We both went to the council offices and I said we believed that, with my wife having Alzheimer's disease, we could get a reduction in council tax. They said yes and that we could get 25 per cent off.

'I asked why that was because we're still together, and they said "well it's as if she doesn't exist really". I thought that was really a bit harsh.'
Thelma, who usually has a very calm disposition, adds vehemently,
'I do exist!'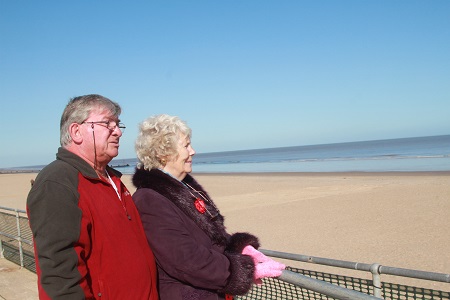 Keeping active
Thelma is a big believer in remaining active and stimulated in both body and mind to help counter the effects of her dementia.
She and Roger enjoy taking long walks together and Thelma spends time working in her lovely garden. She also bought a tablet computer (an iPad), which she uses regularly to play 'brain games' and keep her mind occupied.
Roger jokes,
'She hardly speaks to me now she has that thing!'
The Hudsons have found ways to deal with Thelma's memory problems that work for them. Roger never fills in information for Thelma when she is speaking without giving her a chance to recall it first. He has an encouraging and gentle tone, and whenever she can't quite remember a fact or name he provides prompts so that she can usually arrive at the conclusion herself.
Thelma says,
'He won't give me the answer until I ask for it. He gives me clues.'
Very open
They are very open about Thelma's dementia with people they know, and she says this means that everyone is better off all round. She especially likes people to know so that they do not think she is being rude if she can't remember someone's name.
Thelma began to take medication for Alzheimer's when she was diagnosed but says it 'didn't suit her' and made her itch all over. A second kind of tablet made her feel nauseated and led to her being laid up in bed for four days while on holiday.
She has since been prescribed rivastigmine (Exelon) patches and has found them to be better than taking tablets for the most part.
She says,
'I've been on the small patches and they changed me to bigger ones but it hasn't suited me and affected my back and legs, so I'm going to ask them to put me back on to the smaller ones.'
Positive about the future
The Hudsons are positive about the future, however they believe they are going to continue to feel the void left by the end of the CST group as time progresses.
They say the group was especially beneficial for a man living nearby who also attended it.
Thelma says,
'He didn't used to go out much. When we first met he never spoke and was very quiet, but now he comes out and joins in with the conversation.'
Since there hasn't been another service for them to attend, they worry that some of the good done by attending the CST group may be erased.
Thelma and Roger have tried to organise meeting up with the group's former members but these efforts have fallen through for one reason or another. They have realised how important the structure of the group and the support of the organisers was in keeping them connected.
Unfortunately there aren't any other services in their seaside town that help to bring people with dementia together in a similar way.
Nevertheless Roger and Thelma keep themselves busy in other ways such as visiting Skegness once a month, attending a weekly auction and spending time with their families.
Thelma admits,
'I do sometimes think about what I will be like in two or three years and it scares me.'
However these thoughts are fleeting and the bond between her and Roger is evident.
Thelma says to him,
'We enjoy this life don't we?' adding, 'He tells me that he loves me every day. How many can say that?'
See our factsheets What is Alzheimer's disease?, Coping with memory loss and Drug treatments for Alzheimer's disease or call 0300 303 5933 to order.