The winners of our poetry competition 2015, chosen by our panel and judge Gillian Clarke
From the October/November 2015 issue of our magazine, see the winners of our poetry competition 2015.
We were delighted to receive over 130 entries to our poetry competition - thank you to everyone who took part, as the poems all provided very generous entry into people's lives and imaginations.
Our shortlisting panel included two people with dementia - Carolina Young and Chris Norris - from the Forget Me Nots group in Kent, supported by Carolina's husband Michael and assistant psychologist Alex Bone.
It also comprised our two previous winners, Lesley Perrins and Peter Wallis, along with Susanna Howard from Living Words, Kate Allen from Dementia Positive and Helen Helmer, who leads our Publishing team. It was a privilege to have the involvement of such a varied and insightful group of individuals.
The panel each chose five favourite entries before meeting at the end of August to finalise the shortlist.
There was a lot of interesting and heartfelt debate about the poems, and also about the different directions in which people felt pulled in judging them. The group considered how much each was a 'good poem', how true each might be to the poet's lived experience and what each might say about dementia to a wider audience.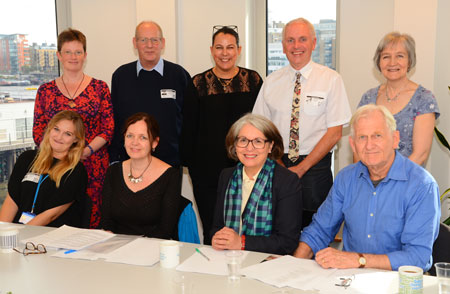 Ideas for future competitions were also discussed, including the introduction of different categories such as poems that share personal experiences or challenge people's perceptions.
In the end the panel selected 13 entries to forward to our judge Gillian Clarke, the National Poet of Wales, and she chose four poems for us to publish here.
Having furnished us with the winners, Gillian added,
'Congratulations to all the poets - writing is very, very good for people!'
Contact us to feed back about the winning poems or ideas for future competitions.
Winner - first place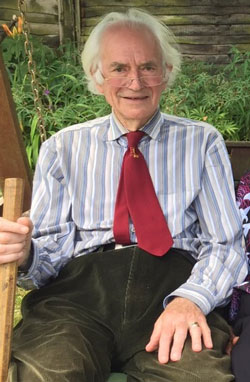 Our overall winning poem was written by David Gill in Oxfordshire, who has mixed dementia - Alzheimer's and vascular dementia - and was submitted by his wife Irene with his permission.
Irene says,
'David lives in the present continuous: he's like a surfer on the crest of a wave. He is quite happy most of the time. He spends a lot of time reading his own poetry, which is spread out on every horizontal surface.'
Gillian said,
'This is a good poem, as good as any we see published, whatever the subject, in literary magazines. The point of view is that of the person with dementia, the language accomplished, moving, musical. Imagery is powerfully used, with wry humour.'
Lesley, on our shortlisting panel, added,
'This finely written poem may not express the unalloyed positivity we might wish that someone would feel about living with dementia, but actually who are we to tell anyone what they should or should not feel?'
The vanishing trick
Don't take me for permanent,
Don't think I'm a monument
accreting grey lichen.
Don't think I'm a totem
with creosoted root.
Don't think I'm a stayer.
I'm more of a Friday afternoon,
a smile on a moped
at knocking-off time,
I'm the last day of September,
I'm the instinct that ranges
swallows on phone wires,
I'm the mellow sunset
for every muster,
an evasive mister,
an easy-going fellow
fleeing over stubble-fields
in my own evening light
to the western ferries.
When I greet you these days,
my faithful, my on-going friends,
my eyes are saying good-bye.
When you take me for the man
I was yesterday,
you're mistaken:
I'm half that man,
and running out fast.
You've little idea
how much of me's gone
with the autumn flights
to other lands.
My thoughts are already abroad
in foreign railway compartments:
foreign words.
I'm the ring-stain
where the glass was,
a cat-smile, no more
above the garden wall,
a fading shape in an archway,
a raised arm on a distant quayside...
© David Gill
Winner - second place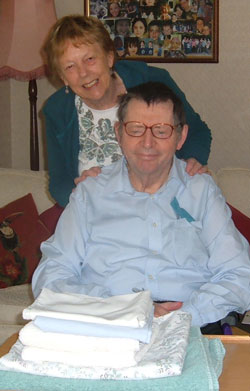 In second place was a poem by Rita Duckham in Rutland, the first line of which was spoken by her husband John, who has Alzheimer's disease.
Rita says,
'When I saw the competition announced my first thoughts were, "How on earth do you write a poem about dementia?"

Later that day, I came in with a pile of washing from the line and John said, "I love the smell of new-mown washing." It made me reflect that people with dementia may still have all their senses intact, but just get muddled when trying to express what they feel.

'Writing poetry is something one can do when you have an odd moment in a busy day; it is a way of relaxing and forgetting everyday problems, and I do jot things down whenever I can, but to have come second in the competition was more than I had expected or hoped for.'
Gillian said,
'The person with dementia speaks, imaginatively using confusion to make poetry. There is wit and beauty here.'
Gillian also suggested slightly changing the penultimate line, and we're publishing Rita's amended version - the original said 'you see/But' instead of 'fly free/So'.
Finding the right words
I love the smell of new-mown linen,
And of hay that has dried on the line,
Of caring bathrooms and clean young women
And insects at breakfast with wine.
I love the bleat of the babes in trees.
The wail of a new-born steam train
The huff and hiss of a baby breeze,
The laughter of lambs in the rain.
I love the taste of cheese with honey
My breakfast egg on slippers,
The feel of fresh and pungent money,
And slipping my feet in the kippers.
I love the feathery touch of a tree
The feel of a branch on the birds
My senses, though intact, fly free,
So I can't always find the right words.
© Rita Duckham
Winner - third place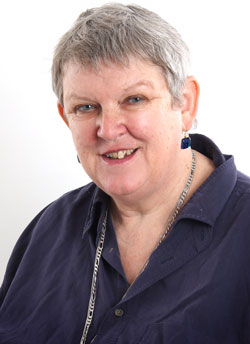 Julie Kent, who splits her time between Leicester and Derbyshire and was also shortlisted in our 2013 competition, wrote our third-placed winner.
Julie says,
'My mum lived for a long time with a mix of Alzheimer's and vascular dementia. She died from it in December 2012.

'As a family, we were determined Mum would stay at home and live her life as normally as possible. She went regularly to football matches until roughly a year before she died. For a long time, she couldn't follow the match, but she loved the atmosphere, and the chips at half time.

'At the match I wrote about, the play-off final in 2007, I thought I'd over-estimated what she could manage, a typical carer's dilemma, but she pulled it off in style.'
Gillian said,
'This poet uses natural, undecorated language to great effect, about watching football. It is simple, effective, therefore moving.'
Nothing's black and white
You think you're in Buxton,
For Buxton's always cold.
I say we're at Wembley,
We're watching the Rams.
I wrap you in rugs.
You think you've been kidnapped
And number your options.
Sit still, hope for kindness?
Shout loudly for help?
I find you your gloves.
You think you're in Buxton,
And want to know why,
Watch the game in silence,
Impassive and blank.
I find you your scarf.
You turn with a question:
'Are you fetching us chips?'
The pathways untangled,
The thick fog has gone,
You've left Buxton now.
We're winning at Wembley.
You've remembered the chips.
Fifty years in the making.
Fifty years in the shaping.
Nothing's black and white.
© Julie Kent
Commended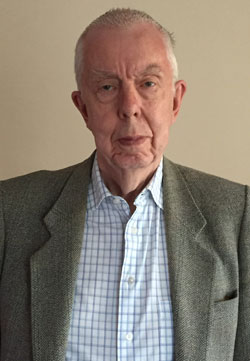 Gillian selected a fourth poem for special commendation, written by Peter Ryde in Lincolnshire.
Peter says,
'I was trying to come to terms with my personal feelings, but in a way that others would relate to, with my own "we" and "you" standing equally well for whoever the reader might have in mind. I wasn't at all sure if I'd managed it, so I feel delighted and honoured by the outcome.'
Gillian said,
'The word "enough" has two meanings, sufficient as well as burden. This poet, the carer, chooses the former meaning, in a beautiful, loving poem about hope, using the metaphor of climbing a mountain only to be lost in mist at the summit - then, a glimpse is enough.'
Enough
A grand view from the top, they said,
So we climbed,
Full of eager expectation.
But high on the mountainside
A chilling mist descended
Concealing, confining,
Wrapping itself shroud-grey
Around our hopes.
Down there
In the far off morning
It had never occurred to us
That it could end like this.
But then, for a brief moment
Just as we turned to leave,
A tiny break in the clouds
Revealed the valley below us,
Sunlit, golden,
Perfect in distant beauty,
Like a paradise only attainable
In the magical kingdom of dreams.
It was ours for barely a second
But enshrined in memory
For it seemed that in spite of everything
It was enough.
And now, when you're lost to sight
In the fog that you don't acknowledge,
Though it warns me I dare not hope,
You surprise me with a wry remark,
A joke I'd almost forgotten;
And the fragile moment
Grants me a radiant farewell glimpse
Of all that you ever were.
Too soon, the sky clouds over.
But the mountain whispers: Remember,
If the light lasts even a second,
It is enough.
© Peter Ryde
Other shortlisted poems
The thief by Val McCarthy
Carer by Jasmin Howard
Alzheimer time by Vernon Rose
Making the frame by Di de Woolfson
Forget-me-not by Gillian Ewing
Late stage by Jean Calder
Bert and Maureen by Rona Harvey
Out by Vanessa Young
Hourglass by Madeline St Clair Baker
Sharing your poems
We've been holding our poetry competition once every two years, but other ways in which the Society helps people to share their poetry and other writing include the Your story section of our website and through our online support community, Talking Point.