A volunteer making use of her Polish language skills and cultural knowledge
From the October/November 2016 issue of our magazine, find out how a Polish volunteer's language skills and cultural knowledge helped her to connect with an isolated woman with dementia.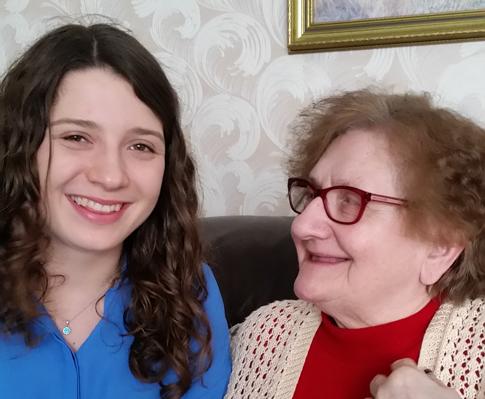 Kamila Klejny recalls her first meeting with Nina, a woman with dementia who she befriended and supported as an Alzheimer's Society volunteer.
Kamila says,
'Nina's eyes lit up and she said, "You speak Polish!". I spoke her language and was someone who understood her culture.'
University student Kamila is now volunteering for Side by Side, the Alzheimer's Society service available in 26 areas that supports people with dementia to keep doing the things they love. She has been with the Society since 2012, initially volunteering at support groups back home in Hampshire before moving north last year to study at the University of Hull and being paired with Nina.
Bringing Poland home
Nina, born in Poland, settled in the UK during the war after marrying an English serviceman. She was living alone and had become socially isolated before meeting Kamila.
Kamila says,
'I decided to bring Poland to Nina. I took her a big book of photos of different places in Poland. Nina recognised many of the locations and shared stories about them. We often spoke about Poland.'
Kamila, who moved to England aged 10, is fluent in both English and Polish. She says her language skills, cultural knowledge and the background she shared with Nina helped the two to 'really click'. She explains,
'Nina would sometimes speak in Polish and sometimes in English. As her dementia progressed she didn't seem aware that she was suddenly switching to Polish, but I was able to keep up with her.'
Recognising dementia
Kamila says dementia in Poland isn't well recognised and it would be unheard of for someone to receive volunteer support from a charity. Instead, she says, the condition would be dealt with in the home by the person's family.
Despite there being thousands of Polish people living in Hull, none were known to the local Society apart from Nina. This suggests that people could be going without valuable support.
In May, after a spell in hospital following a fall, Nina moved into a care home in a different city. Kamila speaks extremely fondly of their time together. She says,
'It was such a nice experience – I absolutely loved it. Nina is such a happy person.'
As she begins her work with Side by Side, Kamila remains determined to fight the stigma of dementia across all cultures.