Using the experience of being diagnosed to help build dementia-friendly communities
From the May 2015 issue of our magazine, getting a timely diagnosis of dementia can make a big difference. Fiona Madden talks to a man who is now heavily involved in building dementia-friendly communities.
Although George Rook, from Ellesmere in Shropshire, was certain that he was experiencing symptoms of dementia, he felt he had to struggle to receive a full diagnosis.
George, 63 years old, was initially diagnosed with mild cognitive impairment, which progresses into dementia for some people but not for all.
He says,
'My memory had been worsening. I was finding it hard to find words in conversations, follow other people's questions and conversations, and I also started to not see things right in front of me. I had on occasions become disorientated. My wife and I both became aware of it.

'I actually went to my GP who referred me to the memory service about five years ago.

They diagnosed mild cognitive impairment at the time, but they thought it was to do with depression and work stress.'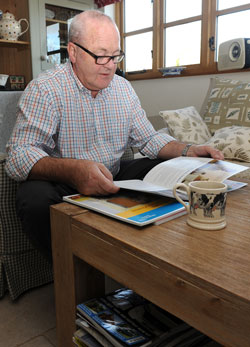 Further deterioration
A few years later George began to notice further deterioration in his cognitive skills and returned to his GP. He was sure he had dementia and could feel his symptoms getting worse.
George and his wife had already witnessed close family members develop dementia and were very aware of the warning signs.
On returning to his GP, George was shocked to be told that there would be no point in getting a diagnosis because he was already on medication that would be prescribed if he had one.
George says,
'I let it go but went back a year later and said the same thing and the GP said "I'm not sure it's worth doing anything" again. At the third visit he referred me to the memory service.'
After a series of tests with unexceptional results, George says he was referred for a SPECT brain scan and more in-depth tests because he was so convinced that something was wrong.
These led to his diagnosis with mixed dementia - vascular dementia and Alzheimer's disease - in May 2014. He was glad he had pushed for this diagnosis because his medication was changed and he says the positive effects felt as though it had 'woken him up'.
Although he was expecting the diagnosis George admits that he went through a 'black period' for days afterwards. However he says he now finds his dementia 'more irritating than anything else', especially when it comes to social interactions.
Action alliance
While diagnosed with mild cognitive impairment, George had left full-time work as a school business manager and took on a part-time role at the British Red Cross in Shrewsbury. Part of this involved raising awareness about health services, and this led to him playing a central role in setting up Shropshire Dementia Action Alliance.
George says,
'I became more involved in local health, trying to improve patient experiences, and I got drawn towards dementia as my family were more drawn towards it.'
There are now over 140 local dementia action alliances across England that are part of the national Dementia Action Alliance, which aims to transform the quality of life of people with dementia and carers.
George, who is passionate about making society more dementia friendly, is now involved in several organisations working towards this as well as chairing the Shropshire alliance. He is also a Dementia Friends Champion, running information sessions for other people to become Dementia Friends. He says,
'I'm a member of three local NHS trust patient experience panels and also the local clinical commissioning group (CCG) patient and engagement involvement committee.

'I just take up opportunities when I can to raise issues to do with dementia. For example, I was fairly instrumental in having a dementia-friendly audit done at a local hospital - I promoted and took part in it.'
Patients in control
George is involved in another project that he is especially keen about because it involves making sure that people with dementia have a voice in shaping services.
As part of the Putting Patients in Control programme across the Midlands and East of England, George helps to deliver half-day training sessions to CCGs to change the way they commission services by involving people who use services in their design, including people with dementia.
George says,
'I've been a patient of all sorts over the years. I know what it's like living with services not being joined up and having to tell your story time and time again. For people with dementia this is even more of a problem.

'It's not rocket science to join up services but it just doesn't happen often enough. It needs to happen more.'
Early stages
George acknowledges that he is still in the early stages of his mixed dementia and says his life has not changed dramatically. He often forgets things and struggles at times to find the right words in conversation.
George also has trouble with some household tasks such as making a cup of tea from time to time, but is thankful that he is not experiencing anything that stops him living his life as he wishes at the moment.
He still drives and has his licence reviewed yearly but is worried about not being able to drive in future. He lives on a smallholding - complete with chickens, ducks and occasionally pigs - 'in the middle of nowhere' and says it would be a challenge to get out and about without driving himself.
Dementia-friendly vision
George's work is geared towards helping to achieve his vision of making communities more dementia friendly, from hospitals and shops to public transport.
He particularly wants to focus on improving the quality of care for people with dementia in hospitals, and keeping as many people with dementia out of hospital for as long as possible. He emphasises that unnecessary admission to hospital can be of colossal detriment to the wellbeing of a person with dementia.
George is keen to promote having the voices of people with dementia heard as much as possible in shaping services, as they are experts by experience.
George says he will continue to do this work as long as he is competent to do so and can get to his meetings. He adds that he wants to be told if he starts repeating things or saying things that don't make sense.
'What I feel most comfortable doing and committed to is lobbying wherever I can for improvements to services to support people with dementia.

'I suppose my mantra is living well with dementia. I can do at the moment and hope to do so in the future for quite a long time.

'I want services and support to be provided for people with dementia and carers, and to be co-designed to enable them to remain independent and active within their communities in whatever way is important to them.'
Find more information about the Dementia Action Alliance and local alliances.
To find out about becoming a Dementia Friend or Dementia Friends Champion.
See our factsheets Assessment and diagnosis and Staying involved and active or call 0300 303 5933 to order.