Using drama to raise awareness about dementia among south Asian communities
From the October/November 2015 issue of our magazine, an east London project is raising dementia awareness and challenging stigma in south Asian communities. Andrew Bence attends a performance aiming to change hearts, minds and lives.
Drama has always offered ways for people to see and hear the truth about life, as well as issues of the day. While many grand auditoria have been built to do this, of course theatre also takes place in more down-to-earth venues.
This autumn, I found myself sitting in an indoor basketball court at Forest Gate Youth Zone in Newham, east London, about to watch Dementia's journey.
This play tells the story of one family's struggle to overcome stigma and misunderstanding, and is the work of EKTA Project, a voluntary organisation. The youth centre's breeze-block hall is the latest stop on their shoestring tour of community venues.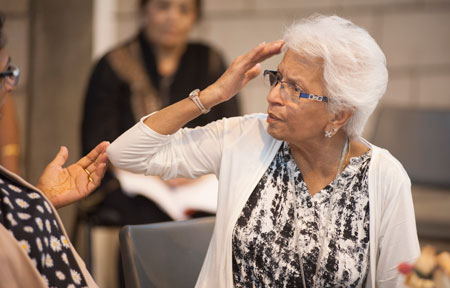 Leading lady
EKTA, led by veteran community activist Ramesh Verma, has been addressing the needs of south Asian elders and carers in and around Newham since 1987.
Ramesh, a teacher by training, was there from the start. After her husband died, she cared for her young children and disabled parents. Accessing services and support, it became apparent that life was bleak for many older people in the community.
'They were living in poverty, with little or no support. They didn't know their rights. Many couldn't speak English.

'Services weren't geared to their needs. The head of social services told me it didn't matter because they were being looked after by their families!'
Ramesh says this assumption was unjustified. Besides, families can be very unaware or misguided, especially about dementia.
'When a person began acting strangely they would put it down to madness, spirit possession or just old age.

'I decided I must do something. The council offered me a posh job, but I told them I'm not one for just sitting around in an office.'
EKTA had found its leading lady.
Home truths
This is not the first time the organisation has turned to drama to get its message across. It has also produced pieces addressing breast cancer and elder abuse.
Early this year, with a grant from the Big Lottery Fund and support from Alzheimer's Society, local playwright James Kenworth was commissioned to write Dementia's journey.
James' research took him to the heart of Newham's south Asian community, and it was from there that he recruited his actors.
He says,
'They've been marvellous. So committed. Just like pros, only better behaved!

'This is not my culture, and I had little personal experience of dementia, so I was conscious of the need to get the facts and emotions spot-on. The script needed to be culturally specific and honest.'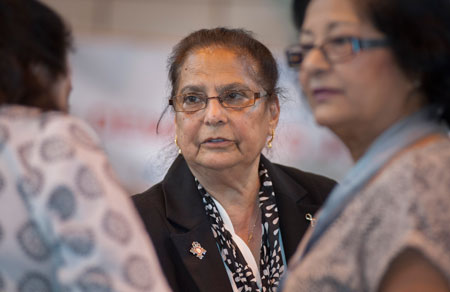 No words
If the aim was a play both challenging and enjoyable, then James and EKTA have succeeded.
Nina, played by Santosh Behl, becomes increasingly confused. She knows something is wrong, but has no words for it.
Her family - fearful of anything suggestive of mental illness with its associated stigma - are in denial. Is it any wonder she feels she is going mad?
The diverse audience at Forest Gate is held throughout, and in the Q&A session that follows, Alli Anthony from the Society fields a range of questions and comments.
Alli, manager of the Society's Connecting Communities project, says,
'What I love about this play is the way it touches people. There have been tears and laughter at every performance, with audience members telling us this is their family's story.'
Conclusion
It may be a modest production, but, by holding a mirror up to society, Dementia's journey is truth-telling drama at its best. Santosh's performance as Nina is heartfelt and purposeful.
She says,
'It's emotional, and very draining. But so satisfying to know we are raising awareness of dementia, giving it its proper name, bringing it out into the open.'
In the play, things come to a head at a family conference. Nina's husband is finally persuaded to seek help. A social worker provides support and advice. The family gain strength and compassion through understanding, and Nina, by now unsure of many things, feels again her family's loving embrace.
The play offers much needed hope by showing how it is possible to face dementia together.
Next steps
Use our online directory Dementia Connect to find dementia services near you.
See our range of factsheets, booklets and more, or call 0300 303 5933 for a catalogue.
Join our Right to Know campaign for everyone with dementia to get the support they need.