A trustee looks at proposals to help involve all of our supporters more effectively
From the August/September 2015 issue of our magazine, Alzheimer's Society members are voting on proposals to help involve our supporters more effectively. Bernard Herdan shares his perspective as a trustee with personal experience of the impact of dementia.
At this year's Annual General Meeting (AGM), members will be able to vote to change how Alzheimer's Society is governed so that we can keep our supporters informed and in touch in ways that work better for everyone.
Involvement and influence
I have met so many fantastic Society volunteers who give their time and expertise generously. A Board of Trustees that occupies itself with 'corporate issues' risks losing sight of why it is really there. Including active volunteers on the board will bring fresh perspectives and make an invaluable contribution to our work.
The proposals being voted on by members would reserve up to three places on the board for active Society volunteers, elected by an 'electoral college' of volunteers, existing members and Dementia Friends Champions who opt to vote.
The trustees will also hear more from people affected by dementia, who will be able to shape plans and ideas before these are discussed at board meetings.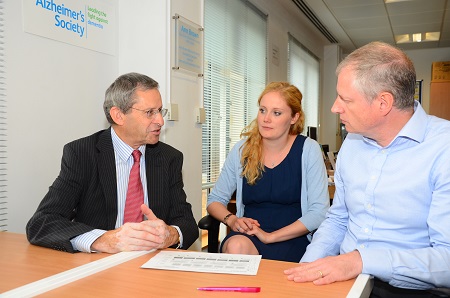 New ways to engage
Most members do not currently vote to elect new trustees, and many of you tell us you would rather be consulted on decisions about what the Society does.
The proposals would transfer legal 'membership' of the charity to trustees, so we could use our resources for people to have their say in more effective ways. One idea might be to replace AGMs with an Annual Meeting for all of our supporters.
For existing members who value the opportunity to vote, I encourage you to join the proposed new electoral college and so vote for Society volunteers to become trustees based on a demonstrable commitment and deep understanding of our work.
Range of skills
In today's world, providing effective stewardship to a high-profile charity requires specialist skills and the board needs a good balance of these. In addition to elected positions, we must have the flexibility to appoint the right people to support us as the world of dementia continues to change.
We also need to give trustees time to settle in - I know it took me a while to get to grips with the Society's many aspects. The proposals would increase the maximum length of office for trustees from two terms of three years to three.
While not all trustees will be able to stay with us for nine years, allowing those who are contributing strongly to do so will enhance the board's collective knowledge and experience and the quality of our decision-making.
Chance to change
I am very proud to be a trustee of a charity whose powerful and vital work is continually evolving. My family's experience of dementia means that the role of Alzheimer's Society and its supporters could not be clearer to me.
This is your chance to fundamentally change the way we engage with you, our strongest supporters, for the better. I strongly urge you to vote in favour of these proposals.
Members can vote at the AGM in London on 6 October 2015 or using a proxy voting form - see the information sent to members with the August/September issue of the magazine.