Supporters celebrate the first year of our dementia-friendly parliament initiative
From the August/September 2015 issue of our magazine, the dementia-friendly parliament initiative is raising awareness about dementia at Westminster as well as putting MPs, Peers and parliamentary staff in touch with sources of support.
Supporters of the Society celebrated the first year of our dementia-friendly parliament initiative at Westminster in July. This marked the great strides made to increase understanding of dementia among staff and parliamentarians.
Hazel Blears, Society Ambassador and former MP whose late mother had Alzheimer's disease, said,
'I am delighted to offer my continued support for this fantastic initiative. MPs are local leaders in their communities and therefore it is vital that they understand how to tackle dementia.

'I am proud that so much has been achieved over the past year and hope that the initiative continues to flourish.'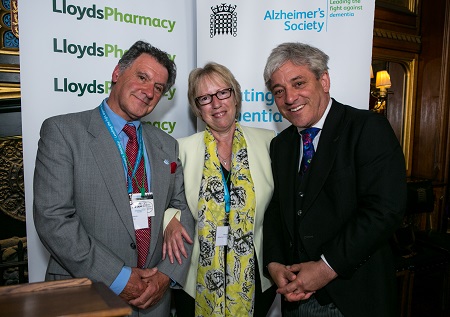 In addition to dementia awareness sessions for parliamentary staff, information is being provided about where those affected by the condition can get support. So far 251 MPs, Peers and staff have become Dementia Friends, and the aim is for everyone in the Houses of Parliament to receive relevant training.
Apart from making Westminster a dementia-friendly environment, the initiative also encourages members of both houses to influence policy and champion the rights of people living with dementia.
July's event, hosted by John Bercow, Speaker of the House of Commons, featured talks by Society Ambassador Hilary Doxford, who has Alzheimer's, Health Secretary Jeremy Hunt and Debbie Abrahams, MP and Co-Chair of All-Party Parliamentary Group on Dementia.
Find out more about the dementia-friendly parliament initiative.