Sue Hulme answers our questions
From the October/November 2015 issue of our magazine, Sue Hulme, who has Alzheimer's disease and lives in west Wales, answers our questions.
Q&A: Sue Hulme
Carmarthen, west Wales, aged 61 with Alzheimer's disease.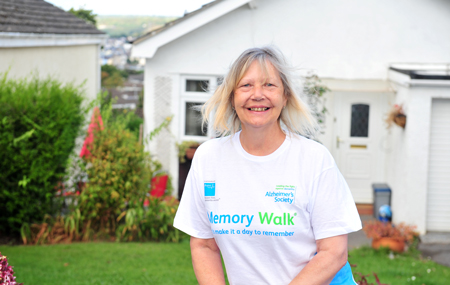 What's changed most since your diagnosis?
Having so much time on my own. I used to work with ex-offenders for over 40 hours a week. Now I don't know what to do with the hours I've got. The financial side has taken a knock (we still have a mortgage) and I really miss the company car.
What would you take to your desert island?
I'd take a battery-operated fan with loads of batteries, because I can't stand the heat anymore.
What single thing would improve your quality of life?
More support that's relevant to younger people. If your partner works you might not see anyone morning till night. Services cater for older people - I ended up getting help with applying for benefits from Mencap.
If you could go back in time, when would you visit?
I'd go back to my mid-30s. That was the time I was having my second childhood - I could enjoy myself without making silly mistakes!
What is your most treasured possession?
My determination, because it helps me push on no matter what.
If you have dementia and would like to answer our questions for a future column let us know.