Side by Side volunteers help people with dementia to continue doing the things that they enjoy
From the October/November 2015 issue of our magazine, a Side by Side volunteer in Nottingham is using her experience of caring for her mother to help other people with dementia to remain active and involved.
Elizabeth Thraves, 68, knows how important it is for the needs and preferences of a person with dementia to be central to the care they receive.
Her mother was diagnosed with vascular dementia and Elizabeth cared for her at home for over six years.
Even before her mother died, she realised that this hands-on experience could be used to help others.
Elizabeth, a former teacher, says,
'I went to Nottingham Alzheimer's Society and offered my services. I did the training to become a Side by Side volunteer, and I've been supporting a lady with dementia for over a year now.'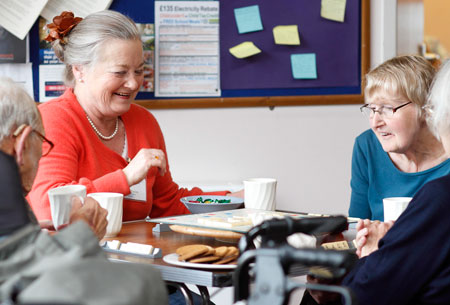 Side by Side
Side by Side, being piloted in selected areas including Nottinghamshire, helps people with dementia to continue doing the things that they enjoy. The aim is that this service will be available across England, Northern Ireland and Wales by April 2017.
Elizabeth sees Isabelle, a keen church-goer, once a week and they usually attend activities at a local church.
Elizabeth says,
'Every week they have something on for older people. They have a fish and chips lunch, followed by dominoes, Scrabble, a sewing circle or you can just sit and talk.

'We sometimes do shopping along the way if she needs something. If we don't go to church that week, then we still get fish and chips for lunch.'
Big difference
For Isabelle, who lost her husband and moved a long way to live near her daughters, the ability to get out and about among a wider circle of people is incredibly important.
Elizabeth says,
'The family say it is making a big difference, and when she sees me she says, "I'm so glad you came!"

'Being a Side by Side volunteer adds a new dimension to your life.'
She adds,
'There must be thousands of people in a similar situation to her.'
Find out whether Side by Side is available in your area and how to volunteer, or call 0330 333 0804.