As people sign up for this year's Memory Walk, one walker reflects on her family's involvement
From the June/July 2016 issue of our magazine, as people start signing up for this autumn's Alzheimer's Society Memory Walk events, we speak to one walker whose whole family took part in Leeds last year.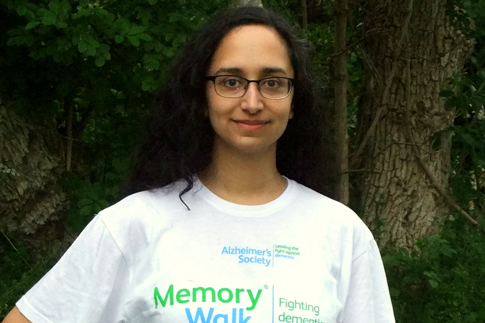 The way Nina's family got involved in last year's Memory Walk embodies some of the event's best aspects – people of all ages coming together to do however much they can to walk for a world without dementia.
Nina, 35, says,
'There were four generations of the family in Roundhay Park, Leeds for the walk, 12 of us from my grandmother and her sister, both in their 80s, down to the great-grandchildren aged one and four.
'We all did different amounts of walking according to what we could manage, and afterwards we gathered in the café for lunch.
'Grandad was brought from his care home to join us in the café, which is one of his favourite places – he still remembers it well and is always thrilled to be there.'
Together as a family
Nina's grandfather was diagnosed with Alzheimer's disease in 2009.
'I live in London, and now when I travel to Leeds to visit my grandparents they're in two separate places. I stay with my grandmother and I only see my grandfather for an hour or so at his care home in another part of the city.
'Memory Walk was a really nice way for us to get together as a family and do something positive. The practical support and advice from Alzheimer's Society is really valuable, and so are the social activities they organise.'
Nina's family raised over £700 last year and she adds,
'I hope this will help the Society to keep providing those things – and in the longer term, this disease desperately needs a cure.'