From the December / January 2018 issue of our magazine, we visit a dementia cafe drawing on South Asian experiences.

Hamari Yaadain, which means 'our memories' in some South Asian languages, is a monthly dementia café for people that meets in Harehills, east Leeds.
Run by health and wellbeing charity Touchstone, the group brings South Asian people with dementia, carers and relatives together to talk and enjoy interesting activities.
Today's theme is oral history and arts, and the session begins with memories of recent or favourite holidays.
Conversations take place in English, Punjabi and Gujarati, and many in the group recall visiting India to see family.
'I remember going and meeting all the relatives, my brother organised the trip. It was really nice,' says one member.
Another has fond memories of Goa on the Indian west coast. 'Taxis to the seaside and shopping in town - we used to enjoy it,' he says.
The group then listens intently as one visitor to Egypt provides a vivid description of going into a tomb and seeing a mummy.
Moments
Next, members divide into smaller groups and use coloured pens to write down memories from their trips, including what they ate and any funny moments that have stayed with them.
'We went to Spain and, even there, they made fish fingers in the restaurant!' says one of the men.
Someone else recalls being stuck in a lift for four hours, which prompts a discussion about power cuts and broken-down cars.
At the end of the session, group leader Ripaljeet Kaur reminds everyone how these sorts of reminiscence activities can be good for the brain.
She then announces lunch, and everyone spends the rest of the session chatting over food and drink, including homemade South Asian fare.
Listening and talking
Dr Sewa Singh Kalsi, 87, is a retired university lecturer who has Alzheimer's.
'I like being invited to groups where I can talk about my experiences,' says Dr Kalsi.
'I look forward to the sessions,' he says. 'We talk about what we've been doing and any interesting events. Some people talk about their families.
'I like being invited to groups where I can talk about my experiences.
'I also like to prompt other people to share their experiences - listening is as important as talking.'
Sewa speaks highly of Ripaljeet, describing her as a 'key person'.
'She always gives the impression that she's concerned with everybody's needs,' he says.
Mood lift
Tara Singh Chana has accompanied his wife, who has Alzheimer's, to the past few sessions.
'When we come in, she's a bit on the low side. But we spend two hours here and her mood changes,' he says.
'She finds it especially enjoyable when the group does something together.'
Tara also benefits from attending. 'We have four children who are well settled, so it's only two of us in the house,' he says.
'We used to feel lonely back home - loneliness is a big disease.
'But coming here and meeting other members helps bring memories back. The group is like a family.
'I find it very helpful coming here. The staff speak our language, they understand.'
Nobody knows
Tara feels there can be a lack of understanding about dementia among South Asian communities, including his own Sikh community.
'There is a major lack of awareness in the Hindu community - I'm trying to do something about it,' says Dharmesh.
This view is shared by Dharmesh Mistry, whose family are Hindus who came to the UK from Africa. He attends the group with his mother Kanchan and father Chhaganlal, who has Alzheimer's.
'There is a major lack of awareness in the Hindu community,' says Dharmesh. 'I'm trying to do something about it because if it's happening to my dad, it could happen to anybody.'
'Nobody knows about dementia,' adds Kanchan. 'We hadn't heard of it.'
Dharmesh says being at the group helps the family to better understand what Chhaganlal is experiencing. It also allows his father to meet people who have life histories that he can relate to.
'Dad realised that there are friends here who can relate to him - to his days in Africa,' he says.
'He made a connection straightaway with people who could understand what he was saying.'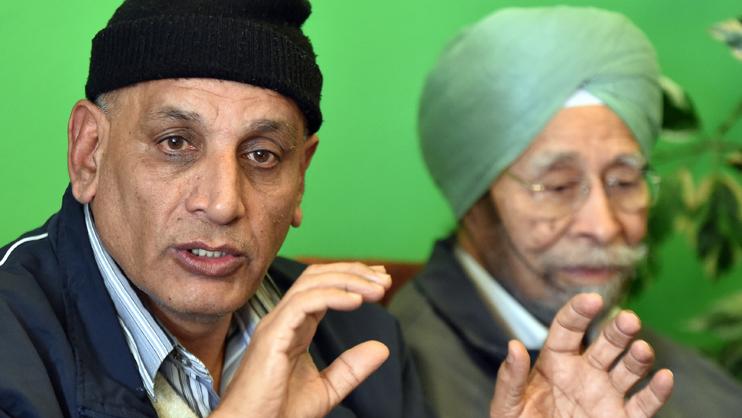 Mother tongue
Ripaljeet says it's crucial that the group's activities are planned around the specific needs of its members.
'Groups like this one are really important for people from black, Asian and minority ethnic backgrounds,' she says. 'It's run in their mother tongue, so people feel comfortable.
'It's the only group that most of them go to, because of the language and the culture.'
However, she is also keen to 'push people out of their comfort zone' - to get them to take part in activities they wouldn't usually consider.
This led to some members going to see a dementia-friendly show at the West Yorkshire Playhouse.
As Hamari Yaadain continues to expand, the group remains a vital source of support for its members.
Ripaljeet says, 'It's about bringing people together and making them feel more comfortable talking about the issues they are facing.'
Next steps