A moving new film that will raise awareness of dementia even further
From the March 2015 issue of our magazine, Still Alice portrays a woman diagnosed with Alzheimer's aged 50. Janet Baylis, Manager of the Society's Dementia Knowledge Centre, reflects on the film's impact.
Julianne Moore delivers a moving and realistic portrayal in this film, capturing the essence of a highly intelligent, fulfilled woman who shows increasing vulnerability as her dementia advances.
Still Alice is based on the novel by neuroscientist Lisa Genova about a highly-regarded linguistics professor at Columbia University who is diagnosed, aged 50, with familial Alzheimer's disease.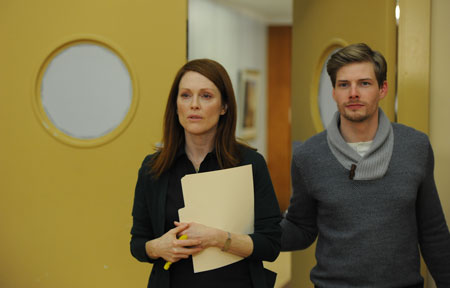 We see how her dementia's progression affects her life and relationships with her husband and three adult children. We feel we are living the challenges and uncertainties with them, and this film is set to raise awareness for an even wider audience than the novel.
For all its strengths, prior knowledge would help with two aspects. The advancement of Alice's disease is much more rapid than would normally be expected.
Secondly, she is diagnosed with a condition inherited from her father, with a 50–50 chance that she will pass it on to her children. Cinema goers should be reassured that this type of Alzheimer's is very rare.
Still Alice is on general release in UK cinemas from 6 March 2015.
Buy the novel by Lisa Genova from our online shop.